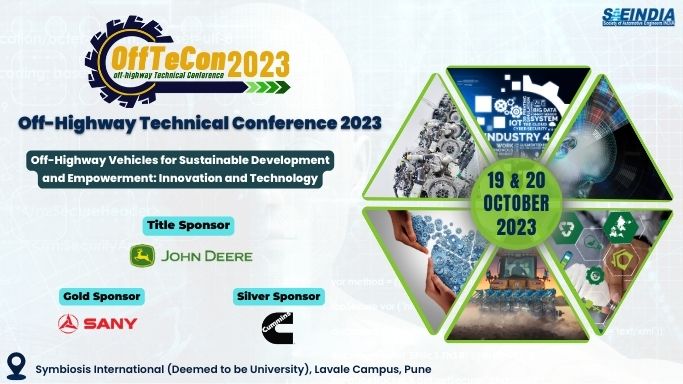 About OffTeCON2023:
OffTeCon is the off-highway technology conference, being organized by SAEINDIA Off-highway Forum, on a biennial basis.
OffTeCon will convene and connect high-tech and engineering professionals, from every facet of off-highway industry, by celebrating technology breakthroughs and wins, engaging in key and critical conversations, sharing practical solutions and premier technical information, gaining invaluable insight into modern and future Off-highway, technologies and opportunities.
About Off-Highway forum:
In 2010, SAEINDIA Off-Highway board was established, which seres all facts of Off-Highway mobility engineering related to all vehicles/equipment operated in rough terrain, mining, farm, and non-track e.g. agriculture, construction and defense. Since its inauguration, the board has been instrumental in focusing on the common issues related to Technologies of tomorrow and the talent pool and has organized several national-level events.
About SAEINDIA:
SAEINDIA is India's leading resource for mobility technology. As an individual member-driven society of mobility practitioners, the ownership of SAEINDIA lies with its members, who are Individuals from the mobility community, which includes Engineers Executives from Industry, Government Officials, Academics and Students.
SAEINDIA is a strategic alliance partner of SAE International, registered in India as an Indian nonprofit engineering and scientific society, dedicated to the advancement of the mobility industry in India.
IMPORTANT DATES
Last date for Abstract Paper submission
Aug 15, 2023
Notification of acceptance of abstract
Aug 30, 2023
Submission of Presentation
Sep 22, 2023
Notification of final acceptance of Presentation
Sept 28, 2023

Contact for Sponsorship Opportunity
Mr. Vijay Antony Babu | +91 96001 52999 | vijay.ab@saeindia.org
Ms. Ayisha | +91 73387 48893  | digitalconnect@saeindia.org