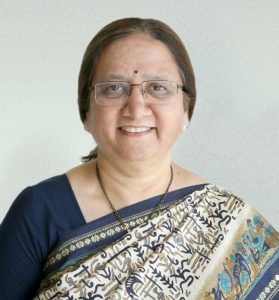 Mrs. Rashmi Urdhwareshe retired as Director ARAI (Automotive Research Association of India, Pune) in June 2020. Having started her career as Trainee Engineer, Mrs. Urdhwareshe rose through the ranks to take the coveted position as Director of ARAI in year 2014. ARAI is the prestigious autonomous R&D and Homologation Institute located in Pune. During her illustrious tenure as Director, ARAI scaled new heights in technology, business excellence and R&D. Under her leadership Center of Excellence in E-Mobility, Homologation and Technology Centre and several key facilities were created to provide dedicated services to the automotive and other engineering sectors at national and international level.
Mrs. Urdhwareshe has a distinguished academic and professional career. She holds master's degree in E&TC and several other professional qualifications such as Diploma in Corporate Directorship (from WCCG), Six Sigma Black Belt (from ASQ), etc. Her 37+ years of industrial experience and expertise includes wide range of subjects in automotive domain (like vehicular safety, Air quality and exhaust measurements, Standards/ Regulations, R&D and technology, Green mobility, Alternate fuels, Quality Systems and Business Excellence, etc.)
Mrs. Urdhwareshe has served as the Chair / Vice Chair of various national/ international bodies.
She is currently President of SAE India (Society of Automobile Engineers).
She is also Senior Advisor to Pune Knowledge Cluster (PKC), which is set up under the directions of Principal Scientific Advisor, Government of India.
With huge experience and wide expertise, Mrs. Rashmi has also taken up Advisory and Mentorship roles for Corporates, Educational/ Research programs and Government Agencies.
Mrs. Urdhwareshe is Co-author of Book on Total Quality Management.
She is a recipient of several awards in the areas of women Empowerment, Corporate Leadership, Engineering Excellence, E-mobility, Business Excellence, Quality Excellence and many more.
For her lifetime contributions towards development of Automotive Technology, she is honored with Nari Shakti Puraskar 2019, at the hands of Hon'ble President of India on 8th March 2020.
For SAEINDIA`s Outstanding Contribution towards the Economic Development of the Country during COVID-19 Pandemic, she is honored with GLORY OF INDIA AWARD, in Excellence in Economic Development Award for 2021′ by the Economic Development Forum on January 2022.
Mrs. Rashmi's other interests are instrumental music, writing technical articles, reading and extensive travelling.