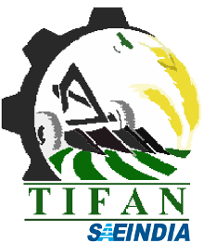 TIFAN stands for "Technology Innovation Forum for Agricultural Nurturing".
Off-highway board is very happy to initiate this competition targeted to solve the farming challenges using mechanized solutions. It provides the platform for connecting the bright and prosperous agricultural and engineering talent available in the country with the real life challenges of farmers' community. Through this program students from engineering and agricultural colleges across the country will participate in providing innovative solution towards product design & development challenge.
SAEINDIA is a strategic alliance partner of SAE International registered in India as an Indian nonprofit engineering and scientific society dedicated to the advancement of mobility industry in India. In 2010, Off-Highway board was established, which caters to the aspect of mobility engineering related to all vehicles/equipment operated in rough terrain, mining, farm and non-track e.g. agriculture, construction and defense. Since its inauguration, board has been instrumental in focusing on the common issues related to Technologies of tomorrow and talent pool and has organized several national level events like –
"Emerging Market opportunity for Off-Highway Industry"
"EDU Meet 2010" to bridge the gap between industry and academia
"FINE2010" – 2 weeks of induction program in Off-Highway companies for the faculties of engineering colleges
"EDU Meet 2013" to aspire women engineers for Off-Highway industry
"SINE2013 & 2015" – 2 weeks of induction program in Off-Highway companies for the women engineering students
"Futuristic Technologies and Orbit-shifting Business Strategies for Indian Off-Highway industry"
"FEST – Forum for Engineering Students about the new technologies used in Off-Highway industry"
This competition TIFAN will provide a platform the engineering students to explore the product design and development world.
Venue : Dr. Shirname Auditorium, College of Agricultural, Pune /  University Road, Shivaji Nagar , Pune -411005.
Time:  4:00 PM to 09:00 PM, on 5th July 2017