How India can overcome the scarcity of IC chips and drive the growth of electric mobility?
Impact of shortage of semiconductor chips on the Automotive industry
A modern high-end vehicle uses a hundred million lines of code, and this number is expected to double in the near future [1]. The latest automotive products extensively use software, electronics, and connected devices to offer smart features to their customers and this trend translates to using more than three thousand chips per vehicle.  Centralized electrical, electronic architectures and software platforms drive innovation and product differentiation. All these trends cause a significant increase in semiconductor content, but the vehicles account for only a tiny share of semiconductor chip global demand, approximately 10%.  The electronics content of the connected, autonomous and electric vehicle is expected to more than double by 2030 from where it is today, according to McKinsey (USD 469 billion, at a CAGR of 7%). [2] 50 – 60% of the increase is driven by the electrification of the powertrain.  Electronic components for autonomous driving and digital architecture contribute to the other 40%.
The acute shortage of semiconductor chips has impacted the automotive industry globally. The estimate of revenue loss because of it in 2021 went up from an earlier $61 billion to a more recent $110 billion as it is expected to impact the production of 3.9 million vehicles globally [3]. It is a revelation for many that though the value of electronic chips might be a small portion of the overall BOM cost of the vehicle, the impact of its shortage can be up to $110 billion! Original equipment manufacturers in the automotive sector and others are strategizing approaches to tackle this situation. The chip crunch and how the Indian automotive ecosystem can handle it was the topic for the panel discussions in SAE India's "Auto Electronics 2021" virtual conference held recently on April 30th [4]. In this paper, we analyze what led to this shortage of semiconductor chips and propose a few ideas that could help the automotive industry to manage the crisis.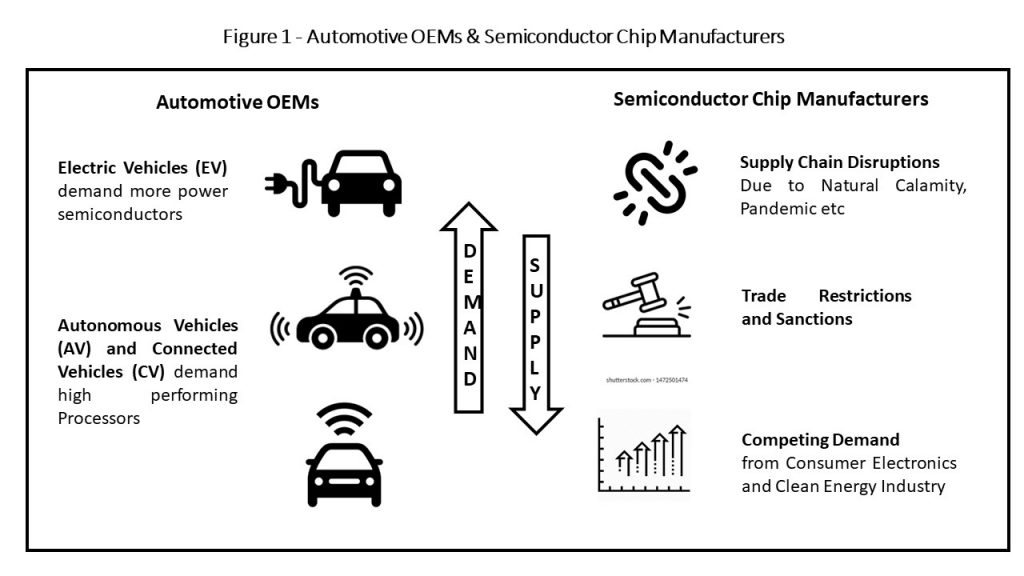 What led to the scarcity of IC chips?
Let us first understand the factors that drive the demand from automotive industry (Figure 1):
Autonomous and Connected Vehicles need more high-performance processors for drive assist and smart connected features
Electrification of Powertrain has led to a rise in demand for power semiconductors
The first two factors arise from new technology adoption and hence cannot be avoided. There are also certain practices prevalent in the automotive industry like Just-in-Time (used to minimize inventory) that are not useful during a supply crisis.
We need to match the rising demand from auto OEMs with the corresponding supply of semiconductor chips. Now let us understand what factors lead to the scarcity of semiconductor chips [5]:
Sanctions and Trade Restrictions seem to encourage countries to build self-sufficiency and resiliency.
Demand from other industries like consumer electronics (high volume chips) and clean energy (power electronics chips) make semiconductor manufacturers to shift their focus from auto industry.
Disruptions in global supply chains due to prolonged lockdowns (COVID-19), natural calamities (Fukushima earthquake, Taiwan drought), snowstorms and power outages (Texas) etc.
Long manufacturing cycles and capacity lead times adopted by the semiconductor industry – when the auto industry demand again picks up, there is a finite lag time for the semiconductor manufacturers to start serving their needs.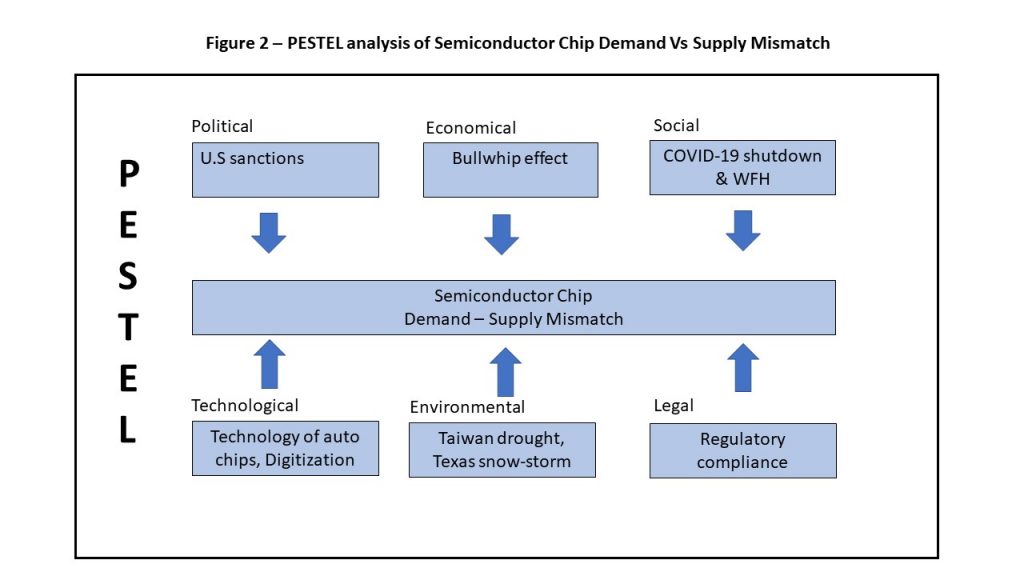 Our PESTEL (Political, Economical, Social, Technological, Environmental and Legal) analysis summarizes how the chip shortage has the interplay of many factors behind it (Figure 2).
The shortage did not happen overnight. It started with the sanction imposed by the U.S.A. on China for semiconductor trade (during President Trump's era). The sanction ironically seems to have benefited China in its journey for self-reliance in the semiconductor sector. 80% of the market in some chipmaking processes like etching, ion implantation, electrochemical deposition, wafer inspection and design software are with U.S. companies, according to Nikkei Asia [6]. Several Chinese companies started coming up to make equipment in the above chipmaking processes. China did a detailed audit of its supply chain for semiconductor chip right up to the nuts and bolts to know the origins at an intricate level. Subsidies from governments and investments from the private sector has helped in this journey.
India has launched a self-sufficiency initiative Atma Nirbhar to build indigenous capability in strategic technology areas. The domestic electronics hardware manufacturing sector in India suffers due to lack of adequate infrastructure, domestic supply chain and logistics; high cost of finance; inadequate availability of quality power; limited design capabilities and focus on R&D by the industry; and inadequacies in skill development. The vision of National Policy on Electronics 2019 (NPE 2019) is to position India as a global hub for Electronics System Design and Manufacturing (ESDM) by encouraging and driving capabilities in the country for developing core components and creating an enabling environment for the industry to compete globally. Production Linked Incentive Scheme (PLI) for Large Scale Electronics Manufacturing  (April 01, 2020) offers a production linked incentive to boost domestic manufacturing and attract large investments in mobile phone manufacturing and specified electronic components, including Assembly, Testing, Marking and Packaging (ATMP) units. The Scheme would tremendously boost the electronics manufacturing landscape and establish India at the global level in electronics sector [7].
The bullwhip effect
The lockdown due to the COVID-19 pandemic in early 2020 made chip makers shift their focus to other profitable sectors like consumer electronics, which witnessed a huge demand, with most professionals working and students studying, from home. The high volume of chips used in personal devices make it profitable and attractive for chip makers.  The current demand for chips from auto industry is relatively low volume but is expected to significantly increase when the auto industry shifts to electric, autonomous and connected vehicles. When the auto industry quickly bounced back during the latter part of the year, the chip makers were not ready to resume supply. Chip making is a long and complex process, with a few months required for a change from one product line to another. Unexpected incidents like a fire accident in Renesas factory in Japan, the drought in Taiwan and the Texas snowstorm caused further damage in 2021. Taiwan Semiconductor Manufacturing Company (TSMC), the largest chip maker accounted for more than half the revenue from wafer-fabrication factories or fabs in 2020. The shortage of clean water in Taiwan impacted its operations, making TSMC recycle water.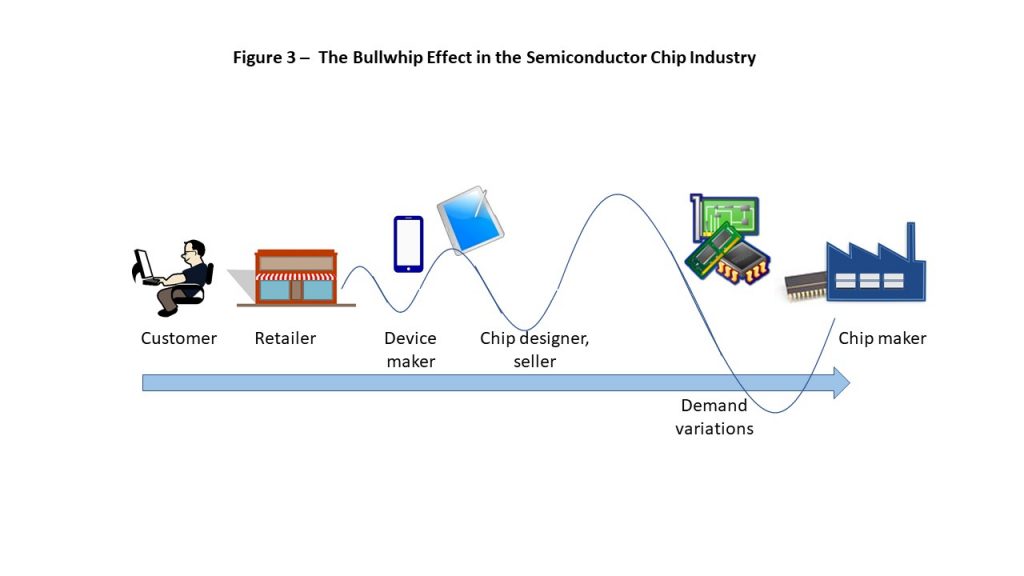 There was a bullwhip effect in the semiconductor supply chain. The bullwhip effect is a phenomenon noticed in supply chains. There is amplification of demand variability as we move up the supply chain, from the actual point of demand or the consumers to the manufacturers. The chip industry faced a similar situation in 2020 (Figure 3). Electronic device makers got excited looking at the demand for work-from-home during the pandemic. They rushed to place orders with chip designers and sellers like Nvidia and Huawei. They in turn added a factor of safety and placed larger orders on chip makers like Intel, Samsung and TSMC. Finally, there was a huge backlog of orders and other industries suffered. In a recent World Economic Forum (WEF) report [8] on how to avoid such a situation in future, WEF recommends that panic buying should be curbed, hoarding should be avoided and suppliers should implement limits on shipments, with efforts for accurate estimates of their buyers' actual needs. Some countries are planning for self-sufficiency to avoid dependency on a few sources.
What can the Indian auto makers do to address the IC chip scarcity issue?
Indian Automotive OEMs can form consortiums to manufacture critical components and chips, with continuous innovation and sector-wise collaboration. The consortium should be a tripartite collaboration between the Industry, the Government (including the National Laboratories) and the Academia. Car makers need co-creation of new products along with chip makers, starting from the early design stage and all the way to development, manufacture, testing and service. We can standardize and modularize the vehicle platforms wherever possible and scale up the level of operations.
A recent example for developing self-sufficiency in chip manufacturing is Turkey. Its National Electronics and Cryptology Research Institute is attempting to develop the components at its Semiconductor Technologies Research Laboratory, according to a media report [9]. The lab caters to a significant portion of the chip requirements of Turkish companies. According to an executive at the lab, they have the necessary competence to locally make electronic components for Turkey's first homegrown car developed by an automotive consortium. Turkey claims to be one of the few countries to design and produce all components necessary for its information security, from chips to algorithms.
Having created a consortium of industry, academic and government partners, it is important to create a long-term technology roadmap (10 – 20 years). The entire industry, competitors alike, need to follow a common technology trajectory. This will help us to manage the fluctuations in demand with great agility. This approach will also encourage open innovation and accelerate new product development. The semiconductor industry is well known for its discipline of following a technology roadmap inspired by Moore's law. The doubling of performance every eighteen months (and the halving of its price) was made possible through a series of well planned and executed innovations that are strung along a predictable trajectory.
Transparency and forecasting in the supply chain
We need a systems-thinking approach for the automotive supply chain and model it to foresee the future. Our supply chains need to become resilient to shocks, with redundancy and flexibility built in, and the final product assembly postponed as much as possible.
Intel – This has happened with Intel after the Fukushima earthquake and Tsunami in 2011 in Japan. They could identify the problems only after a few weeks at 60 Tier 3 and Tier 4 suppliers. Some of these suppliers were very specialized like Shin-Etsu Chemicals. Only after a month, Intel found that 75% of assembly materials were at risk. They had to go five to six layers deep in tracing their suppliers. This highlights the importance of supply chain visibility [10].
General Motors (GM) – One relevant and connected example is how GM, soon after the tsunami, resorted to the "White-Space Strategy" to map and manage risks at the supplier end.  The supply problems had the potential to impact up to eight G.M. plants that can halt production of about 75,000 vehicles. GM implemented "Project J" to conserve supplies and search for alternative sources for the impacted parts. They assisted their suppliers to restore their operations to keep their vehicle assembly lines running. They represented each vehicle platform as a green bar on "white space" charts to monitor the supply chain's status, with white gaps on the bars indicate "value-at-risk" (VAR) [11].
Toyota – Toyota developed its RESCUE (REinforce Supply Chain Under Emergency) system, and collaborated  with the suppliers to enhance supply chain information. RESCUE is a database of the suppliers' information that classify vulnerabilities at over 650,000 suppliers' locations. For supplier risk mitigation, Toyota implemented 60/20/20 supply model, in which if the main supplier (providing 60% of volume) fails, production from the other two suppliers can be increased to meet the shortage. This strategy provides convergence of resilience and the lean principles [12].
More recently the US Commerce Secretary Ms. Gina Raimondo said that the chip shortage reflects a broader problem that will persist with the growth of electric vehicles, 5G and other technologies. She made a pitch for President Biden's plan for tens of billions in investments to spur domestic chip production and research and development. In the short term, she said, more transparency in the supply chain could help: "A lot of this will come down to better forecasting and information sharing." [13]. Large chip manufacturers such as Nvidia, Samsung, TSMC, Intel etc. have committed to build or expand plants in USA [14-18]. However, in EU, we are yet to see such a commitment from chip manufacturers for dedicated plants in their countries though they have some of the largest automotive OEMs in the world.
What can Auto OEMS do to strategically manage the Chip shortage?
Let us consolidate the various directions in which we can innovate. We list six innovation triggers here:
What can auto OEMs Combine with current process.
How can auto OEMs Rearrange things in the current Process.
What all should auto OEMs Enhance to mitigate the supply risk or minimize the impact.
What can auto OEMs Adapt from other industries and earlier crises.
How can auto OEMs Turn around (do just the opposite of what they do otherwise) to solve the problem.
What should auto OEMs Eliminate in the current framework to better manage the demand vs supply.
Here is a summary of various ideas along the six innovation directions. We have discussed these ideas in detail throughout the length of our paper.
Combine – Order aggregation – aggregation is known to reduce variability. Can auto OEMs come together to consolidate their IC chips needs and place bulk orders with semiconductor manufacturers? This will stabilize demand vs supply (But this will work only if all auto OEMs standardize their IC chip requirement – this will also mean that they cannot differentiate their products based on the IC chips that they use). We can design such alliances using cooperative game theory such that it remains stable. The participants can be incentivized for using the standardized products.
Combine – Auto OEMs can manufacture critical and specialized chips and outsource the manufacturing of generic chips to bulk semiconductor manufacturers.
Rearrange E&E architecture to consolidate ECUs and special purpose chips – In the future, zonal architectures will lead to consolidation of functionality in fewer, high performance, multifunctional SoCs. This trend has the potential to simplify the chip supply.
Enhance transparency in supplier network to multiple layers – Enhance supplier network across geographies – Enhance auto OEM Systems & Architectural thinking capability to better forecast future scenarios in demand vs supply.
Adapt – evaluate strategies from Intel, GM, Turkey etc and adapt as appropriate.
Turn around – from JIT to WAT – from just in time to well ahead of time – ensure supply and reduce volatility in pricing through long-term contracts. EV manufactures have long term contracts with battery manufacturers and critical battery material suppliers (e.g Tesla Motors).
Eliminate the impact of geo instabilities by localizing chip design and manufacturing – e.g Turkey and India's Atma Nirbhar and PLI initiatives – Eliminate the variety & variability through standardization of chips
Conclusion
With the emergence of electric, autonomous and connected vehicles, the role of semiconductors in automotive will continue to grow and will drive a steep increase in demand.
The increased demand for chips from auto OEMs will still be relatively low volume as compared to the high-volume demand of consumer electronics. The competition for capacity with consumer electronics and clean energy industry demand will continue to create sourcing challenges.
Automotive just-in-time model does not correlate when the predictability becomes low. A blended model of Just-in-Time (JIT for local sourcing) and Well-Ahead-of-Time (WAT for total sourcing) to be adopted knowing the historical disruptions in semiconductor industry.
Automotive SoCs (System on Chip) are expected to grow in complexity and computing power, absorbing functionality and value creation. This trend has the potential to reduce the amount of chips required. Indian OEM's should take up this route with technology development and bypass the dependencies.
In the future, we can use many ideas to mitigate the supply risk of IC chips, including strategic relations with semiconductor companies, building more transparency and resilience in supply chain networks, driving chip design standardization etc.
Societies and industry associations like SIAM should take lead in building clusters of semiconductor leadership pan India understanding the domestic needs.
India has the potential to become the global hub for sustainable mobility if we bring in all these ideas together as a self-reliant and resilient strategy for Atma Nirbhar in semiconductor chips for automotive applications.
Acknowledgement
The authors thank their co-panelists Dr Anuradda Ganesh (Cummins India), Kaushik Madhavan (Frost & Sullivan) and Dr Karthik Sundarraj (Hexagon Software) for sharing their insights during the panel discussion on "Scarcity of chips – How India plans to tackle the growing demand?" at the SAEINDIA Auto Electronics 2021 Conference (30 April 2021). The authors thank Dr Arunkumar Sampath (Mahindra Electric) and Tito Kishan Vemuri (Proinn Consultancy) for reviewing our draft, sharing their insights and suggesting improvements.
References:
This car runs on code, Robert N. Charette, Feb 01, 2009, http://spectrum.ieee.org/transportation/systems/this-car-runs-on-code, IEEE Spectrum
Mapping the automotive software-and-electronics landscape through 2030, Ondrej Burkacky, Johannes Deichmann, and Jan Paul Stein, July 9, 2019, McKinsey
Chip shortage to cost automakers $110 billion in revenues in 2021 , https://auto.economictimes.indiatimes.com/news/auto-components/chip-shortage-to-cost-automakers-110-billion-in-revenues-in-2021-alixpartners/82625724
SAEINDIA Auto Electronics 2021, Panel discussion on "Scarcity of chips – How India plans to tackle the growing demand?" – Dr Shankar Venugopal, Ramachandran S, Dr Amit RK, Kaushik Madhavan, Dr Anuradda Ganesh and Dr. Karthik Sundarraj.
Global crisis in automotive chip supply, Roland Berger Automotive Technology Center, March 2021
US-China tech war: Beijing's secret chipmaking champions, Cheng Ting-Fang, and Lauly Li, May 05, 2021, Nikkei Asia.
Ministry of Electronics and Information Technology, Government of India – https://www.meity.gov.in/esdm/pli
What's the 'bullwhip effect' and how can we avoid crises like the global chip shortage?, John Letzing, May 12, 2021, World Economic Forum.
Turkey to emerge from auto chip crisis through local production, April 11, 2020, Daily Sabah
https://www.forbes.com/sites/jwebb/2016/04/26/toyotas-quake-proof-supply-chain-that-never-was/?sh=24443d192101
https://www.wsj.com/articles/car-makers-to-get-no-special-treatment-in-chip-shortage-commerce-secretary-says-11621550444
https://www.cnbc.com/2021/03/23/intel-is-spending-20-billion-to-build-two-new-chip-plants-in-arizona.html#:~:text=Intel%20currently%20operates%20four%20factories,a%20single%20fab%20in%20China.
https://www.reuters.com/technology/chipmaker-tsmc-eyeing-expansion-planned-arizona-plant-sources-2021-05-04/
| | |
| --- | --- |
| | Ramachandran S (Ram) is a Principal Consultant in the thought leadership and research team Infosys Knowledge Institute. His focus is on manufacturing and engineering domains. Ram is a frequent blogger and speaker. He has co-authored a book 'Neoskilling for Digital Transformation' along with Prof L Prasad, IIM Bangalore and published by Wiley India. |
| | |
| --- | --- |
| | Dr. R K Amit is currently an Associate Professor in the Department of Management Studies, Indian Institute of Technology Madras, Chennai, India. He completed his undergraduate studies at IIT Kanpur, and the doctoral studies at IISc, Bangalore. He works in the area of multiagent systems for modeling supply chain and manufacturing systems, especially in the context of disruptive technologies like multidimensional printing, blockchains, and electric mobility. |
| | |
| --- | --- |
| | Dr Shankar Venugopal is a Vice President at Mahindra & Mahindra. He leads technology innovation, intellectual property and knowledge management. He is also the Dean of the Mahindra Technical Academy. He holds a doctoral degree in materials science from the Indian Institute of Science. He has 20+ years of industry experience across GE, Dow, Honeywell, Cummins and Mahindra. He holds ten US granted patents and ten Indian patent applications. |