ITEC INDIA 2023
        THEME: "eAMRIT – Accelerating e-Mobility Revolution for India's Transportation"
International Transportation Electrification Conference - India jointly organized by SAEINDIA and IEEE IAS since 2015 has grown from strength to strength and is returning back to Chennai after 8 years!.
iTEC India 2023 is carefully curated to include Hardware transition from IC to EV; Embedded Electronics of Vehicles including Semiconductors and Software to improve the performance of Electric Vehicles. It will cover the whole gamut of electric vehicles from Battery Electric Vehicles, Hybrid Electric Vehicles, Plug-in Hybrid Electric Vehicle and Fuel Cell Electric Vehicle.
The theme of iTEC INDIA 2023 is "eAMRIT – Accelerating e-Mobility Revolution for India's Transportation'", keeping in tune with the latest trends and future challenges being faced by the Electric Vehicle Industry. We are expecting participation of over 350 delegates, including the presentation of about 90+ technical papers at the Conference. Accepted papers will be submitted for the possible inclusion into IEEE Xplore. All presented papers will be eligible for further review for publication in IEEE Transactions on Industry Applications. Papers presented in iTEC India 2023, will bear IEEE numbers and will find a place in IEEE XPLORE Digital Library.
iTEC India 2023 will be a significant event, since our country is gearing up for adopting e-Mobility as the future of mobility in India by 2030. iTEC India 2023 will act as a platform for Indian as well as the global automotive industry, academia, technology and ecosystem solution providers, in their endeavour towards showcasing India's e-Mobility mission, for a sustainable and safe future.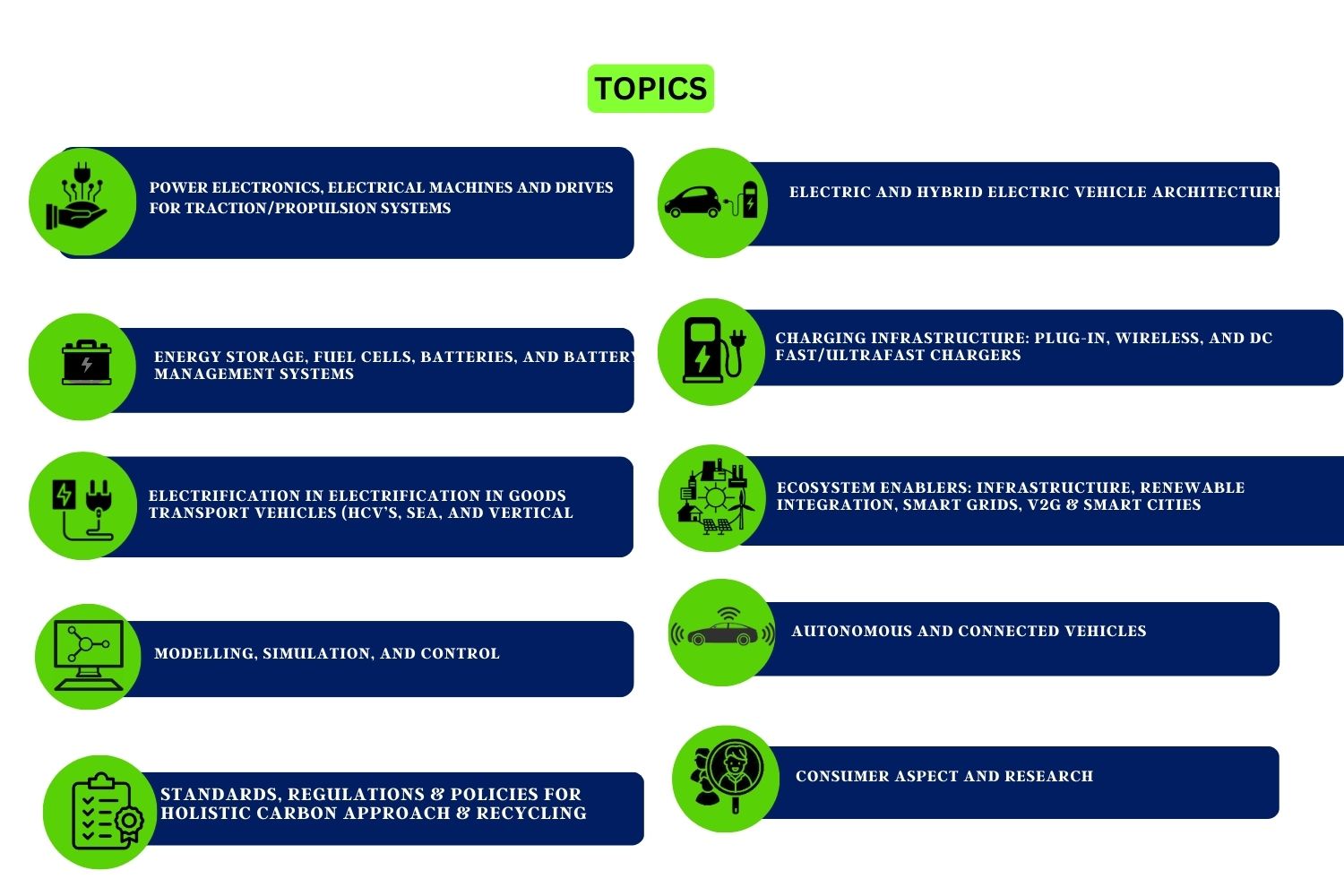 Digest Submission Guidelines:
Prospective authors are requested to submit a digest with no more than five (5) pages following the template to summarize the proposed paper. The digest should include critical equations, figures, tables, and references as appropriate, and references are included within the page limit. No author names or affiliations can be shown in the submitted digests. Digests not conforming to these requirements will be rejected without review. The digests must clearly state the objectives of the work, its significance in advancing the state of the art, and the methods and specific results in sufficient details. All digests will go through a double-blind peer-review process to ensure a confidential and fair review. The papers presented at the conference will be included in the IEEE Xplore Digital Library subject to IEEE standards and quality check. Use 12 pt font, Times New Roman, single column, and 1.5 line spacing.
TENTATIVE DATES
Call for Papers: 15th March 2023
Digest Submission Deadline: 31st May 2023
Manuscript Submission deadline: 31st July 2023
Manuscript Evaluation Notification: 15th September 2023
Final Manuscript Submission Deadline: 15th October 2023
CONTENT WILL BE UPDATE SOON
CONTENT WILL BE UPDATE SOON
CONTENT WILL BE UPDATE SOON
Technology presentation
Provide a genuine platform/stage in the form of 5th Edition of iTECINDIA2023 for the upcoming and present start-ups in the mobility ecosystem to present and showcase their technology and services to potential investors and the key stakeholders in the Industry and its leaders for achieving a smart and sustainable world.
Marketplace EXPO
Build an opportunity to network with the major organizations and stake holders for brand visibility and better engagement with Industry pioneers and stalwarts to get up and running in the mobility domain!
DEC 13 - 15, 2022
Chennai Trade Center
why should Investor join?
REGISTRATION DETAILS:
On being selected for TechHive, you will have to pay a registration fee of Rs. 20,000/- inclusive of taxes.
Fee Includes:
• 3 delegate passes for all the 3 conference days (Pass includes Delegate kit, Lunch for 3 days, Access pass for Gala Dinner)
• Dedicated Roundtable for product display and B2B discussion
Reach Us
We would love to help.
iTECINDIA2023 Team
Mr. Vijay Antony Babu | +91 96001 52999 | vijay.ab@saeindia.org
Mr. Suraj K P | +91 88704 71514 | suraj@saeindia.org