Trends Analysis for Mobility Engineers
Introduction
If you are sailing on a boat, fitted with all the necessary equipment, you must make certain important choices when a strong wind begins to blow and the sea becomes rough. Going against the wind may slow down the boat or even cause it to capsize, but carefully aligning with the wind may speed it up and help him to reach shore quicker. It is up to the sailor to correctly identify the wind's direction and steer the boat in such a way that it reaches its desired destination. On a similar note, a product designer in the automotive industry must decide how to benefit from the apparent winds of change. The past decade has witnessed enormous and disruptive changes in the industry. These modifications have been brought about by a range of factors that have either direct or indirect influence on the products and their usage. These factors are referred to as trends. Though the trends and their impact may vary from industry to industry, we have simplified our analysis by introducing certain general categories that are domain agnostic. In this article we will analyse how a mobility professional might use the trends to predict 'What's Next' in the industry and we will discuss eight Technology Trends that are actively shaping the future of the mobility industry.
The SPECTRUM
Mobility engineers frequently consider technological trends as the primary force driving change in the automotive sector. They analyse the tech trends to predict What's Next and be ready for it. This typical engineer's way of thinking is strongly influenced by their knowledge of science, engineering, and technology. Although technical advancements will have a significant impact on the mobility industry's future, non-technological trends will also have a substantial impact. One may obtain a comprehensive picture of the future of the entire industry by keeping an eye on these broader set of trends. All eight of these significant trends—Social, Political, Economic, Competition, Technology, Regulatory, Universal, and Market—can be grouped together under the umbrella term SPECTRUM.
Social trends – Of the total population that travelled, 67% have moved from the rural to the urban areas of India, according to research on migration in rural India [1]. What does that imply for the automotive sector, then? The young people in rural areas, who depended heavily on farming for their survival, would begin looking for jobs in the city. As a result, there would be a larger pool of workers accessible to serve as delivery partners and drivers for businesses like food delivery services (Swiggy, Zomato, etc.), grocery delivery services (Big Basket, Blinkit, etc.), and shared mobility services (Ola, Uber, etc.). Two Wheelers should be in higher demand for the delivery partners. Greater utilisation of shared mobility could result from the services being able to expand up their offerings as more shared mobility drivers become available. Innovators in the automobile industry should be inspired by these two fact-based hypotheses generated from this societal trend to start considering this user category and designing their automotive solutions for the near future.
The demographic dividend that India enjoys over other nations in the world is another very potent social trend that we may leverage to our advantage. India is home to most of the young people on earth. This might make India a preferred location for car businesses to outsource their manufacturing. These patterns are subtle, but they have a big impact on how the sector will develop in the future. Like these two trends there are many other such social trends driving the automotive industry – one needs to be alert and vigilant of such trends to stay ahead in the race.
Political trends – The ongoing conflict between Russia and Ukraine has led to an artificial scarcity of oil and the fuel costs have increased. The majority of Western nations are now heavily dependent on a small number of oil-producing countries, losing their negotiating leverage in the process.
More than 50% of the world's semiconductor production is produced by the Taiwan Semiconductor Manufacturing Company (TSMC). The automotive industry may soon see another scarcity of semiconductor chips due to the ongoing build-up of tension between China and Taiwan [3]. The rippling effect of globalisation is currently felt in the furthest reaches of the other half of the world. Both localization and globalisation are becoming more important because to uncertainty and volatility. A country has a larger likelihood of being impacted by international political instability the more dependent it is on other nations.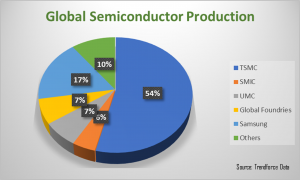 Economic trends – Every product requires a supportive ecosystem for its optimum performance. With the application of innovation methodology like design thinking, one might be able to identify the right user needs and come up with brilliant solutions to solve the challenges the users face. But it is important to identify whether the available market can support economically or not. Recently India has moved past the United Kingdom thus becoming the fifth biggest economy in the world. In the first quarter of the financial year, the country has posted a 13.5% growth which is promising enough for investors to look into investment opportunities in the country. While a booming economy is good news for innovators seeking funds, economic crises can also trigger opportunities for frugal innovation. Innovative business model ideas arise when there is an acute need to share available resources – it was a recession that gave rise to billion-dollar companies like the shared mobility giant Uber and the largest network of hotels Airbnb. Paul Romer, who won the 2018 Nobel Memorial prize in Economic Sciences, rightly said that," A crisis is a terrible thing to waste".
Competition trends – There is a market opportunity of 2 billion euros by 2025, even if just a small percentage of India's electric vehicle vendors are doing local manufacturing [4]. If an automaker like Tesla Motors start selling vehicles in India, then Indian automotive OEMs may possibly band together to face the competition. Such partnerships have happened in other sectors as well, such as Telecommunications (Vodafone Idea joining to tackle Reliance Jio) and Chemicals (merger of Dow Chemicals and Dupont). With shared mobility service providers like Ola altering how people utilise mobility services, the market may also witness a completely different kind of competition brewing. Automobile manufacturers may need to reconsider their business model if consumers decide they no longer want to purchase automobiles as assets but instead use mobility services as a shared option.
Technology trends – Technology will have a significant impact on how the mobility business develops in the future. The advancement of the industry has always been driven by breakthrough inventions. Although electric mobility was invented in the early 1900s, IC engine-based autos were far more affordable than electric vehicles due to the abundant availability of fossil fuel. In the past ten years, we have witnessed a substantial increase in electric mobility due to the development of numerous associated technologies (EV charging, vehicle lightweighting etc) and the decreasing cost of major technical components (batteries, motors etc).
The sector is being driven by certain key technology trends. We will go into more detail about these in our upcoming piece on technology trends in the automobile industry. In this article, we will discuss the twelve key technologies that are fuelling these changes.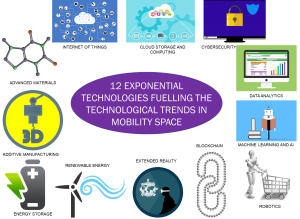 Internet of things (IoT) – IoT is all about tying together numerous objects in our environment via the internet or intranet and gathering data via sensors. The connected ecosystem can be remotely monitored and managed with the aid of IoT [5] [6].
Cloud storage and computing – It is almost difficult to retain and process the amount of data that is created in real time by any operator with the growing use of IoT devices. Data can be processed as necessary and saved in real time on a remote server using cloud storage. Even tiny firms in the area now have potential to use data to produce value thanks to this technology [7][8].
Cyber security – Security has become a top issue for most as a result of the vast bulk of data being kept and processed on remote servers. The risk of hacking into a fully autonomous car powered by data processed in the cloud makes cybersecurity – a vital technology ensuring safety of data breach worries – essential [9][10].
Data Analytics – Making sense of the vast amount of data that is available to us helps with this technology. The volume, variety, velocity, and veracity of big data are taken care of by data analysts, who then derive and provide important information vital to vehicle operation and maintenance [11][12].
Machine Learning and Artificial Intelligence (ML/ AI) – Experts are employing machine learning technology to construct algorithms that can forecast and prescribe the future using the vast amount of data that is already available to entrepreneurs. A lot of automation that would otherwise require human brains to operate properly has been made possible by this technology [13][14].
Robotics – Robotics is widely used in building up important global trends in the mobility sector, from managing human-free industrial facilities to operating autonomous cars and drones [15][16].
Blockchain – A technology that relies on the principle of decentralization and establishes trust among the community of users. Among various other applications, blockchain Technology can be extensively used in making shared mobility safer and more secured [17][18].
Extended reality (XR) – Extended reality technology includes virtual reality, augmented reality, and the combination of the two. Although in-car infotainment, navigation, and vehicle maintenance also see extensive use, the technology finds its greatest application in upskilling and training in the automobile industry [19][20].
Renewable energy – The hunt for alternate energy sources is ongoing since the crackdown on fossil fuels due to sustainability issues. Research is being done on renewable energy sources like solar energy, wind energy, hydro energy, and geothermal energy to get the best efficiency [21][22].
Energy storage – In addition to efficiency, the storage and subsequent distribution of energy produced by renewable sources are also major issues. Numerous studies and developments are being conducted in the field of battery technology as alternative fuels receive increasing attention [23][24].
Additive manufacturing – By democratizing manufacturing, this technology is enabling custom production. In the field of mobility, additive manufacturing technology has the potential to revolutionize production because once it overcomes the two challenges – enhanced adaptability to a wider range of printing materials and higher production speeds [25][26].
Advanced materials – As raw materials for automobile components, several synthetic materials exhibit certain qualities that make them very desirable. For instance, ultra-high strength steel (UHSS) is utilized in vehicle parts that need high strength yet being lighter. Shape Memory alloys have the unusual capacity to regain their former shape after being heated, increasing the likelihood that such materials may be used as sacrifice components in auto accidents at moderate speeds [27][28].
Regulatory trends – Many companies and designers may see regulations as an additional burden to which they must adhere. Regulations establish components' and materials' performance caps for manufacturers. These can actively promote innovation and market competitiveness when written in a fair and proactive manner. The few electric car manufacturers in India that were primarily dependent on imports are now eager to take advantage of the government incentives that are available, but doing so would require them to adhere to the government's requirement for a minimum of 50% localization [4]. This is driving the companies to innovate further in identifying the parts that can be developed locally maintaining the quality and finish. Stringent regulations on vehicle tailpipe emissions led India to leapfrog from BS4 to BS6 using technologies like selective catalytic reduction (SCR), diesel particulate filters (DPF) etc. and finally with the EVs, we are able to achieve zero tailpipe emission.
Universal trends – There are some trends that are a result of universal (earth based) or natural (nature based) phenomena. The effects of global warming can be seen in the increased interest in sustainable and environmentally friendly goods. Numerous advancements have been made possible due to the scarcity of certain minerals (lithium, cobalt etc) and rare-earth elements (dysprosium, praseodymium, neodymium etc) and the geographic concentration of these materials. For instance, Cobalt, a key component of NMC family of lithium-ion batteries, is found in the central African nation of Congo (DRC). Thus, the difficulty of obtaining materials from Congo has a significant impact on how much lithium-ion battery production costs. Research has led to new battery chemistries that require less (one-fifth) Cobalt and cobalt-free stoichiometries too. Companies are increasingly exploring for alternatives to lithium-ion batteries in order to prevent this dependence, which has led to research into alternative battery technology.
Market trends – Of all the trends that we've discussed so far, market trends are perhaps the most important for ensuring success in any industry. Market driven trends are created by consumers and what they expect from the industry players. In the mobility space, the requirements that consumers value most in developing economies like India are fuel efficiency, overall cost of operation (including fuel and maintenance costs), and convenience of use. Engineers working in the transportation sector must make sure that any cutting-edge products they design satisfy the fundamental consumer needs. Electric vehicles, for instance, may be more fuel-efficient (~ 75%) than vehicles powered by fossil fuels (~ 30%). Given that an electric vehicle has fewer moving parts than a car powered by an internal combustion engine, the cost of operation is likewise lower. However, the mainstream market may not accept electric vehicles until the convenience of use (finding a charging station for fast charging, etc.) is equal to or better than that of conventional cars. To get widespread adoption, the ecosystem must be fully developed.
Conclusion
Product design engineers need to analyze the various trends and design the products that either leverage or respond to the trends.
Engineers need to look beyond technology trends and take a holistic view based on other trends like social, political, economic etc.
SPECTRUM provides a comprehensive framework that remind product design engineers to systematically study eight types of trends that influence new product design.
Author Bio:
Mr. Sayantan Mukherjee is Academic Director at National Institute of Innovation and Entrepreneurship Management (NIIEM). He was the Innovation Manager at Mahindra and Mahindra Ltd. He is an innovation consultant and visiting faculty to various corporates and academic institutes respectively. His deep interest is in helping his students learn how to identify opportunities of innovation following subtle trends.
Dr. Shankar Venugopal is the Vice President at Mahindra & Mahindra Ltd. He leads Technology Innovation and Knowledge Management for the Automotive and Farm businesses. As the Dean of the Mahindra Technical Academy, Shankar is focused on helping young engineers to build future skills. He is a Futurist and does keen analysis of various trends that shape industries.
Reference
Badsha Sarkar, Swarup Dutta, Prashant Kumar Singh; Drought and temporary migration in rural India: A comparative study across different socio-economic groups with a cross-sectional nationally representative dataset; National Library of Medicine; Oct 2022
Chan Kim and Renée Mauborgne; Knowing a Winning Business Idea When You See One; Harvard Business Review; Sept-Oct 2000
Lokesh Choudhary; China-Taiwan standoff might increase Global chip shortage; Analytics India Magazine; August 2022
Lovedeep Brar, Bob Burgoyne, Lovisa Eriksson, Rimaljit Likhari, Thalia Skoufa, Lowri Williams; The India Electric Vehicle Opportunity; CPC India Report; Mach 2021
Alexander S. Gillis; What is the internet of things (IoT); Techtarget; March 2022
What is IoT (Internet of Things)?; Eye on Tech – YouTube channel; 2020
What is cloud computing?; Microsoft Azure Beginner's Guide
Cloud Computing In 6 Minutes | What Is Cloud Computing?; Simplilearn – YouTube channel; 2020
What is Cyber Security?; Kaspersky Website
What is Cyber Security? How You Can Protect Yourself from Cyber Attacks; Kaspersky YouTube channel; 2022
What is Data Analytics?; Master's in Data Science
What is Data Analytics? – An Introduction (Full Guide); CareerFoundry – YouTube channel; 2021
Machine Learning; IBM Cloud
What is Machine Learning?; Google Cloud Tech – YouTube channel; 2017
Sam Daley; Robotics Technology; Bultin.com
What is ROBOTICS | Robotics Explained | Robotics Technology | What are Robots; Tech Might – YouTube channel; 2021
What is blockchain technology?; IBM.com
How does a blockchain work – Simply Explained; Simply Explained – YouTube channel; 2017
Bernard Marr; What Is Extended Reality Technology? A Simple Explanation for Anyone; Forbes.com
What Is Extended Reality (XR)?; Autodesk – YouTube channel; 2022
Lora Shinn; Renewable Energy: The Clean Facts; NRDC.org; June 2022
Renewable Energy 101; National Geographic – YouTube channel; 2017
WHY ENERGY STORAGE; Energy Storage Association; energystorage.org
Better batteries: the hunt for an energy storage solution | Rethink Sustainability; Financial Times – YouTube channel; 2021
Additive Manufacturing; General Electric; GE.com
What is additive manufacturing?; GE Additive – YouTube channel; 2020
Smart materials, discover the materials with which we will shape the future; IBERDROLA.com
The Power of Smart Materials; Accenture Technology – YouTube channel; 2021