H2&Gas based Mobility Conference
Hydrogen & Gas based Mobility Conference
Vision 2050 : Achieving Net Zero Carbon Emission through Hydrogen & Gas based mobility
Highlights of Conference:
 The conference started with Mrs. Rashmi Urdhwareshe, President SAEINDIA welcoming the delegates, speakers and sponsors to the 2 day virtual conference. Following this Dr. Arunkumar Sampath, Chair – Meetings & Exposition Board, SAEINDIA delivered his address setting the context for the conference.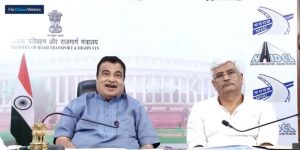 Mr. Amitabh Kant, CEO, NITI Aayog, in his Guest of     Honour address underlined the importance of not only     relying on electricity for Green Mobility but also seek   other Green sources like Hydrogen. He also spelt out   five point recommendations for migrating to Green Hydrogen:
India should plan to roll out the PLI scheme for manufacture of electrolysers, to leverage the huge global bottlenecks in electrolyser supply chains.
We need to mandate mixing of green hydrogen in existing hydrogen utilization, like refining and fertilizers, depending on the viability gap and mandate new greenfield projects with hydrogen applications, like oil refining and fertilizers.
India should focus on building a vibrant hydrogen products export industry, such as using green steel in a phased-wise manufacturing program.
India needs to build stronger alliances with South Korea, Japan and Singapore, for exporting green hydrogen to help them reach their goals of NetZero emission economy.
Capital costs contribute significantly to green hydrogen costs, to produce hydrogen and Dollar linked contracts should be explored in this sector, as it was done for oil & gas.
In the First Plenary Session Dr. Srivatsan Iyer, Global CEO, Hero Future Energies Spoke about "Green Hydrogen: Path to Series Production and Affordability" it was followed by Mr. Shitalkumar Joshi
Technical Director, Ansys delivering his keynote address on "Engineering safe and reliable hydrogen fuel-cell based EV Powertrain"
The second Plenary Session started with Ms. Monica Saraiva Panik, Director Institutional Relations, ABH2 (Brazilian Hydrogen Association) & Mentor Hydrogen SAE Brasil sharing her thoughts on "Global Overviews- Green Hydrogen Biofuels, Carbon Neutrality". The session also featured a case study by Mr. Anish Paunwala Director Business Development - Investment (Capital) Projects & H2 Business, Linde on "Well to wheel – hydrogen supply chain for mobility".  The session was drawn to a close with keynote address by Dr. Pradheepram (Ram) Ottikkutti, Executive Director – India Engineering, Cummins who delivered his address on "Application of Hydrogen for Transportation and Mobility."
Day 1 had an intriguing panel discussion on "Challenges in Nation-wide rollout of Green Hydrogen for Mobility & Industrial applications" This discussion was moderated by Mr. Anand Vasudevan, Founder & Managing Director, Spotimyze Energy. The panellist at this discussion were:
Prabhu Rao,Ivys Energy Solutions
Mainak Chakraborty, Co-Founder & CEO, GPS Renewables
Mr. Suresh Arikapudi, General Manager, Advanced Technology, Tata Motors
The day ended with Chief Guest Address by Hon'ble Minister Shri Nitin Gadkari, Ministry of Road Transport and Highways and Hon'ble Minister Shri. Gajendra Singh Shekhawat Minister of Jal Shakti. Mr. Suresh K V, President of ZF India also participated in the Q & A session with the Ministers and posted his questions to them on the road map to Hydrogen and Gas Based Economy for India.
Minister of Jal Shakti during his address stressed the fact that of Hydrogen based power generation is the future but the success of it depends on how much of that would be from Green Hydrogen. He also noted that India has to follow the example of Saudi Arabia which is able to offer low cost solar at Rs.0.76 per unit.
Minister of Road Transport and Highways during his address made a commitment that he will make a suggestion to the government that whatever concessions that are being offered for electric vehicles could also be extended to hydrogen vehicles. Following his speech he participated in a Q & A session with the participants of the Symposium. Mr. Suresh K V, President of ZF India also participated in the Q & A session with the Ministers and posted his questions to them on the road map to Hydrogen and Gas Based Economy for India.
The 2nd day of the conference started with Plenary session 3 with Dr. O P Agarwal CEO, WRI India on "Hydrogen Urban Transport and Infrastructure". This was followed by Keynote address by Dr. SS Thipse, Deputy Director - Power Train Engineering, ARAI on Standards, Regulations & Policies for Hydrogen mobility. There was also a case study on "Hydrogen Urban Transport Deployment in South Korea" by Ms. Sally Kim Head of Clean Hydrogen Mobility, Market & Advocacy ll Asia Pacific, Linde.
The first speaker at Plenary Session 4 was Mr. Mrugank Inamdar Head of Development - Asia, Hyzon Motors. He spoke of Hyzon Motors experience on deploying Hydrogen based commercial vehicles. Dr Aravind Purushothaman Professor & Chair of Energy Conversion, University of Groningen, Netherlands was the next keynote speaker and he spoke on "Power to X - Alternate fuels derived out of Hydrogen for Mobility applications". The Session closed with a case study by Mr. Sudeep S. Dalvi Senior Vice President & Director – Technical Chief Communication Officer – External Affairs (State) Toyota Kirloskar Motor Pvt. Ltd.
The Panel discussion on Milestones to Net Zero - Making AatmaNirbharBharat and National Hydrogen Mission was Moderated by Mr. Amrit Singh Deo, Senior Managing Director FDI counsulting. The following panellist at this panel discussion:
Pawan Mulukutla - Director, Electric Mobility, WRI India
Siddharth Mayur - Founder, M.D & CEO, h2e Power Systems
Ashish Lele - Director, CSIR - National Chemical Laboratory
Deepak Gupta - Honorary Director General of National Solar Energy Federation of India
The valedictory session had a Keynote Address by Mr. Sanjeev Arora CTO, JCB India Ltd on "Zero Carbon Opportunities & Innovation Potential in Construction Equipment Sector". The Chief Guest at the valedictory session Dr. Martin Lamke Director, Fuel Cell Project House eMobility, ZF Group, Commercial Vehicle Technology spoke on Innovative CV Technologies for Hydrogen based Electric Vehicles.
Based on the conference proceedings the convenor of the Conference Dr. Arunkumar Sampath presented the Mission 1.008 - Recommendations from SAEINDIA.
Government must have a realistic approach towards Mission 1.008 (Mission. Hydrogen)
Key recommendations:

Set up a mechanism for new technologies to participate in the Tenders that are issued by Government or PSU's, where the Financial qualification criteria may not be achievable for start up technology companies.
A special 1.008 task force to be established that will monitor all ongoing projects, R&D activities and industry initiatives that are being undertaken under the Hydrogen ecosystem.
For Mobility Sector, special focus to be given on Storage, Compression & Dispensing technologies and encourage Make In India for these components.
Special fund to be created for Indian startups who are working on Hydrogen technologies and encourage them to develop indigenous solutions on production, transportation, storage, dispensation and end user use cases on Hydrogen.
Power to X to be a focus area, where renewables can be used along with Co-Electrolysers to produce Ammonia, Methanol, Kerosene, ATF etc.
Approval process for funding programs to be done on a fasttrack basis.
Hydrogen and Fuel Cells to be part of the curriculum in Engineering schools and every engineering school to be mandated to have a Test station, stacks and systems in their lab for experiments to be conducted by students, who will in turn open up the innovation ecosystem in India.
State Governments to be given targets on setting up PoC's on Hydrogen infrastructure & mobility, which can be partly funded by the Center.
Creation of Hydrogen clusters in Industrial areas, where all manufacturers of Hydrogen releated technologies can set up their manufacturing facilities and all requisite infrastructure is made available. There can be 4 – 5 such clusters, one in South India, one in Western India, one in North India, one in Central India and one in NE.
PLI scheme to be extended to Hydrogen technologies and components.
Component manufacturing incentives to be provided to SME's so that India can manufacture 100% of the components required for electrolysers, fuel cells, cylinders, dispensers etc.
Hydrogen day to be celebrated on 8th of October every year.
A special Group of Ministers to be formed for Hydrogen (MNRE, MoPNG, MoRT, DST, MOEF)
GST benefits to be extended to Hydrogen technologies.
Import duty waiver for components / equipment's that are part of the Hydrogen ecosystem, especially those which are responsible for setting up manufacturing facility in India.
Identify 4 Hydrogen cities in India and implement a NET ZERO target in these cities across India.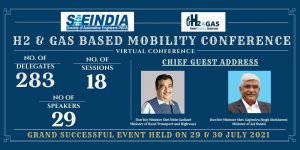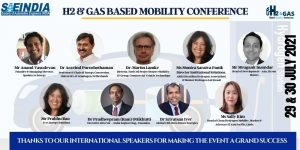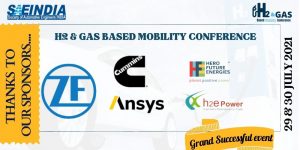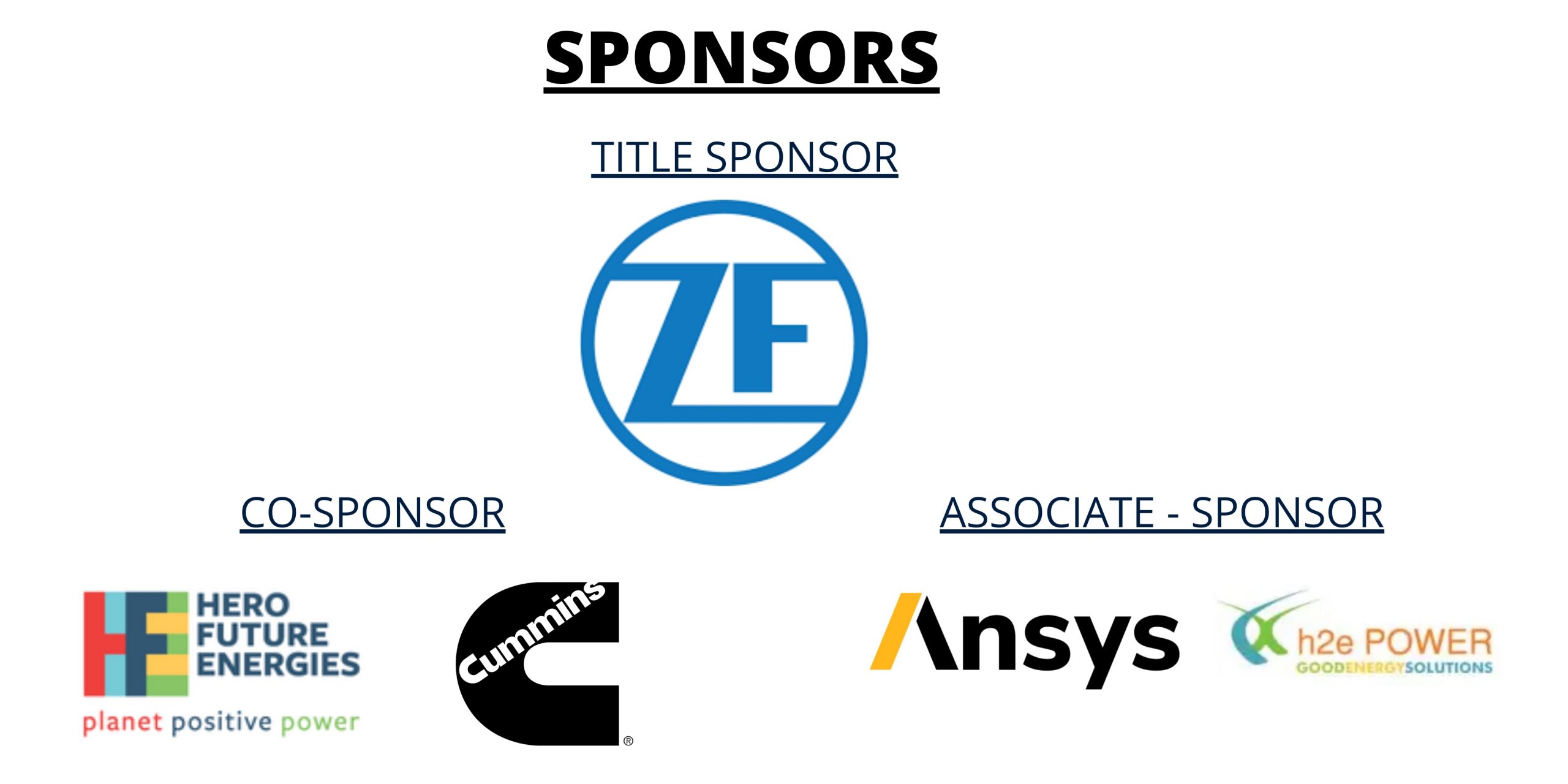 Dr Arunkumar Sampath

, Chair - Meetings & Exposition Board, SAEINDIA 

Prof. Aravind

, Professor, University of Groningen, Netherlands

Mr Anand Vasudevan

, CEO & Founder, Spotimyze Energy

Mr Srivatsan Iyer

, Global CEO, Hero Future Energies

Dr Anurag Pandey

, Team Lead, Reliance Industries Limited

Mr Anish Paunwale

, Associate VP, Linde Corporation

Mr Pawan Mulukutla

, Director, WRI

Mr Adamo Screnci

, Vice President, Total Energy

Mr Rahul Singh

, Managing Director, Shell Energy

Mr Siddharth Mayur

, Founder & CEO, h2e Power Systems

Mr Pranab Ghosh

, Head of HSE, Asset Integrity & Sustainability, Adani Total Gas