ITEC INDIA 2021:
        THEME: E-MOBILITY FOR AATMANIRBHARBHARAT
In continuation to the successful conduct of three editions of International Transportation Electrification Conference, SAEINDIA & IEEE IAS, are organizing the 4th Edition of International Transportation Electrification Conference (iTEC) India 2021 in a Virtual format to enable participation for delegates from India and abroad.
iTEC India brings together leaders, experts technocrats, professionals, academicians working in electric vehicle technology areas, on a common platform to exchange technological ideas, identify the challenges ahead, find appropriate solutions and lay out a technology road map for the future.
The theme of iTEC INDIA 2021 is "e-Mobility for AatmaNirbharBharat", keeping in tune with the latest trends and future challenges being faced by the Electric Vehicle Industry. We are expecting participation of over 350 delegates, including the presentation of about 90+ technical papers at the Conference. Papers presented in iTEC India 2021, will bear IEEE numbers and will find a place in IEEE XPLORE Digital Library.
iTEC India 2021 will be a significant event, since our country is gearing up for adopting e-Mobility as the future of mobility in India by 2030. iTEC India 2021 will act as a platform for Indian as well as the global automotive industry, academia, technology and ecosystem solution providers, in their endeavour towards showcasing India's e-Mobility mission, for a sustainable and safe future.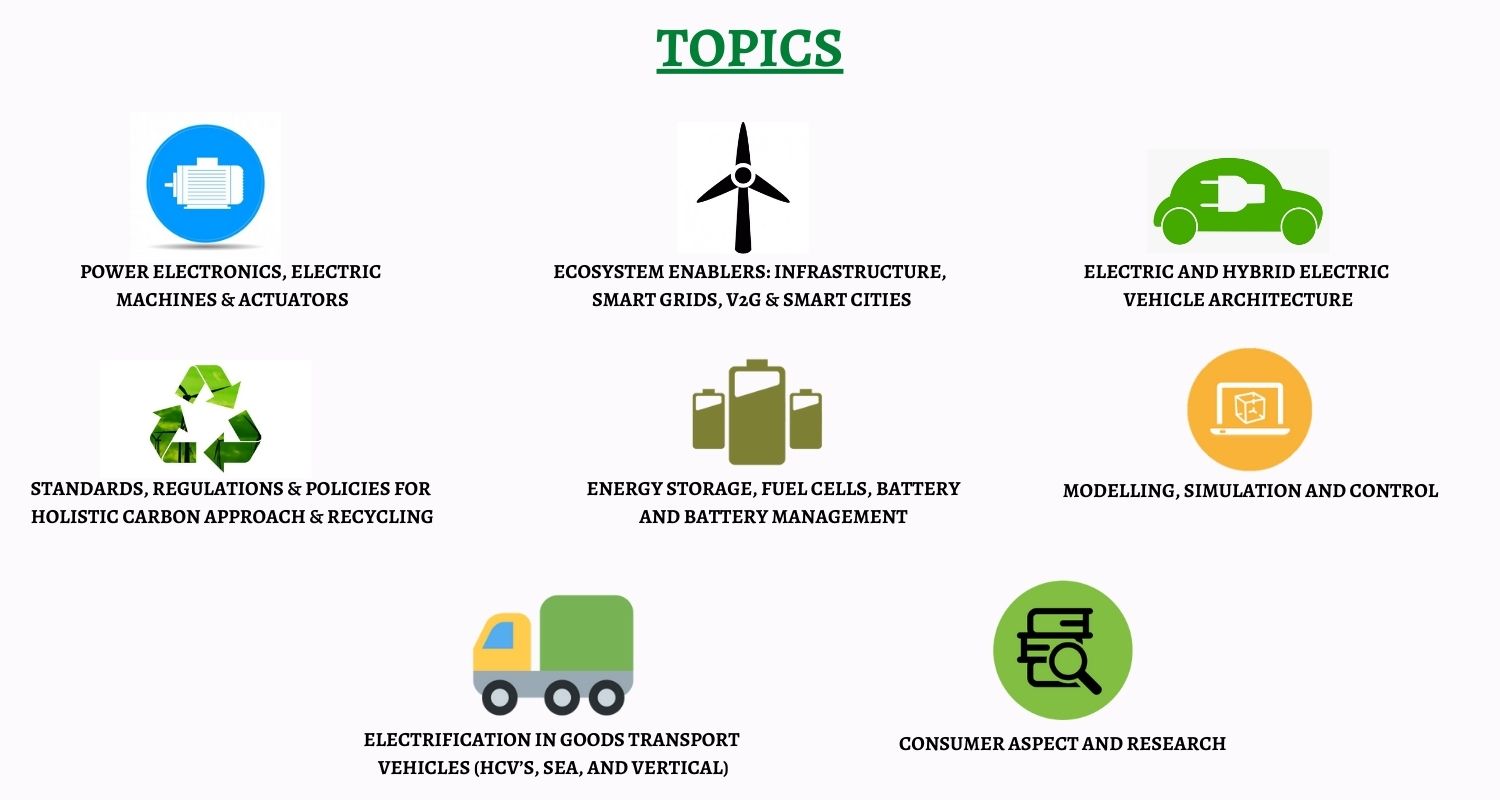 Plenary Sessions
o   Aatmnirbhar Bharat  - " INDIA's Journey towards Self Reliance on EV technologies"
o   Sustainable Mobility: India Centric Approach
o   Enabling E-Mobility Ecosystem for faster adoption
o   Designing Affordable E-Mobility solutions for diverse consumers in the new world
o   Innovation and Start-up Experience in transforming mobility
*Accepted papers will be submitted for the possible inclusion into IEEE Xplore.

*All presented papers will be eligible for further review for publication in IEEE Transactions on Industry Applications.
ITEC INDIA 2021 event is spread over three days from 16th till 18th December 2021. Main Event comprises of Technical Paper Presentations spread across 8 domains/Tracks by Authors across Industry & Academia.  Event will also host 5 plenary sessions which will feature Keynotes sessions & Panel Discussions by Domain Experts, Policy Makers, Civil Society & Leaders/Founders from key Startups.
Themes for Plenary sessions have been chosen to cover the broad spectrum of E-Mobility issues, ranging from:
    * Policy Interventions for Aatmanirbhar Bharat in e-mobi lity space
    * India Centric Approach for Sustainability and Decarbonizing Transport sector
    * Enabling E-Mobility Ecosystem for faster adoption
    * Designing Affordable E-Mobility solutions for diverse consumers in the new world
    * Innovation and Start-up Experience in transforming mobility
Special Sessions are also being planned for the first time in this conference to enhance the experience of the conference attendees.

PRE-CONFERENCE TOP-TECH WORKSHOPS:
In line with the Conference theme for Aatmanirbhar Bharat, ITEC brings opportunity to capability up to develop future mobility solutions locally. Facilitated by Modelling Experts from our Technology partners Ansys & Math-works, workshop will focus on hands on simulation skill capability up.
Topics Covered:
EV development modeling methodologies
Building electric /Hybrid powertrain & Vehicle model, Battery / BMS system modeling and challenges, Motor control algorithms, Industry & real-world applications
Top Tech Work shop learning Path:
The Workshop will happen on Pre-Conference day on 15th December. To make the workshop meaningful, attendees will be provided trial licenses a week in advance of the conference. Attendees will have to participate in webinars designed to prepare attendees for the workshop in order to enrich the learning. Trial licenses will continue to be valid a week post the conference and attendees can hone their skills and also get online support from our technology partners.
Who should attend:
Enthusiast Students and professionals working in electrification domain or willing to learn.
Attendees with some exposure to the simulation tools will be preferred.
Session Fee: Along with Delegate charges additional fee will be applicable for these workshops
Take-Away: Industry use-cases understanding, Electrification technologies modeling process & challenges faced, Hand-on model building.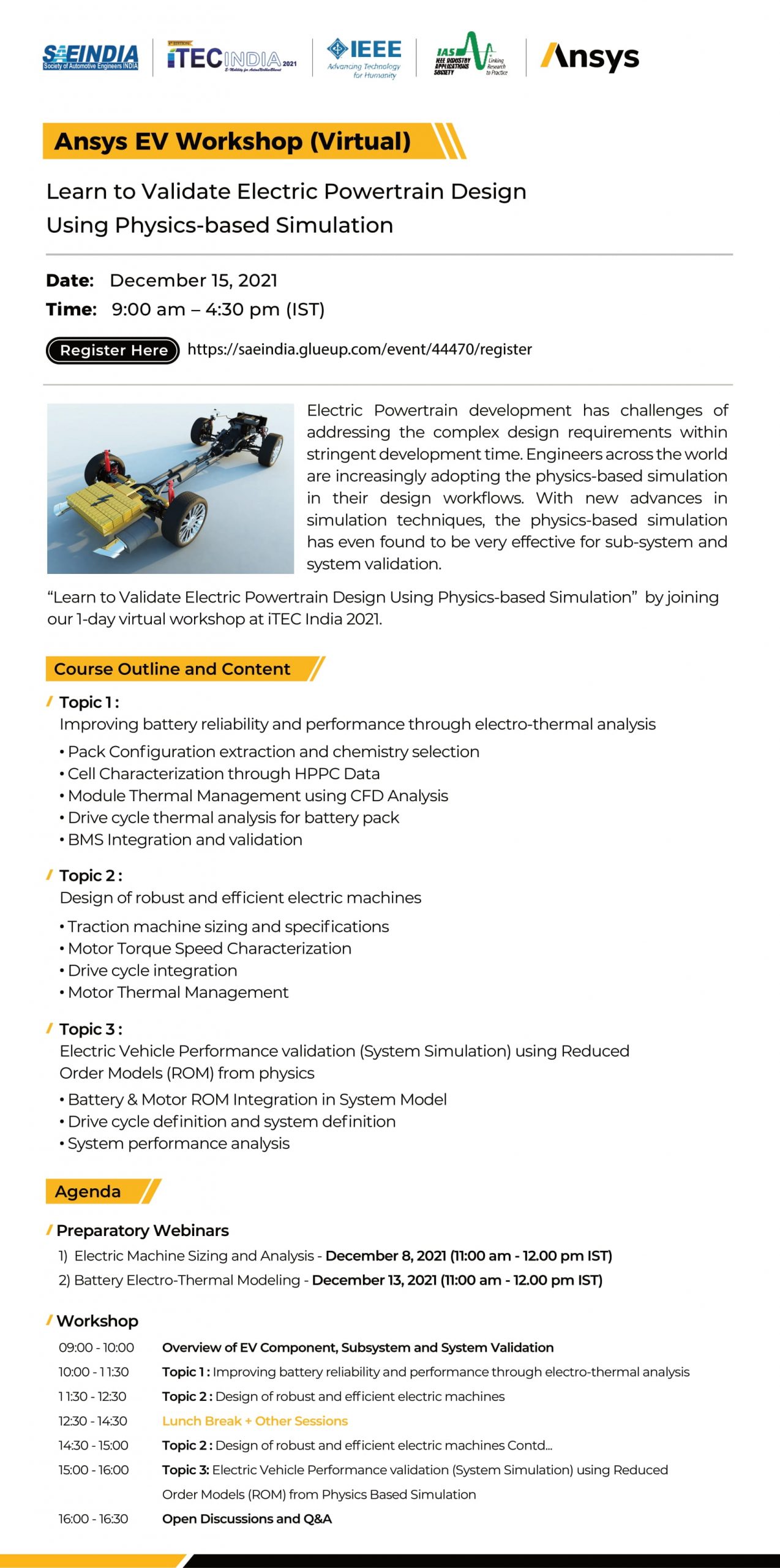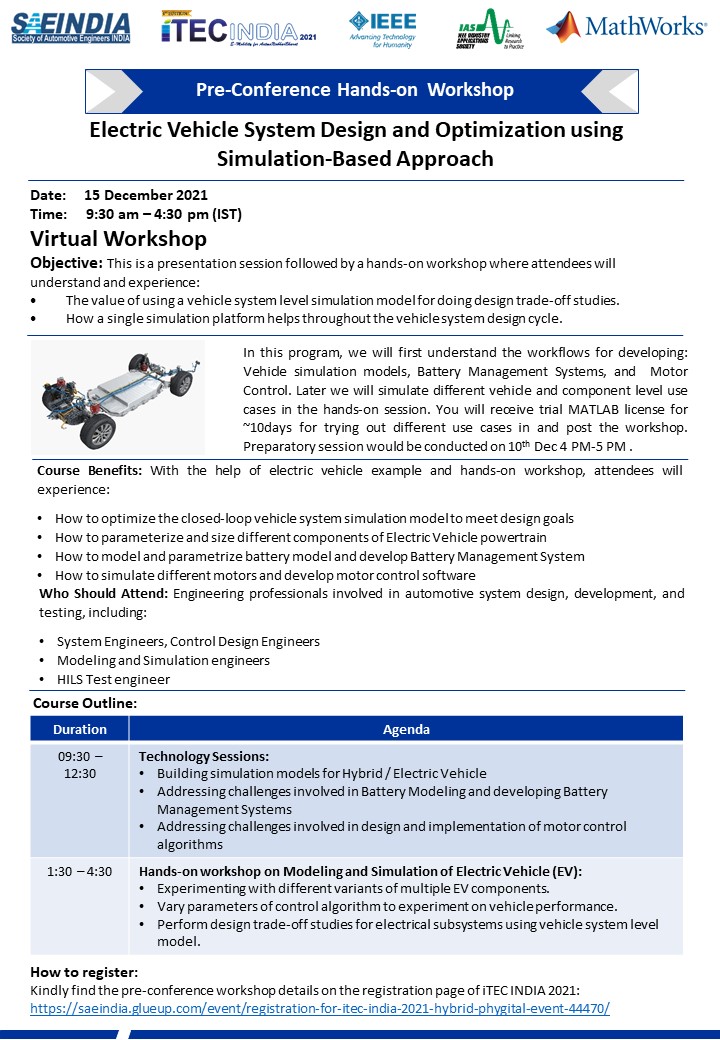 Student & Young Professional Program:
ITEC India 2021 brings In-Person event for students & research scholars to interact with young professional to get industry perspective and exposure.
Event Details:  Young professionals / Engineers talk about career, professional journey & challenges. Open Q&A session & discussion between students and young professionals
Take Away: Opportunity for students to interact & ask career related queries for shaping up their careers
Session Duration: Session will be conducted on the final day of the conference for 90 minutes

Content will be update soon
FOR DELEGATE REGISTRATION:
Ms. Priya | priya@saeindia.org | +91 73387 48891
Mr.Suraj | suraj@saeindia.org | +91 88704 71514
FOR SPONSORSHIP: 
Mr. D.Seshadri | seshadrid@saeindia.org | +91 75500 07903
Mr. Vijay Antony Babu | vijay.ab@saeindia.org | +91 96001 52999