AGENDA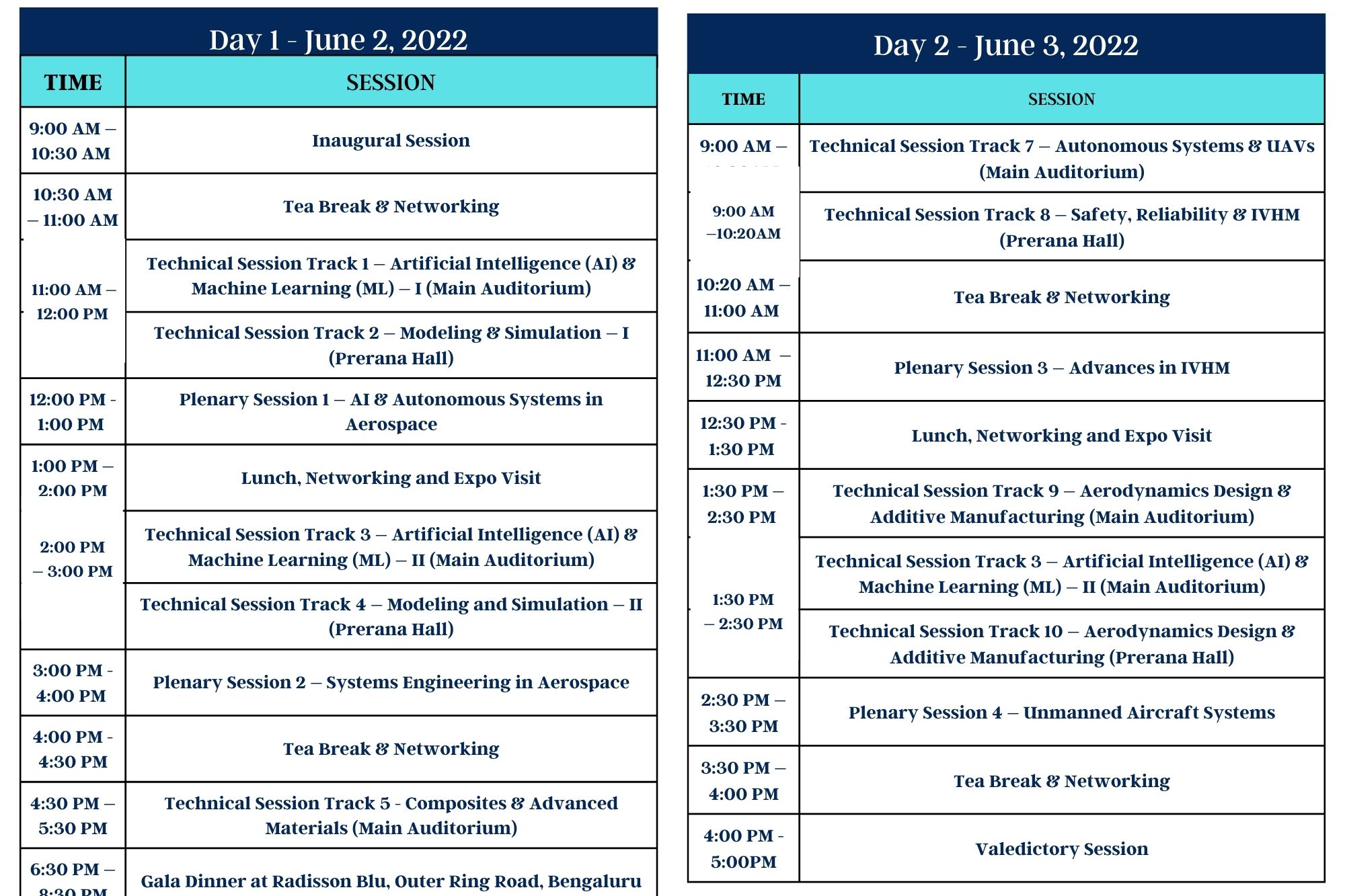 AeroCON 2022
2nd Edition of
International Aerospace Conference in India
CONFERENCE THEME : AUTONOMOUS AIRBORNE SYSTEMS – TRENDS, CHALLENGES & OPPORTUNITIES
AeroCON is a prestigious biennial International Aerospace Conference organized by SAEINDIA in collaboration with SAE International. The International Aerospace Conference: AeroCON 2022 is planned to be held in Bengaluru, India on 2 & 3 June, 2022. The theme of AeroCON 2022 is autonomous airborne systems focusing on various research trends, challenges, and opportunities. It is a knowledge-sharing platform on autonomous airborne systems bringing together the best of industry, academia and research to lay the roadmap for the future of Aerospace & Defence. The increase in demand for large aircraft from Indian airline carriers is leading to focus on Powered by Hour Contracts (PBH). Many Indian aerospace services and manufacturing activities are expected to be driven by PBH. Similarly, India's defence capital expenditure is continuously growing, providing immense opportunities in defence aerospace. This provides unique opportunity for both start-ups and incumbents. The Indian Aerospace & Defence (A&D) market is projected to reach ~USD 70 billion by 2030, driven by the burgeoning demand for advanced infrastructure and government thrust. [Source: IBEF]
Artificial intelligence (AI) and advanced control systems will continue to evolve in the next few years and will play an important role in autonomous systems. Autonomous airborne systems are revolutionizing the aviation industry more specifically in Unmanned Aircraft Systems (UAS) or Drones. These technologies will continue to evolve and will play an important role improving safety and efficiency of operations in both civil and military aviation. The European Union Aviation Safety Agency (EASA) defined a pragmatic AI roadmap consisting of 3 levels namely assisting functions (Level 1), human machine collaboration (Level 2) and more autonomy of the machine (Level 3). Can we accelerate the journey of autonomous airborne systems? Do you want to know the current trends, challenges and opportunities for autonomous airborne systems? Come and join us at AeroCON 2022, a unique event providing a global networking opportunity for Aerospace Professionals both from industry and academia besides the reputed National Defence Laboratories.
SAE INTERNATIONAL
SAE International is a global association of more than 1,28,000 engineers and related technical experts from over 100 countries representing aerospace, automotive and commercial-vehicle industries.
Today, SAE International has a thriving community of members from the Aerospace Industry, and a commanding position in the area of Aerospace Standards with a high percentage of aerospace standards being maintained, managed and disseminated by SAE International. SAE International also organizes various aerospace activities for its members like SAE AeroTech, SAE Aero Design Challenge etc.
SAEINDIA
SAEINDIA is a premier professional society that serves the mobility Engineering Community engaged in the design, manufacturing and service of self-propelled vehicles and systems that move in land, air, space and sea. It has a glorious track record of 25 years in service to the mobility community. It has 4,000+ professional members and 40,000 student members. SAEINDIA is the largest strategic alliance partner of SAE International.
Topics of special interest
(INCLUDING BUT NOT LIMITED TO)
Topics of General Interest & Emphasis Areas
(including but not limited to)
Sectors/ Domains
(including but not limited to)
AeroCON 2022 Technical agenda
Theme 01: AI & ML
Theme 02: Modeling and Simulation
Theme 03: Aero Engines, Additive Manufacturing, Testing & Validation
Theme 04: Systems Engineering
Theme 05: Composites & Advanced Materials
Theme 06: Safety, Reliability & IVHM
Theme 07: Blockchain, Electric Mobility, Autonomous Air borne Systems
Theme 08: Actuation Systems & Avionics
Theme 09: Unmanned Aircraft Systems
DELEGATE FEE:
| | |
| --- | --- |
| Category | Fee |
| SAEINDIA Member | ₹ 4,000 |
| Non-Member |  ₹ 6,000 |
| Faculty Member |  ₹ 3,000 |
| Student Member |  ₹ 1,500 |
*Prices are exclusive of GST
Bulk Registration:
Discount of 5% for the registration of 5 and above
Discount of 10% for 10 and above
Discount of 15% for 15 and above (irrespective of number)
For Bulk Registration, contact +91 73387 48891
Event Venue:
HAL Management Academy,
Sanjay Nagar, Marathahalli, Bengaluru, Karnataka - 560037
RSVP:
Mr. Hasan Kasim| Email ID: hasan@saeindia.org | +91 73387 48893
Ms. Priya. D | Email ID: priya@saeindia.org | +91 73387 48891
ACCOMMODATIONS NEAR EVENT VENUE
Event Venue:
HAL Management Academy,
Sanjay Nagar, Marathahalli, Bengaluru, Karnataka - 560037
RSVP:
Mr. Hasan Kasim| Email ID: hasan@saeindia.org | +91 73387 48893
Ms. Priya. D | Email ID: priya@saeindia.org | +91 73387 48891
Force Majeure 
The AeroCON organizing committee and SAEINDIA shall not be held responsible for non-fulfilment of their obligations due to the exigency of one or more of the force majeure events such as but not limited to the acts of God, war, flood, earthquake, strikes, lockouts, pandemics, epidemics, riots, civil commotion, scarcity, of water, electricity or such other basic facilities etc and shall inform the participating teams on the occurrence and cessation of the event within one week of such decision being made If the force majeure conditions continue beyond a reasonable period where running the event is not feasible either due to the force majeure conditions or any other reasons, the event may be cancelled for the year.

(a) Earthquake, flood, inundation and landslide, storm, tempest, hurricane, cyclone, lightning, thunder, pandemics, epidemics or other extreme atmospheric disturbances or any other act of God

(b) Strikes, labour disruptions or any other industrial disturbances not arising on account of the acts or omissions of the organisers, war, hostilities (whether declared or not), invasion, act of foreign enemy, terrorism, rebellion, riots, weapon conflict or military actions, civil war, ionising radiation, contamination by radioactivity from nuclear fuel, any nuclear waste, radioactive toxic explosion, volcanic eruptions or other such occurrences beyond the control of the organisers

(c) Acts of expropriation, compulsory acquisition or takeover by any government agency of the said venue where the event is to be held or any part thereof

(d) Any prohibitory order of any Court.