Technologies shaping the Future of Mobility
Convergence of Electric, Connected, Autonomous and Shared Vehicle Technologies
Summary – The western section of SAEINDIA has initiated a new technical talk series by eminent automotive experts. The expert speaker, Dr Shankar Venugopal, described how the future of mobility is being shaped by disruptive technologies like electric, autonomous and connected vehicles and disruptive business models like shared mobility. Dr Shankar analyzed the key challenges facing urban mobility and shared a vision for sustainable mobility for the future. He described the innovation opportunities that the convergence of electric, autonomous, connected and shared offers. He laid out four possible future scenarios.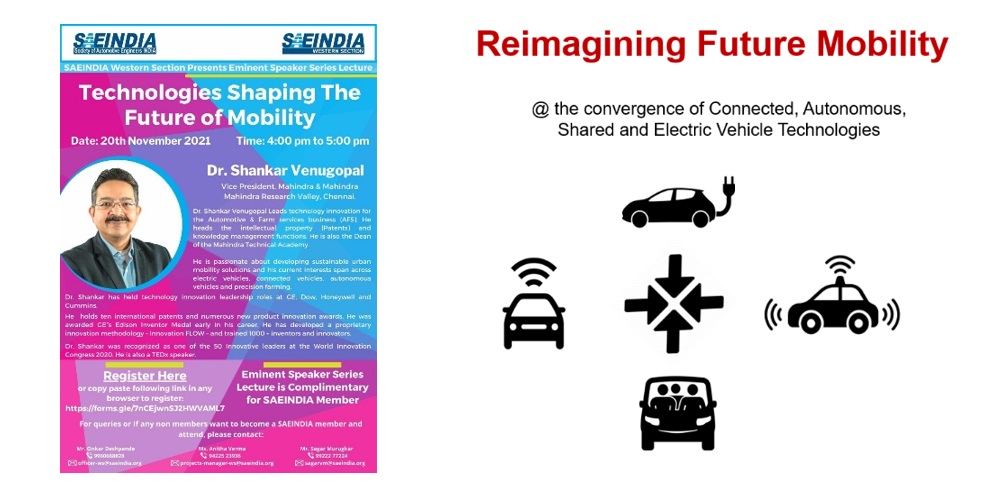 Figure 1 – Technologies shaping the Future of Mobility
Urban Mobility – Challenges
The challenges of urban mobility are three-fold. The air pollution caused by the tail pipe emission of vehicles powered by internal combustion engine (ICE) and fossil fuels. The capital city, New Delhi, is severely impacted by Smog (smoke + fog) during the winter months. The second challenge is the numerous accidents that we often witness on our highways. Many of the vehicular collisions are fatal to the passengers and to the pedestrians. The third challenge is caused by traffic congestions – the "traffic jams" that we face in various parts of the city (e.g Silkboard junction in Bangalore, Hinjewadi junction in Pune are notorious for slowing down the traffic).
Can we build an urban mobility solution that is clean, safe and convenient? How can we bring together the exponentially growing technologies like electric, connected, autonomous technologies and disruptive business models liked shared ownership of vehicles to create sustainable mobility? What are the possible future mobility scenarios that we should visualize to build effective mobility solutions?

Figure 2 – Urban Mobility Challenges
Technology Landscape
Now let us systematically explore how various combination of technologies can address the sustainable mobility challenges [1]. Table 1 summarizes the benefits offered by various technologies:
 
Air Pollution
Vehicular Accidents
Traffic Congestion
Current Status
Electric and Shared
No Tailpipe Emission

Fewer Vehicles on Road

Lower Fuel Cost

Easier Maintenance

Reduced Traffic Congestion

Fewer Vehicles

Lesser Fuel Consumption

Stress-free Drivers

Reduced Travel Time

High Technical feasibility

High Economic Viability

Electric and Connected
No Tailpipe Emission

Fewer Vehicles

Lower Fuel Cost

Easier Maintenance

Collision Warning – V2V

Traffic Signal synchronization  – V2I

Pedestrian warning – V2P

Improved Traffic Flow Management

Less Fuel Consumption

Reduced Travel Time

Stress-free Drivers

More Efficient Parking

High Technical Feasibility

High Economic Viability

Autonomous and Shared
Fewer Vehicles on Road

Lesser Emission

Improved Safety

Collision Avoidance

Fewer Vehicles on Road

Reduced Travel Time

Stress-free Drivers

More Efficient Parking

Medium Technical Feasibility

Medium Economic Viability

Electric and Autonomous
No Tailpipe Emission

Lower Fuel Cost

Easier Maintenance

Improved Safety

Collision Avoidance

Fewer Vehicles on Road

Reduced Travel Time

Stress-free Drivers

More Efficient Parking

Medium Technical Feasibility

Medium Economic Viability
Table 1 – How combinations of technologies address the urban mobility challenges
It is evident from the data in Table 1 that combination of any two technologies does not address all three challenges adequately. Hence we propose that we bring all four technologies together to create a sustainable urban mobility solution (Figure 3).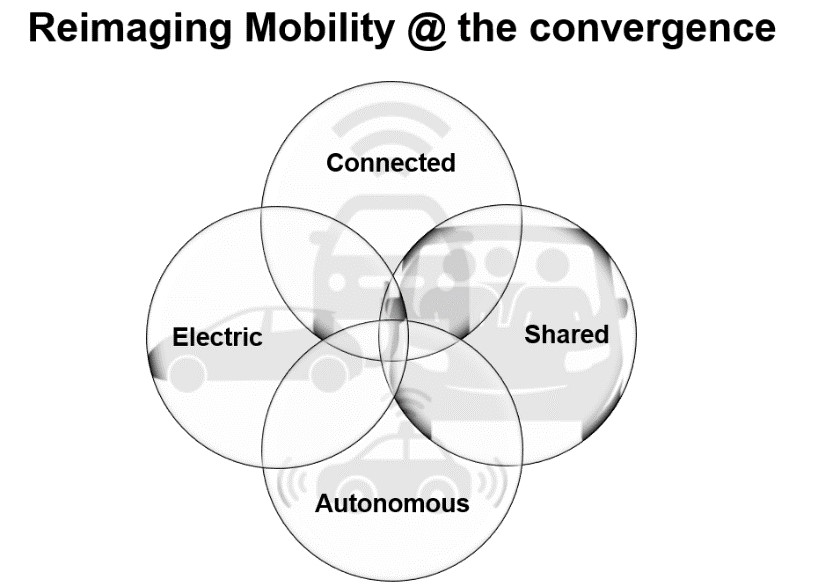 Figure 3 – The Convergence of Electric, Autonomous, Connected and Shared Vehicle Technologies
Building Affordable and Sustainable Mobility Solutions
When we build mobility solutions at the convergence, we need to ensure both affordability and sustainability. To build an affordable product, we need to keep the price of EV's battery low (battery contributes to 40% of EV price), the price of EV charging low and the price of lidar and sensors (for autonomous navigation). Most of the sustainability concerns arise from the geographically constrained (a) battery materials – lithium and Cobalt and (b) the rare earth materials that constitute the permanent magnets of the electric motor. It is also important that the electricity used for charging EVs is produced from renewable energy sources.
It is very assuring to note that the cost of energy storage in LIBs has reduced by 90% over the last ten years (from >$1000 per kWh to values close to $100 per kWh) [2]. The cost of the Lidar (eye of the autonomous vehicle) has also dropped by >90% in the last ten years [3]. The cost of generating electricity through solar photovoltaics has also reduced by 90% in the last decade. The exponential growth in the performance of these technologies, the exponential drop in their price and their rapid convergence give us the confidence to think of creating exponentially growing customer value. When we leverage exponential technologies, we should also think exponentially (for instance, 10X improvement in individual technologies and 100 X improvement in their convergence).
Future Mobility Scenarios
At the exponential rate at which mobility technologies are growing and converging to disrupt the entire mobility ecosystem, it is quite difficult to predict what the future mobility scenario will be. However we can study the trends, make certain assumptions on how we will respond to the trends and thereby visualize what the future scenario will be.  McKinsey analysts published their analysis in a video "What will Mobility look like in 2040" [4]. I have adapted the McKinsey study as the basis for my analysis of future scenarios.
The first scenario (Rajasa) refers to a rapid advancement in technology that results in significant surge in mobility demand and adaption of shared mobility. The second scenario (Sattva) arises from environmentally conscious customers driving the adaption of sustainable practices and products that leads to drop in the share of private ownership of vehicles and use of public transport. The third scenario (Tamasa) arises from the inertia of customers to let go current practices and further aggravated by lack of regulatory measures. The fourth and the most undesirable scenario (Vinasa) happens when we fail to act and our continued wrong practices lead to severe climate change effects. In this worst case scenario, the demand for mobility falls significantly as drastic measures are taken to curb traffic (as a last resort).  It will be prudent to build a pipeline of sustainable mobility technologies and prepare ourselves to face any of these potential future scenarios.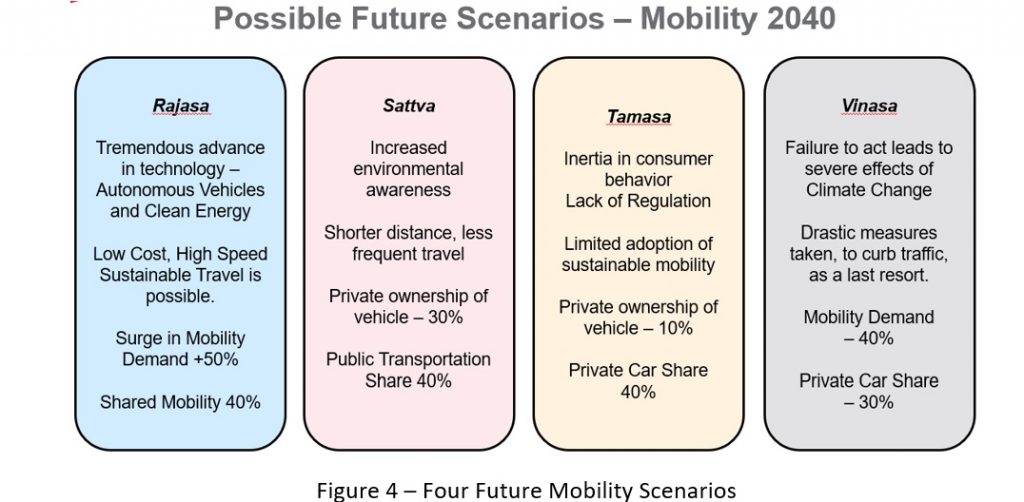 Conclusion
The urban mobility is severely constrained by the air pollution caused by the tailpipe emission of vehicles, the risk of accidents caused by vehicular collisions and the frustrating traffic congestions that plague most cities.
The opportunity to create a sustainable mobility solution lies at the convergence of electric, autonomous, connected and shared vehicle technologies.
The exponential growth and the rapid convergence of mobility technologies makes it very difficult to predict what the future of mobility will be – hence it is prudent to visualize possible future scenarios and prepare to face the future challenges.
We need to creatively reimagine the future of mobility – we need to consciously shift from incremental thinking to exponential thinking and pursue bold ideas that will led to 10X and 100X improvement in sustainability.
References
[1] New Mobility –  Today's Technology & Policy Landscape – https://theicct.org/sites/default/files/publications/New-mobility-landscape_ICCT-white-paper_27072017_vF.pdf
[2] Falling cost of Energy Storage – Lithium ion Batteries – https://www.bloomberg.com/news/articles/2020-12-17/this-is-the-dawning-of-the-age-of-the-battery
[3] Falling cost of Lidar price – https://acceleratingbiz.com/proof-point/lidar-technology-price/
[4] Future Mobility Scenarios – a video created by experts from McKinsey – What will Mobility look like in 2040 ? –     https://www.youtube.com/watch?v=f9b3Me8TCoA
| | |
| --- | --- |
| | Dr Shankar Venugopal is a Vice President at Mahindra & Mahindra. He leads technology innovation, intellectual property and knowledge management. He is also the Dean of the Mahindra Technical Academy. He holds a doctoral degree in materials science from the Indian Institute of Science. He has 20+ years of industry experience across GE, Dow, Honeywell, Cummins and Mahindra. He holds ten US granted patents and ten Indian patent applications. |