EMPOWERING MOBILITY THE SAFE AND INTELLIGENT WAY – SIAT 2019
The 16th edition of the Symposium on International Automotive Technology was bigger than ever – not just in size but also on the impact that displayed technologies will have on our automotive future.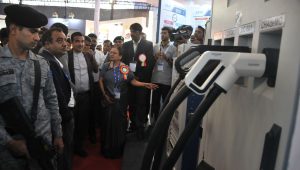 NITIN GADKARI VISITED THE CHARGING STATION FOR   ELECTRIC VEHICLES DEVELOPED BY ARAI
Once every two years the who's who of the automotive engineering world gathers for the Symposium on International Automotive Technology – not just to show- case the latest in their fields, but also discuss the future of the industry. Traditionally hosted by the Automotive Research Association of India on their premises, the event has grown bigger and stronger with time and for its 16th edition, SIAT 2019 was aptly moved to the Oxford Golf Resort on the outskirts of Pune. It proved to be an omi- nous decision considering the sheer attendance at the event over the three days that it was held from 16-18th January. The theme for this year was 'Empowering mobil- ity the intelligent way' and the symposium brought to the fore innovative ideas and practical solutions in technolo- gy to meet future needs.
The three-day Symposium was inaugurated by Dr. A. R. Sihag – Secretary, Ministry of Heavy Industries. While ad- dressing the gathering, Dr.Sihag said, "The ministry has envisaged setting up of 300 electric charging stations in the country with special focus on the Delhi – Jaipur – Agra triangle and the Mumbai – Pune corridor, with a capital investment of ` 35 crore. The initiative, a part of the Faster Adoption and Manufacturing of Hybrid and Electric Vehicles (FAME) – Phase 1, will be completed by the end of 2019." The Government is working as a facilitator to help accomplish India's '3/12/65 vision' as stated in the Automotive Mission Plan 2016-26 by creating supportive infrastructure for testing, homologation and research and development for the industry. "The mission envisages tak- ing the Indian automotive industry to the world's top 3, increasing contribution to the country's GDP to 12 percent and reach a landmark of employing 65 million people," he added.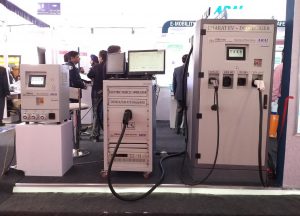 In his speech, Dr. Bala Bharadvaj, President, SAEINDIA and Managing Director of aerospace giant Boeing's India Engineering & Technology Center, said, "There are many parallels between the working of automobiles and air- planes and serious efforts to make flying automobiles are on." Also present at the inauguration were Mrs. Rashmi Urdhwareshe, Chairperson – SIAT 2019 Advisory Committee, Sr.Vice President, SAEINDIA and Director, ARAI; Mr. Vikram Kirloskar, ARAI President, Chairman, SIAT 2019 Organizing Committee, and Vice Chairman, Toyota Kirloskar Motors Pvt. Ltd.; Mr. C.V. Raman, V.P., ARAI, and Sr. Executive Director, Engineering, Maruti Suzuki India Ltd.; Dr. David Schutt, CEO, SAE International; Neeti Sarkar, CEO, NATRIP and Mr. A.A. Badusha, Convener, SIAT 2019, of the Symposium among others.
M15 Blending Program
During SIAT 2019, Union Minister for Road Transport and Highways, Nitin Gadkari announced the M15 Blending Program which aims at reducing the country's depen- dence on oil imports and a move to optimal application of alternate fuels such as ethanol, methanol and bio-diesel. He stressed on the abundance of material in agriculture and other sectors which can work as feed stock for pro- ducing alternate fuels. The program essentially consti- tutes the blending of 15% methanol in petrol and is a proj- ect that the ARAI has been working on for the past few months already using BS-IV compliant vehicles. The M15 blend is basically 82% petrol, 3% additives and 15% meth- anol. Under ARAI's tests the vehicles running on the M15 blend were found to be more fuel efficient as well as hav- ing significantly reduced emissions over a 3,000 kilome- ter test cycle.
Speaking about the M15 Blending Program, Prashant Guru Srinivas, of the Methanol Committee, NITI Aayog, stated that India must embrace methanol as it is cost-effective and can be made from high-ash content coal. He also went on to say that M15 has the potential to achieve up to 20% crude oil import substitution by 2030 – which is twice that of the targeted 10% as suggested by Prime Minister Narendra Modi. Biofuels could in fact constitute up to 20% of the total fuel mix in India by 2030.
Further adding, Nitin Gadkari announced an additional fleet of 40 Scania buses running on 100% bio-ethanol for the municipal corporations of Pune, Mumbai, Navi Mumbai and Guwahati under a new pilot project to study the impact of the fuel. He aims to increase the ethanol economy in India from ` 11,000 crore to ` 2 lakh crore.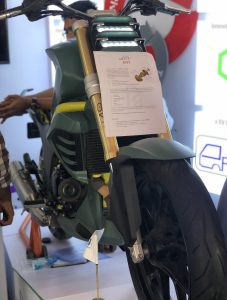 ARAI mild hybrid technology for two and three wheelers
Prominently placed at ARAI's stall in the SIAT Expo was a vehicle that caught the attention of many – what looked like a slightly modified Mahindra Mojo motorcycle was in fact a display of technology that could revolutionise the two-wheeler industry. Aptly named 'Dvi' which is Sanskrit for 'Two', it runs a fully integrated mild hybrid powertrain with a P1 parallel coupling that replaces the starter circuit. ARAI claims that their mild hybrid powertrain provides twice the bottom-end torque and twice the city drive cy- cle efficiency while cutting emissions by half over a con- ventional powertrain. But the standout feature is actually its compact size and efficient space utilization which makes it ideal for use in both two and three wheelers.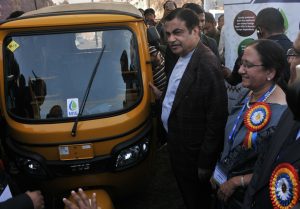 The concept combines the high torque and silent operation of an electric motor with a powerful internal combustion engine with the ability to shift between the two drives seamlessly – which in turn gives the vehicle a host of features such as Start-Stop, EV-only mode at low speeds, regeneration under engine braking, e-ride, boost for acceleration and even launch control among others. In its display form, the vehicle weighs in at 190kg, makes 20kW @ 7,500rpm and 30Nm @ 5,500rpm and uses a 0.36kW-hr battery pack with high charge-discharge rate and rated for over 1500 cycles. The setup enables performance akin to higher capacity motorcycles and ARAI is currenty working on adapting the technology to commuter motorcycles as well.
Along with Dvi, ARAI also showcased chargers for electric vehicles that are compatible with major charging standards such as DC001, GB-T, CHAdeMO and CCS, along with an AC charger with Bharat Stage ports and RFID tags that has been indigenously developed for use by the general public.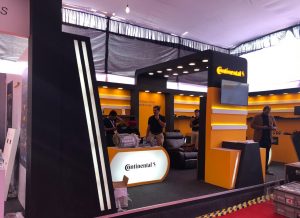 Continental Occupant Safety Monitor
Coming straight from German auto components major, Continental's Bangalore R&D centre, is an Occupant Safety Monitor (OcSM) developed by the recently formed Innovation Management team. The monitoring system uses cameras to visually assess occupant posture and optimize the deployment of airbags for better prevention of injuries in the event of a crash. The system basically analyses the occupants' posture (seat height, distance to the steering wheel, etc) in real time through an image processor and then AI algorithms send inputs to the airbag sensors to optimize deployment based on the posture detected and hence reduce injuries that may be caused by various instances – such as sitting too close to the steering wheel. The technology is being further developed by the Innovation Management group jointly with Continental's Artificial Intelligence and Robotics Labs that specializes in AI and machine learning. The system will also be able to detect objects in the occupant's hands and optimize airbag deployment accordingly.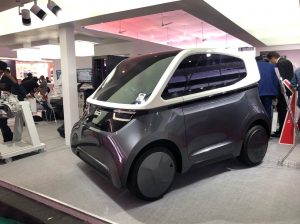 FEV SVEN
This compact runabout was something of a showstopper at the SIAT Expo – developed based on a cooperative re- search program between the Aachen University of Applied Sciences (Germany), share2drive and the FEV Group, SVEN is a pure-electric, compact, three-seater city runabout. The zero-emission vehicle is just 2.5 metres long which gives it the ability to be parked diagonally without jutting out of designated parking spaces. With modern cities getting congested beyond belief, SVEN could be an intelligent solution for mobility in the future. As a car-sharing solution, this could also blur the line be- tween public and private transportation quite significantly.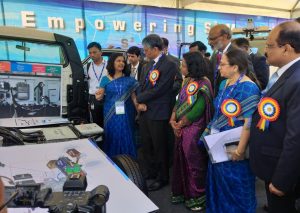 SVEN is also extremely easy and intuitive to operate – with only eight buttons required to control it. There's an MLA projector as well, which can display information including battery charge status on the floor. The vehicle also adheres to the highest safety standards thanks to its applied Flexbody. SVEN will also be largely customizable for its users and future upgradation with autonomous capabilities are on the cards. The FEV SVEN will be dis- played at the 2019 Geneva Motor Show after which it will begin commercial tests. Even in its current stage, OEMs are exploring the possibility of a version with higher seating capacities.