MANOVEGAM AERO CHAMPIONSHIP FINAL FLIGHT ROUND, 14TH & 15TH APRIL 2017, BENGALURU: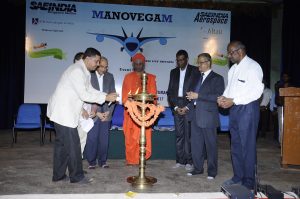 MANOVEGAM 2017 was inaugurated during the networking dinner with SAE International President Mr. Cuneyt Oge, SAEINDIA Aerospace committee members and SAEINDIA Bengaluru section managing committee members at Bengaluru in October 2016.  The competition was in two different categories, Regular class and Micro class. Regular class is a glow engine competition, the purpose is to develop the fundamental understanding of flight and Micro class is an all-electric class competition, the purpose is to engage in trade-off between two potentially conflicting requirements-carrying the highest payload possible, while simultaneously pursuing the lowest empty weight.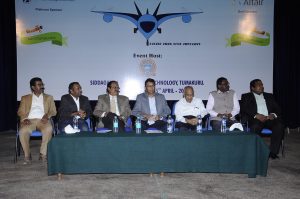 The competition is of two different phases – Virtual round and Flight round. . The Virtual Round was conducted on 11th March 2017 and Flight round was conducted on 14th & 15th April 2017 at Siddaganga Institute of Technology (SIT), Tumkuru, Karnataka.  The MANOVEGAM Flight round was inaugurated by Dr. Sree Sivakumara Swamigalu, Founder, Sri Siddaganga Education Society and Prasanth Sakhamuri, MD, Hind High Vacuum Company Pvt. Ltd.
Total of 29 teams including 261 undergraduate and graduate students from different parts of INDIA had participated for this event. The competition was judged by a panel of eminent personalities from Safran Engineering Services, Assystem, Airbus, Rolls Royce, UTAS, UCAL – JAP Super fly hobby,  Javaji M Consulting, HCL, GE, and CEMILAC.
Viva Institute of Technology won the first prize in Regular class and PESIT-Bengaluru south campus won the first prize in Micro class category. Dr. Bala Bhardwaj, MD, Boeing India Engineering & Technology Center, served the valedictory function and as a chief guest presented the awards to the winning teams. And the four teams won the internship opportunity in top aerospace companies.
The entire event was well orchestrated by the Convener Mr. Damodaran Subramaniam – managing Director Safran aerospace engineering service followed by Organizer & logo designer Mr. Purushotham, Mr. Sathyakanth Thagyarajan, Mr. Shanshanth, Mr. Rakesh D.R & Ms. Jyothi of SAEIBS with their outstanding contribution for achieving grand success to this event.