URBAN AIR MOBILITY SYMPOSIUM 2021
URBAN AIR MOBILITY SYMPOSIUM 2021
        THEME: UAM & AAM – Next Gen Mobility: Technologies, Challenges & Opportunities for India
SAEINDIA in association with the Rotary Wing Society of India and Indian Women Pilots' Association, organized our 1st ever Urban Air Mobility Symposium, with the theme "UAM & AAM – Next Gen Mobility: Technologies, Challenges & Opportunities for India", on 16th & 17th September 2021, under the guidance of SAEINDIA Meetings & Exposition Board. Dr Ramakrishnan Raman, Principal Systems Engineer, Honeywell Aerospace with Dr Arunkumar Sampath, Chair – SAEINDIA Meetings & Exposition Board as Convenor, chaired the 2-day symposium. The event covered four tracks over the course of 2 days, with topics focussing on Technology, Safety & Security, Business Opportunities and Standards & Regulations, for UAM & AAM in India.


The Inaugural ceremony started with the Welcome Address from Mrs Rashmi Urdhwareshe, President of SAEINDIA, which focussed on the fact that UAM & Drone
Industry in India is picking up its pace, to keep up with the world market. Dr Arunkumar Sampath set the right tone to the symposium, by delivering a talk on the importance of UAM & AAM and the initiatives of SAEINDIA, in working towards achieving AatmaNirbhar Bharat and the recently launched initiative "Azadi ka Amrit Mahotsav", for the country's 75th anniversary. The Hon'ble Minister Shri Jyotiraditya M. Scindia, Ministry of Civil Aviation, delivered the Chief Guest Address.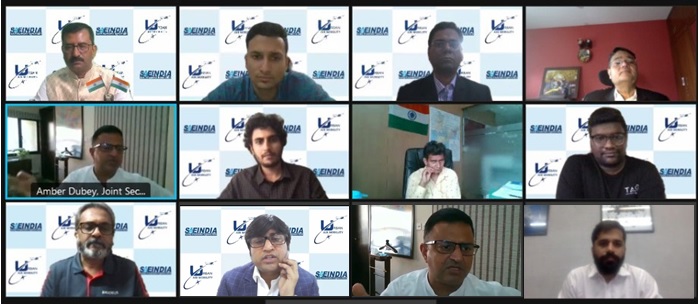 Mr. Scindia started his talk, saying how far we have come in the realm of things, to see what we have read and seen as science fiction and futuristic ideas becoming a reality in our generation. The well attended event and the participants in the symposium demonstrated the skills and capability in India to lead in the future as a powerful nation. The event showed how quickly we have moved in adopting technologies, from the days of the electric bulb
to Moore's Law to bring about an inflection point. The law applies to every form of technology today. Microprocessors are world pervasive today, not just for computers but also for many more inventions including urban mobility.
We stand together on this UAM platform today, with multiple stakeholders including the government. Our outlook has to be one of facilitation. For that, the most important thing is to be able to create an enabling ecosystem for this endeavour. The ecosystem is defined by three principles — i) flexibility, ii) policy imperatives, iii) resources, mainly financial and human capital. These three building blocks allow any opportunity to grow from a seed into a tree.
The opportunity here is not only to emerge as a service provider for India as a market, but for the whole world. That is the size of the opportunity and the target we
should move towards. The economic potential of urban mobility is significant – an economic multiplier of 3.25 and an employment multiplier of 6.1.
Mr. Scindia spoke about the three distinct pieces in the value chain of drones. The first is the hardware or the skeleton for drones. There are more than 200 start-ups in India in this area, with a turnover of 60 to 80 crores and growing. The industry can conservatively grow at 15x in the next 2 to 3 years. The second piece is the software, the technology that is the heart of the drone. There is a wide variety of requirements and we have not even scraped the tip of the iceberg. The tasks range from agriculture to healthcare and mining. Every task will need a different software and is a great opportunity with our engineering talent and youth power.
The third piece is important, the service delivery. Urban air mobility is a fraction of the opportunity. It can be used for the movement of perishable agricultural goods, from remote locations to the nearest mandi for farmers to get a better price. There will be lakhs of drones up in the air. With that are drone pilot opportunities, for a 10th or 12th standard students, to be certified at a drone school with a DGCA license. By 2026, the industry is expected to grow from a nascent stage to a $2 billion industry, at a CAGR of 15% and upward.
The government is doing its bit across the spectrum, starting with the launch of the new drone policy on August 15th 2021. It is a paradigm shift in how the government works, removing the form system and a drop in license fee. There is no license or certification required for Nano drones and non-commercial drones. Commercial drone licenses will be processed by the DGCA in 15 days. We have a digital air space map coming up.
Hon'ble Prime Minister of India sees drones as the next big revolution in India and has given the required focus. The government will play the role of a facilitator and not a regulator, to democratize aerial travel within cities. The drone taxi market will invite Potential investors. We stand at the cusp of India becoming the global drone hub by 2030. We have an opportunity to leapfrog in the travel industry. We were the followers in the telecom industry revolution in the past decade. However, we should aim to be global leaders in the drone industry. The ministry is more than happy to receive suggestions. We will be successful if we work together as a unified group, understanding and helping each other.
Later Mr Deepak N G, Managing Director – India, Dassault Systèmes delivered the Guest of Honour address, which saw the pivotal role of modelling & simulation on the technology and safety of Urban & Advanced Air Mobility.
Track 1: Technology Enablers
The track kicked off with a keynote address from Prof. Satya Chakravarthy, Professor – Aerospace Engg, IIT Madras & Co-Founder, The ePlane Company, exploring the potential of electric planes and the sustainability of the technology. Mr Lalan Singh, Technical Manager - A&D, South and ASEAN, ANSYS focussing on the safety & reliability aspect of UAM, through simulation-driven innovation, delivered the second keynote address. Mr Cesar Legendre, Sr. Research Engineer, Free Field
Technologies presented on Simulation & Verification of Acoustics design, which is a pivotal part in the design of airplanes and aircrafts. It was followed by an interactive panel discussion on the Track topic with
Dr Rajalakshmi, Professor, IIT Hyderabad;
Mr Kalyan Chowdhury, M.D, VTOL Aviation;
Mr Mike Hirschberg, Executive Director, Vertical   Flight   Society,   USA;
Mr Paul Stoelting, Aircraft Director – Growth & Innovation, Moog Inc. USA as panellists and was moderated by Prof. Satya Chakravarthy.
Track 2: Airspace Management & Security
The second track dealing on safety, security and air traffic management had 3 keynote addresses and a panel discussion. Mr Omer Sharar, CEO, Infini Dome shared his views on the advantages, disadvantages and vulnerabilities of GPS and BVLOS in drones and UAM. Dr Kamesh Namuduri, Professor, University of North Texas presented on the importance of V2V communications and Air corridors, for safe and secure flying of aircrafts. Mr Amit Ganjoo, CEO, ANRA Technologies talked on the relevance and significance of Air Traffic Management. An interesting and captivating discussion took place in this track with 1. Mr Shravan V, Founder & CEO, Avianco; 2. Mr Sandipan Sen, CEO, TropoGo; 3. Mr Dilip Damodaran, Jt. General Manager   (ATM-ASM),   Airport Authority of India; 4. Gp Cpt R K Narang (Retd.), Director
– Strategic Initiatives, Drone Federation of India on the end to end coverage of the security aspect.
The 2nd day began with a special address by Shri Amber Dubey, Joint Secretary, Ministry of Civil Aviation, on the marvellous innovation and research by the drone industry, particularly start-ups. He said India is ready to welcome more and said they will be encouraged and necessary help will be given by the Government to the organizations for the betterment of the industry.
Track 3: Business Perspectives
Technology is one part but bringing it into the market is the next big step. In addition, we got that covered here with 3 amazing keynote addresses from Mr Amit Dutta, Managing Director, Blade India on the challenges and ecosystem for UAM; Mr Pranjal Mehta, Founder, The ePlane
Company on the ideal flying taxi for Asia Pacific; Mr Anshul Sharma, CEO, Red Wing Labs on BVLOS operations. The panel discussion took place with 3 top executives in the UAM domain as panellists namely 1. Mr Suresh Menon, Director
– IPP, Amadeus; 2. Mr Smit Shah, Director, Drone Federation of India; 3. Mr Nagendran Kandasamy, CEO, Throttle Aerospace with Mr Pranjal Mehta as the moderator.
Track 4: Standards & Regulations
Advanced Technology might become of no use, if it does not meet the standards and regulations to adhere to a pivotal topic with 4 technically enriched keynote addresses and thought-provoking panel discussion. The keynote addresses were delivered by 1. Mr William (Bill) Woodward, Chair – PNT Committee, SAE International; 2. Mr Aman Johri, CEO, Jatayu Unmanned Systems; 3. Shri R P Kashyap, Director – Drone Operations, Directorate General of Civil Aviation; 4. Dr Manish Pande, Director & Head – PAD Division, Quality Control of India. The panel discussion moderated by Mr R N Johri, CMD, Aman Aviation had 4 exceptional and experienced panellists with 1. Mr N V Karanth,
ex – Sr. Deputy Director, Automotive Research Association of India; 2. Mr Prakash Eeralli, Director – PMO & RMU, Honeywell; 3. Mr Shripathi V, Lead – Technical & Business Development, Aerospace & Defense, MSC Software; 4. Dr Anutosh Moitra, Founder & Director, General Aeronautics, was ended on a high note cementing the importance of Standards, Certifications and Regulations for UAM & AAM.
The Valedictory session commenced with a special address by Dr S N Sridhara, Vice Chancellor, Hindustan Institute of Science & Technology, on the relevance of academics and knowledge enrichment, to current and upcoming students to get them industry-ready, when the technology is ready. Wg. Cmdr. B S Singh Deo (Retd), Vice President, Rotary Wing Society of India shared his views on the development of UAM and the urge to upgrade for a smart and safe nation. Mr Seshadri D, Executive Director, SAEINDIA delivered a heartfelt Vote of Thanks, with a special mention to all the speakers and the sponsors namely, Dassault Systemes - Title Sponsor, Ansys – Co Sponsor, Hexagon– Associate Sponsor and Moog Inc. as ­­­­Supporting Sponsor.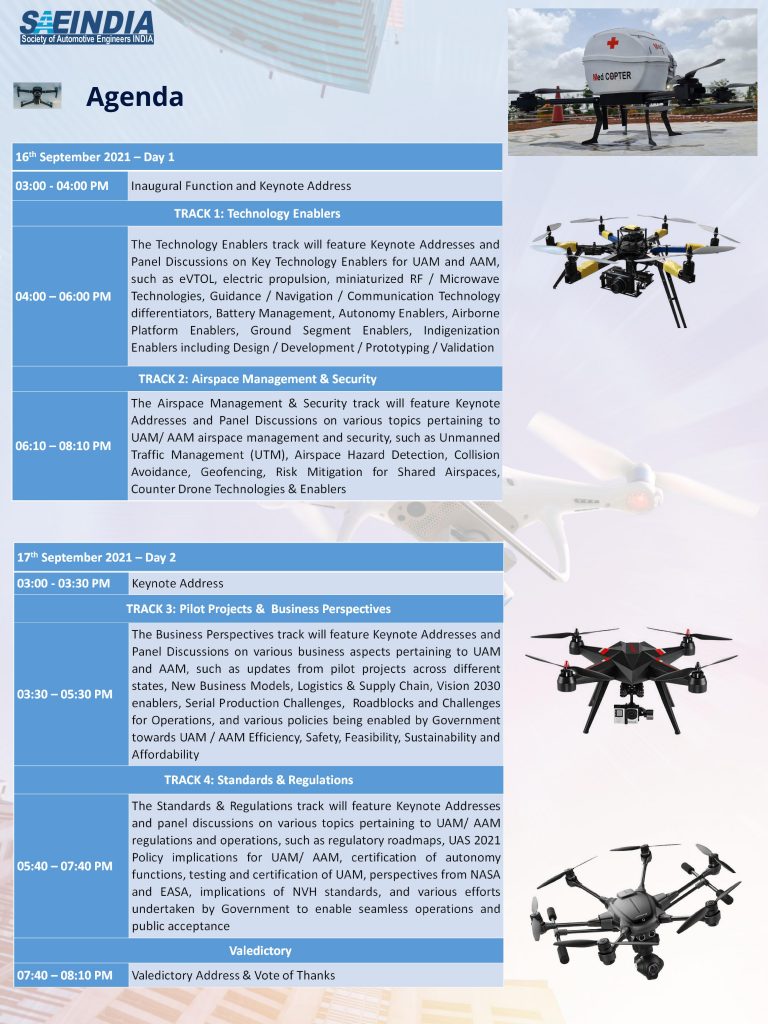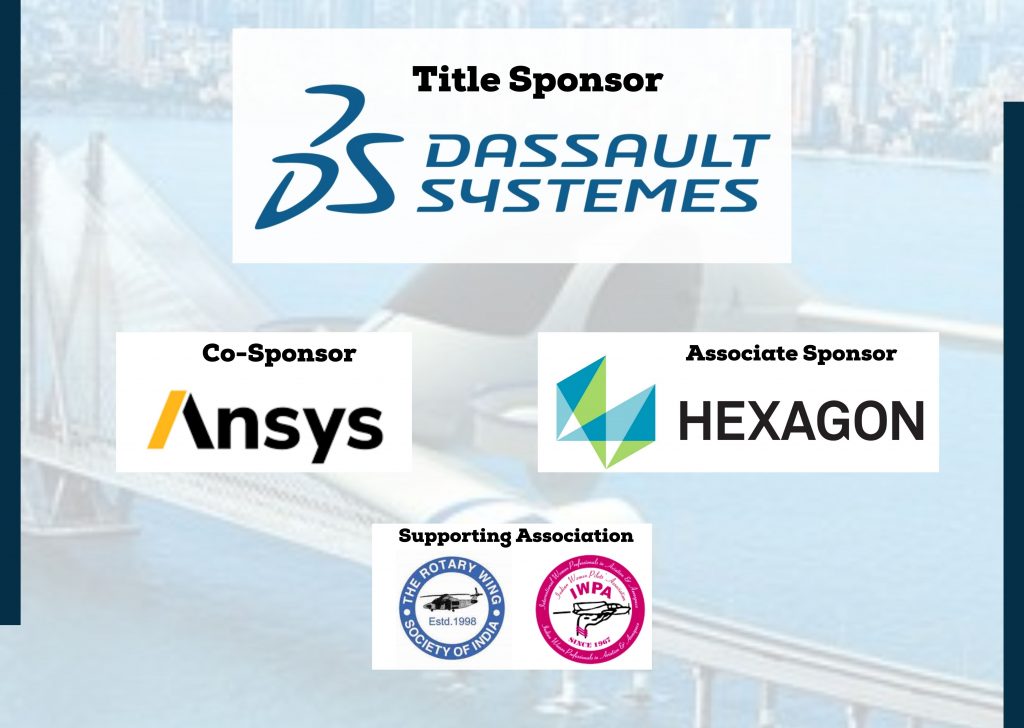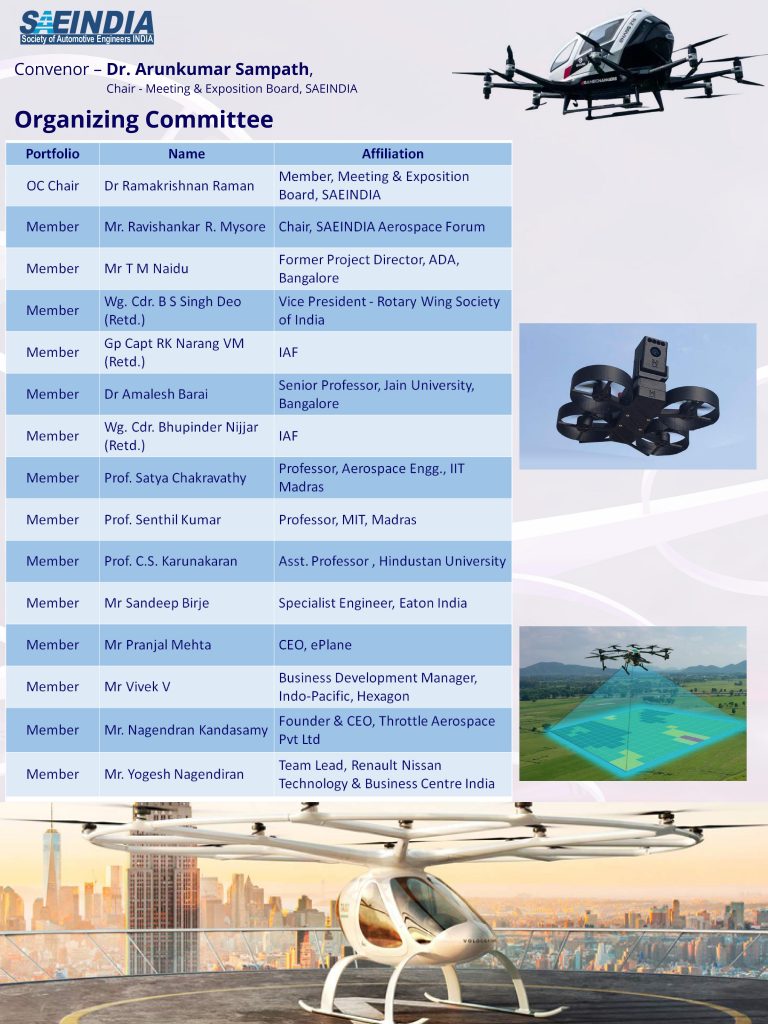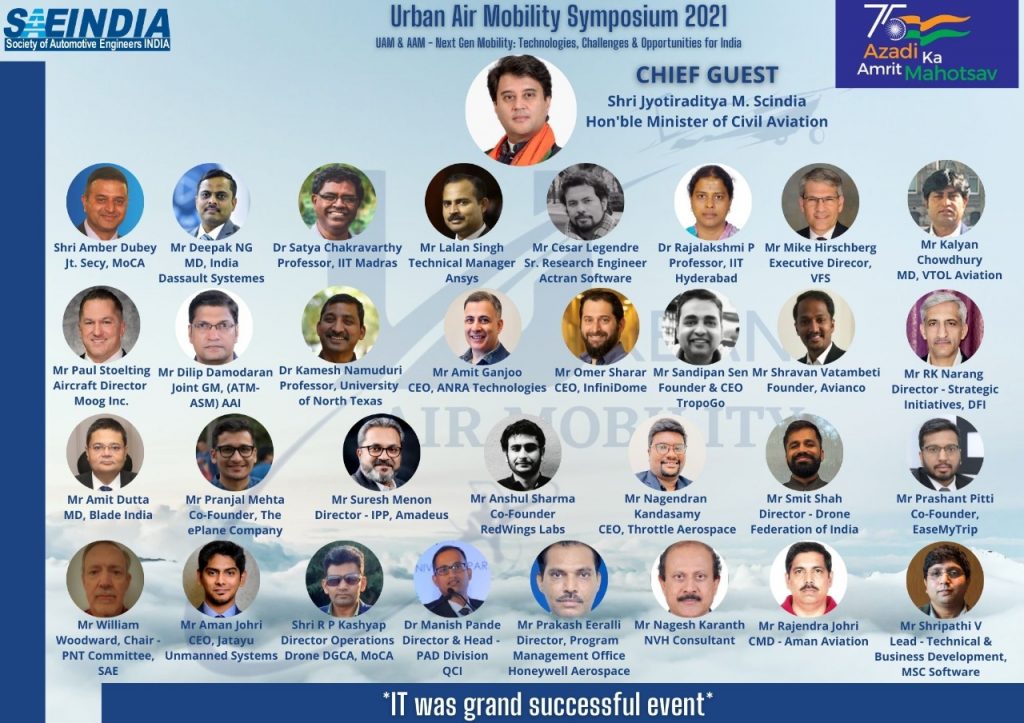 FOR DELEGATE REGISTRATION:
Ms. Priya | priya@saeindia.org | +91 73387 48891
Mr.Suraj | suraj@saeindia.org | +91 88704 71514
FOR SPONSORSHIP: 
Mr. D.Seshadri | seshadrid@saeindia.org | +91 75500 07903
Mr. Vijay Antony Babu | vijay.ab@saeindia.org | +91 96001 52999