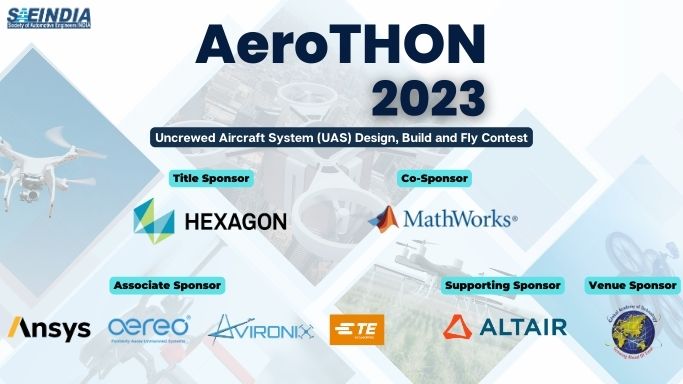 Indian government is on the mission to turn the country into a Uncrewed Aircraft System (UAS) / Drone hub by 2030 under the Atmanirbhar Bharat Abhiyan by accelerating the pace of development of India's Uncrewed Aircraft / Drone industry. India's UAS market could grow to INR 500 billion (US$6.8 billion) in the next five years.
Uncrewed Aircraft System (UAS) are used across many industries like defense, construction, infrastructure, mining, telecom, geospatial mapping, agriculture/farming, media & entertainment, law enforcement, oil and gas for surveillance, security, safety, disaster management, land survey, progress and condition monitoring through aerial photography and thermal imaging. More widespread consumer market applications will soon become realistic, keeping pace with progress in tech innovation and reduced costs. Some of these include drone-facilitated last mile delivery for the retail, healthcare and logistics sectors.
SAEINDIA Aerospace Forum is organizing AeroTHON 2023 competition for students with primary focus on developing design, build and piloting skills of Uncrewed Aircraft System (UAS) to prepare them industry ready for the emerging market. As part of AeroTHON 2023, students undertake a full design and build cycle of an Uncrewed aerial vehicle meeting specific mission requirements, culminating in a final fly-off event.
Objectives:
To inculcate an innovation mindset among the student community in emerging technologies like Uncrewed aerial vehicles (UAV)
To Incubate and nurture skills and capabilities of aero design in young minds and prepare them for Atmanirbhar Bharat in critical aerospace technologies.
To provide a platform for Aero-passionate students to demonstrate UAV design expertise
To help develop the next generation of entrepreneurs
Contest Structure:
Phase 1:  Design and Technical Presentation
Innovative designs presentation from the participant teams
Innovative designs evaluation by industry and academic experts
Top 20 teams shortlisted for Phase 2
Phase 2:  Flight Test with a final presentation highlighting readiness to Fly and Awards
Building the prototype of the UAV
Technical presentation on the prototype and readiness to Fly the UAV
Flight Test
Awarding prizes to 7 teams
Registration Guidelines: 
Registration Fee: Rs. 15,000

+ 18% GST per team

Teams can be formed with a minimum of 5 students and a maximum of 10 students of multiple disciplines with one faculty advisor.

It is mandatory for participating students to become student members of SAEINDIA. It is encouraged to take up the membership under +1 scheme as membership status continues for one more year after the completion of graduation.

Though not mandatory, Faculty are encouraged to become a Faculty Member of SAEINDIA and avail the benefits available for the faculty member of SAEINDIA.

Visit:

https://www.saeindia.org/become-a-member/

to sign up for SAEINDIA membership.
Awards & prizes
Prize Category

Prize Amount

1st Prize

Rs. 1,50,000

2nd Prize

Rs. 1,00,000

3rd Prize

Rs. 75,000

4 Special Awards each of Rs. 25,000
Venue for Phase 1: Global Academy of Technology, Aditya Layout, Rajarajeshwari Nagar, Bengaluru
Key Event Timeline
| | |
| --- | --- |
| Key Event | Date |
| Registration open | 20 Feb 2023 |
| Registration close | 25 Mar 2023 |
| Phase 1: Design Report submission by students | 11 Jun 2023 |
| Phase 1: Presentation Submission | 22 Jun 2023 |
| Phase 1: Students present designs to Judges (Industry and Academic experts) | 24 Jun 2023 |
| Phase 1: Judges review reports & finalize scores | 26 Jun 2023 – 29 Jun 2023 |
| Phase - 1: Winner Announcement | 30 Jun 2023 |
| Phase 2: Physical prototype build |  01 Jul 2023 – 17 Nov 2023 |
| Phase 2: Physical prototype inspection & Flying | 17 Nov 2023 |
| Phase 2: Flying | 18 Nov 2023 |
| Awards Ceremony | 18 Nov 2023 |
Industry & Academia interface committee
Event Management Committee
Marketing & Communication Committee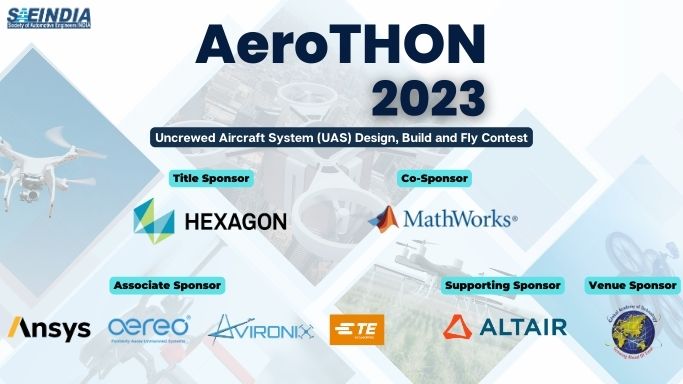 Contact for Sponsorship Opportunity
Mr. Vijay Antony Babu | +91 96001 52999 | vijay.ab@saeindia.org
Mr. Santhosh | +91 73387 48893  | marketing@saeindia.org
Glimpse of AeroTHON 2023 - Phase1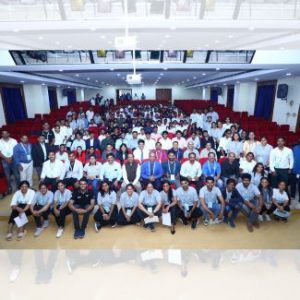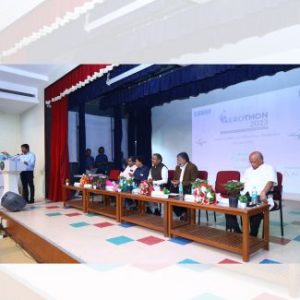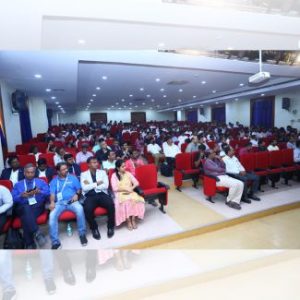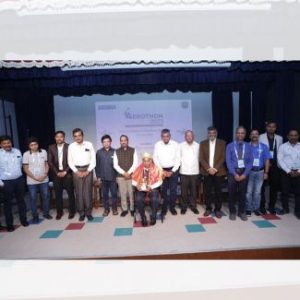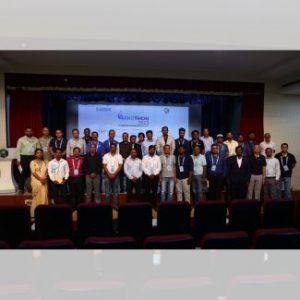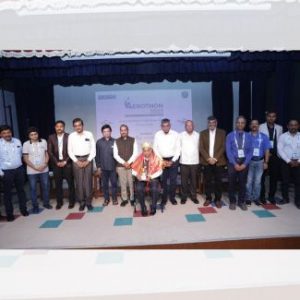 The AeroTHON organizing committee and SAEINDIA shall not be held responsible for non-fulfilment of their obligations due to the exigency of one or more of the force majeure events such as but not limited to the acts of God, war, flood, earthquake, strikes, lockouts, pandemics, epidemics, riots, civil commotion, scarcity, of water, electricity or such other basic facilities etc and shall inform the participating teams on the occurrence and cessation of the event within one week of such decision being made If the force majeure conditions continue beyond a reasonable period where running the event is not feasible either due to the force majeure conditions or any other reasons, the event may be cancelled for the year.

(a) Earthquake, flood, inundation and landslide, storm, tempest, hurricane, cyclone, lightning, thunder, pandemics, epidemics or other extreme atmospheric disturbances or any other act of God

(b) Strikes, labour disruptions or any other industrial disturbances not arising on account of the acts or omissions of the organisers, war, hostilities (whether declared or not), invasion, act of foreign enemy, terrorism, rebellion, riots, weapon conflict or military actions, civil war, ionising radiation, contamination by radioactivity from nuclear fuel, any nuclear waste, radioactive toxic explosion, volcanic eruptions or other such occurrences beyond the control of the organisers

(c) Acts of expropriation, compulsory acquisition or takeover by any government agency of the said venue where the event is to be held or any part thereof

(d) Any prohibitory order of any Court.