AEROSTANDARDS 2021
International Aerospace Standards Workshop, a Virtual Event
SAEINDIA Aerospace Forum, in collaboration with SAE International, organized an International Aerospace Standards Workshop, on 23-24 September 2021. The objectives of this workshop were:
To create awareness on Global Aerospace Standardization Activities of SAE International, ANSI, and SAE-ITC.
Provide Opportunity to Aerospace Practitioners, Professionals, Academia, and Students to contribute to the Aerospace Standards Committees
Help in Career Development of Aerospace Professionals
Integrate and Connect the Indian Aerospace Professionals, with the Global Aerospace Community
A Curtain Raiser Event was held on 7th August 2021, to create awareness of this event. During this Occasion, Dr. S. N. Omkar, Chief Research Scientist, IISc, Bengaluru, India spoke about Standardization of UAV Sub-Systems in India. Dr. Parimal Kopardekar, Director, NASA Aeronautical Research Institute, NASA Ames, USA, briefed on Advanced Air Mobility (AAM) & Supply Chain.
Many Aerospace Professionals, Practitioners, Research, Academia, and Students participated in this Virtual Workshop. More than 300 participants and 20 plus speakers, adored this 2-day event.
The following leading Aerospace Experts of the SAE International Committee spoke at the event:
| | |
| --- | --- |
| Topic | Speaker |
| Inaugural Address | Ravishankar Mysore, Chair Aerospace Forum, SAEINDIA |
| Keynote Address | Dr. Bala Bharadvaj, Former Managing Director, Boeing India Engineering & Technology Center, Honorary Member and Advisor, SAEINDIA |
| Overview of SAE International's Aerospace Standards Programs | David Alexander, Director, Aerospace Standards, SAE International |
| SAE HM-1 Integrated Vehicle Health Management Committee Overview | Rhonda Walthall, Chair, SAE HM-1 Committee; Fellow of Collins Aerospace |
| SAE G-31 Electronic Transactions for Aerospace Committee Overview | Dr. Ravi Kumar G. V. V. Chair, G-31 Electronic Transactions for Aerospace Committee; AVP and Head Advanced Engineering Group, Infosys |
| SAE G-32 Cyber Physical Systems Security Committee Overview | Chris Sundberg, Chair, SAE G-32; Product Cyber Security Engineer, Woodward Inc. |
| SAE G-34/EUROCAE WG-114 Artificial Intelligence in Aviation Committee Overview | Mark Roboff, Chair, SAE G-34/EUROCAE WG-114; CEO, Sky Thread Aero |
| SAE E-40 Electrified Propulsion Overview | Richard Ambroise, Chair, SAE E 40; Head of Propulsion, Airbus |
| SAE G-19 Counterfeit Electronic Parts Committee Overview | Bill Scofield, Chair, SAE G-19; Component Engineer, Boeing |
| SAE A-6 Aerospace Actuation, Control and Fluid Power Systems Overview | Ian Halley, Chair, SAE A-6, Technical Fellow, Boeing |
| SAE G-35 Modelling, Simulation & Training Overview | Dr. Andreas Schweiger, System Architect at Airbus Defence and Space GmbH |
| SAE-ITC Standardization activities overview | Michael McNair, VP of Aerospace, SAE-ITC |
| Role of standardization to improve efficiencies and quality | Dr. Ravi Rajamani, Fellow of SAE International; Visiting Professor at Cranfield University, UK |
| Overview of SAE International's UAS Activities | Dr. Mark DeAngelo, Aerospace Engineer and Pilot, Aerospace Initiatives Manager, SAE International |
| Overview of ANSI Standardization Roadmap for UAS V2 & FAA Perspective | Ritesh Ghimire, Custodian of the ANSI UAS Roadmap V2 on the FAA's behalf; Aerospace Engineer, FAA UAS Integration Office,U.S. FAA |
| How to Get Involved in SAE Aerospace Standards Development | Kerri Rohal, SAE International |
| SAE S-18/EUROCAE WG-63 Aircraft & Systems Development and Safety Assessment Committee Overview | Bob Voros, Chair, SAE S-18; Manager of Engineering Processes, System Safety Lead, Merlin Labs |
| SAE E-39 Unmanned Aircraft Propulsion Committee Overview | Michael Kass, Chair, SAE E-39; Senior Research Engineer, U.S. Dept. of Energy |
| A Perspective from BIS on Standards | Ravindra Beniwal, Member Secretary, UAV Committee, Beauro Indian Standards (BIS) |
| SAE AMS AM Additive Manufacturing Overview | Bill Bihlman, President, Aerolytics |
| SAE AMS P17 Polymer Matrix Composites Committee Overview | Shannon Jones, Chair, AMS-P17, Staff Engineer, Bell Flight |
| SAE G-3, Aerospace Couplings, Fittings, Hose, Tubing Assemblies Overview | Joseph Bebey, Chair SAE G-3, Sn. Hydraulics Engineering, Boeing |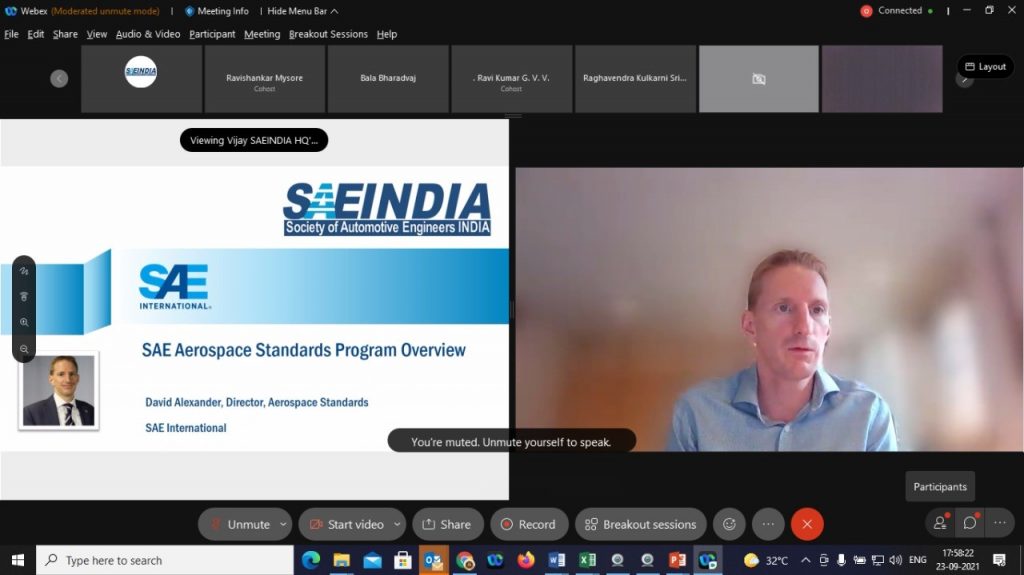 SAEINDIA Aerospace Forum encourages Indian Aerospace Community to participate in the Aerospace Standards Development. Do you want to contribute? You can reach out to Dr. Ravi Kumar G. V. V. (ravikumar_gvv@infosys.com), who is the Current Chair of SAE G-31 Electronic Transactions for Aerospace Committee.