Dear Member,
Warm Greetings from SAEINDIA !!
We are glad to inform you that we are conducting a Professional Development Program on the topic "Electric Vehicle" on 14th to 16th October 2019, 3M India Ltd, Bengaluru.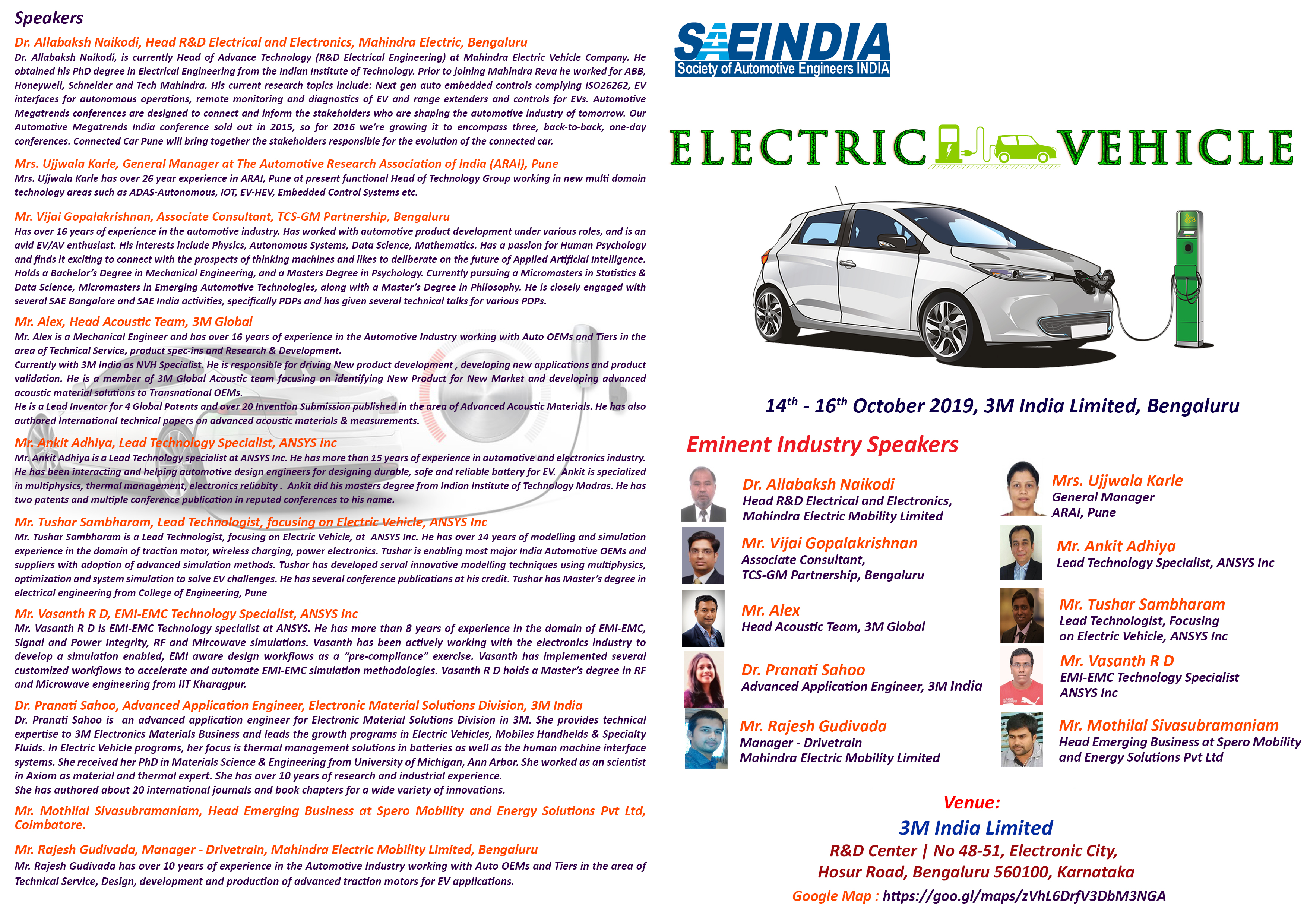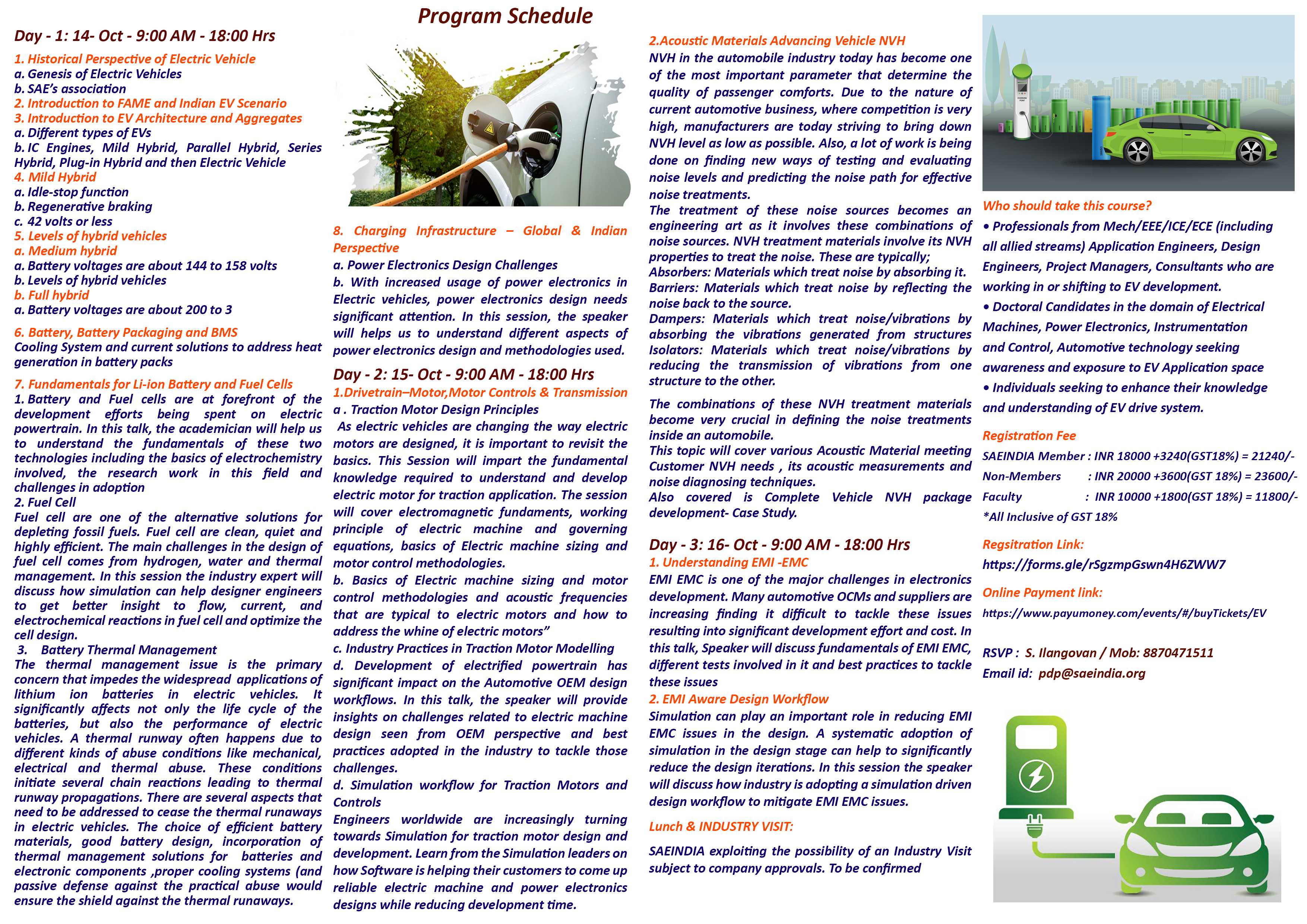 Brochure Link: https://saeindia.org/jbframework/uploads/2019/09/PDP-EV.pdf
Eminent Industry Speakers
Dr. Allabaksh Naikodi, Head R&D Electrical and Electronics, Mahindra Electric, Bangalore
Dr. Allabaksh Naikodi, is currently Head of Advance Technology (R&D Electrical Engineering) at Mahindra Electric Vehicle Company. He obtained his PhD degree in Electrical Engineering from the Indian Institute of Technology. Prior to joining Mahindra Reva he worked for ABB, Honeywell, Schneider and Tech Mahindra. His current research topics include: Next gen auto embedded controls complying ISO26262, EV interfaces for autonomous operations, remote monitoring and diagnostics of EV and range extenders and controls for EVs. Automotive Megatrends conferences are designed to connect and inform the stakeholders who are shaping the automotive industry of tomorrow. Our Automotive Megatrends India conference sold out in 2015, so for 2016 we're growing it to encompass three, back-to-back, one-day conferences. Connected Car Pune will bring together the stakeholders responsible for the evolution of the connected car.
Mrs. Ujjwala Karle, General Manager at The Automotive Research Association of India (ARAI), Pune Mrs. Ujjwala Karle has over 26 year experience in ARAI, Pune at present functional Head of Technology Group working in new multi domain technology areas such as ADAS-Autonomous, IOT, EV-HEV, Embedded Control Systems etc.
Mr. Vijai Gopalakrishnan, Associate Consultant, TCS-GM Partnership, Bangalore
Mr. Vijai Gopalakrishnan over 16 years of experience in the automotive industry. Has worked with automotive product development under various roles, and is an avid EV/AV enthusiast. His interests include Physics, Autonomous Systems, Data Science, Mathematics. Has a passion for Human Psychology and finds it exciting to connect with the prospects of thinking machines and likes to deliberate on the future of Applied Artificial Intelligence. Holds a Bachelor's Degree in Mechanical Engineering, and a Masters Degree in Psychology. Currently pursuing a Micromasters in Statistics & Data Science, Micromasters in Emerging Automotive Technologies, along with a Master's Degree in Philosophy. He is closely engaged with several SAE Bangalore and SAE India activities, specifically PDPs and has given several technical talks for various PDPs.
Mr. Alex, Head Acoustic Team, 3M Global
Mr. Alex is a Mechanical Engineer and has over 16 years of experience in the Automotive Industry working with Auto OEMs and Tiers in the area of Technical Service, product spec-ins and Research & Development. Currently with 3M India as NVH Specialist. He is responsible for driving New product development , developing new applications and product validation. He is a member of 3M Global Acoustic team focusing on identifying New Product for New Market and developing advanced acoustic material solutions to Transnational OEMs. He is a Lead Inventor for 4 Global Patents and over 20 Invention Submission published in the area of Advanced Acoustic Materials. He has also authored International technical papers on advanced acoustic materials & measurements.
Mr. Ankit Adhiya, Lead Technology Specialist, ANSYS Inc
Mr. Ankit Adhiya is a Lead Technology specialist at ANSYS Inc. He has more than 15 years of experience in automotive and electronics industry. He has been interacting and helping automotive design engineers for designing durable, safe and reliable battery for EV. Ankit is specialized in multiphysics, thermal management, electronics reliabity .Ankit did his masters degree from Indian Institute of Technology Madras. He has two patents and multiple conference publication in reputed conferences to his name.
Mr. Tushar Sambharam, Lead Technologist, focusing on Electric Vehicle, ANSYS Inc
Mr. Tushar Sambharam is a Lead Technologist, focusing on Electric Vehicle, at ANSYS Inc. He has over 14 years of modelling and simulation experience in the domain of traction motor, wireless charging, power electronics. Tushar is enabling most major India Automotive OEMs and suppliers with adoption of advanced simulation methods. Tushar has developed serval innovative modelling techniques using multiphysics, optimization and system simulation to solve EV challenges. He has several conference publications at his credit. Tushar has Master's degree in electrical engineering from College of Engineering, Pune
Mr. Vasanth R D, EMI-EMC Technology Specialist, ANSYS
Mr. Vasanth R D is EMI-EMC Technology specialist at ANSYS. He has more than 8 years of experience in the domain of EMI-EMC, Signal and Power Integrity, RF and Mircowave simulations. Vasanth has been actively working with the electronics industry to develop a simulation enabled, EMI aware design workflows as a "pre-compliance" exercise. Vasanth has implemented several customized workflows to accelerate and automate EMI-EMC simulation methodologies. Vasanth R D holds a Master's degree in RF and Microwave engineering from IIT Kharagpur.
Dr. Pranati Sahoo, Advanced Application Engineer, Electronic Material Solutions Division, 3M India
Dr. Pranati Sahoo is an advanced application engineer for Electronic Material Solutions Division in 3M. She provides technical expertise to 3M Electronics Materials Business and leads the growth programs in Electric Vehicles, Mobiles Handhelds & Specialty Fluids. In Electric Vehicle programs, her focus is thermal management solutions in batteries as well as the human machine interface systems. She received her PhD in Materials Science & Engineering from University of Michigan, Ann Arbor. She worked as an scientist in Axiom as material and thermal expert. She has over 10 years of research and industrial experience. She has authored about 20 international journals and book chapters for a wide variety of innovations.
Mr. Mothilal Sivasubramaniam, Head Emerging Business at Spero Mobility and Energy Solutions Pvt Ltd, Coimbatore
* Participants are advised to bring in their laptop as we will have hands on sessions (ANSYS will provide the trail licence)
Registration Fee
Professional Member : INR 18000 +3240(GST 18%) = 21240/-
Faculty Member : INR 10000 +1800(GST 18%) = 11800/- (MS and Ph.D. scholars)
Non-Members : INR 20000 +3600(GST 18%) = 23600/-
Discounts for bulk registrations: 10 % Discount for more than three from same organisation
Registration Link: https://forms.gle/rSgzmpGswn4H6ZWW7
Online Payment link: https://www.payumoney.com/events/#/buyTickets/EV
RSVP : S. Ilangovan / Mob: 8870471511 | Email id: pdp@saeindia.org
Kind Regards
S. Ilangovan
Dy.Manager-PDP
Mob: 8870471511