Brighter Vision For Automotive space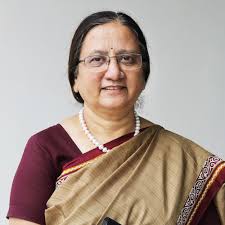 "karmaṇy-evādhikāras te mā phaleṣhu kadāchana…" were the lines of Lord Krishna to Arjuna, which loosely translates to "Keep doing your work, and leave the outcome in my hands."
The first leadership interview of 'EnvironStory' is about a karma yogi lady who believes that profession comes first, and the job follows as part of it. Mrs. Rashmi Urdhwareshe, a recipient of the prestigious Nari Shakthi Puruskar 2019 at the hands of Honorable President of India, Mr. Ram Nath Kovind, she carries a rich legacy of 37+ years in automotive research and development. In the times when employees often think about their next switch, ARAI was lucky to have found the engineering trainee who went on to become their Director and CEO. Her integrity, technological excellence, and value-based leadership propelled her to shine in an extremely challenging and most rewarding field of automotive. Despite her biggest achievements, I found her to be the most humble and truthful person. I hope you find her intellectual discussion with me as enriching and motivating as I found it to be.
1. As per you, what action plan should different stakeholders follow to achieve green mobility?
Individual: I believe that an individual's choice governs their actions. Today's customer goes after the mileage, entertainment value, status quo, etc. while giving up on their social commitment. During the purchase of passenger vehicles, a better approach that does pay off in the long term is towards an individual's awareness of cleaner fuels/technologies and their investment in it.
Company: With many corporate working towards the manufacturing of electric vehicles, it becomes critical to find the solution towards the cost premium attached to EVs. One of the proposals for corporate is to absorb this cost with the help of government initiatives. Two other important aspects for them to look at include setting up lucrative buy-back options for recycling purposes and establishing strong customer's redressal on fuel economy restoration issues.
Country: Both the central and state governments should establish strict enforcement towards setting and maintaining of our transport infrastructure. They also need to invest in and collaborate with research institutes to start the development of an integrated transportation solution. To ensure the integrated lifecycle, the government's investment in data analytics lab becomes critical to provide data points on GHG emissions of each sector within transportation.
2. Considering 50% of the population is women, what are your thoughts on women's role in providing user perspective and persona details for the automobile field?
Change in mindset: In current times, women users are perceived as the group undertaking the shorter commutes. For instance, going for groceries, work, school, etc. There is a dire need for women to demand a transportation solution that changes their approach from a subdued to the independent and mobility aspirant one. Such a solution will allow them to move at their own pace and choice.
Change in operation: In the automobile industry, it is a common practice to employ women merely as models for auto shows and expos. In my view, this shall be banned to avoid showcasing women as an object of desire for men in an otherwise male-dominated auto world.
Change in opportunities: With the advent of new technologies such as EV cars, automated vehicles, etc. there are varied opportunities for women to enter and excel in the mobility space. Specifically, with their analytical capabilities, they can outshine in the emerging fields of ML, AI, power electronics, etc. Apart from women, I believe that the automotive space in India should open their gates to a diverse group of people such as physically challenged, LGBTQ, rural users, etc. to capture their respective user persona and perspective. It is time that we work towards inclusivity in true spirit.
3. Safety being an integral part of the automotive development lifecycle, what are your views and proposals towards achieving safety on Indian roads?
Safety using a holistic view: In my experience, safety shall always be viewed as a resultant of the interactions between multiple factors such as driver, vehicle, road infrastructure, pedestrians, etc. Even if one element of the interaction is out of the sync, then it can result in a hazardous situation.
Safety using simulation: Using simulation-based research and development tools, automotive suppliers can develop new structures and materials, which can withstand multiple tradeoffs. For instance, lightweight material which will work for the fuel economy and can still withstand a severe situation such as crash as well.
Safety using the technology: As humans, we are bound to make mistakes. To overcome human errors while using vehicles, designers can take the path of automation, wherein the system will predict behavior (human and vehicular) and assist the drivers in unsafe scenarios. Specifically, in the Indian context, this path needs to be taken with an astute strategy and step-by-step implementation. For the future work of driverless cars, the Indian automotive players should firstly start with the driver assistance, and experimental corridors to explore possibilities, build a database and gradually migrate to a higher level of autonomous driving.
4. As a presidential designate, what are your top 3 goals for SAE?
Consolidation of resources: The professional society has a rich pool of resources spread in small pockets across the country. My first goal is to bring them together and make it part of the common platform. For instance, in the coming year, SAE can take the lead in co-developing more of the new standards, algorithms, etc. along with its cohort in the autonomous driving and E-mobility areas.
Capturing the changing expectations: With my strength in dynamism, I aim to take SAE to the new heights with the same vigor. My idea is to capture the changing expectations of each of the SAE members including students, professional members, faculty, corporate members, etc. and have our action plan ready for it at the earliest.
Create more women SAE leaders: I am proud of my SAE experience of 25+ years which has taught me the lessons of organizational leadership through leading and volunteering positions within regional, state, national, and international level events. Therefore, I intend to bring my superpower of empowering women and enable the ladies to take up similar active and challenging roles within the SAE community.
With a strong drive, and an innate desire to contribute towards sustainable mobility, I loved asking Rashmi about her parting advice to the younger automotive professionals. Her valuable words of wisdom included a question that every professional should introspect on.
"What are automotive professionals wanting to achieve? Is it an automotive product or an integrated transportation solution? When their focus will align on providing a transportation solution, it will enable automobile users to choose any transport medium between 2W to the bus with the same convenience, safety, efficiency, and green mobility factors."
____Brief Write-up Author – Riya, Functional Safety Manager at Mahindra Electric Mobility Limited, is an environmentalist at heart, reader by choice, and writer by passion.