Mrs. Jeya Padmanaban President and founder of JP Research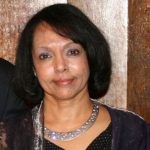 What are you passionate about in your life? Does your passion serve the larger good? Mrs. Jeya Padmanaban, an entrepreneur and statistician, shared her story with EnvironStory, reminding us of the exceptional passion like that of Mr. Henry Ford. Her love for contributing to the automotive safety community through her research experience and 'crash investigation expertise' was reflected in every discussion we had. Therefore, we thought who better than the President and founder of JP Research herself, to share with you- how to start the journey of finding and embracing the passion. Throughout the interview, she shared her insight on varied topics such as the future of Indian automotive safety, the success behind her Indian company's work, the importance of the role model, and more. I hope the story inspires you to go follow your passion and make a difference.
In 1977, after finishing her Master's in Operations Research, Mrs. Jeya moved to Silicon Valley to find a job in the field of her interest. Due to a dearth of statistics jobs, she landed up working for an engineering company, Exponent, which specialized in failure analysis. In the early days as an intern, she was sent to fields to collect crash data. Working under the demanding yet excellent boss, she learned tactics behind the application of the collected real-life crash injury data in design performance.
"You can have 1000 models in a lab or the controlled environment, but if you do not know what a human being is doing behind the wheels at the time of the crash, if you do not know the field data, you only know half the story," says Mrs. Jeya.
For her, the association and learning from the boss and on the field was the big break-through, which changed the course of her career for good.
When she left her job at Exponent, she decided to take a 6 months break to work out the next steps. Meanwhile, all her clients had started calling her to help them with an expert witness, component analyses, and related tasks. That is when it struck her to start her own consulting company in 1995. Her vision was to help create solutions for occupant safety. A decade back, she extended the company's vision to reach her home country India and established its first branch in Coimbatore, India.
"My vision was to give back to my country by providing homegrown crash data suitable to Indian conditions," says the founder.
She was not deterred by the discouragement she had received from her well-intentioned relatives and friends. The science behind how to prevent the casualty on roads was not one of the top priorities for developing India or its automobile companies. Also, the relatives argued the scenario when any of the local state govt. would not concur on their proposals, how would Mrs. Jeya manage it sitting 10,000 miles from its Indian HQ. But she believed in,
"Never let anybody tell you, you are not good at something," says Mrs. Jeya.
She was happy to share with us about the progressive state government's support to JP Research over the past decade. They are 6 branches strong now and are working towards providing customized solutions as per the geographical regions. For instance, their work on Pune-Mumbai Expressway, Calcutta, Ahmedabad, Jaipur, and Coimbatore are all different from each other. The scope of their work involves providing recommendations to avoid diverse types of crashes and injuries. The team provides special guidelines on several infrastructures and civil engineering work such as exit signs on the highway, its location, urban pedestrian safety, bike lane, and other scenarios.
She gives the credit for the success of her Indian company to her staff. She is proud of their contribution and commitment to excellence. From the times when they did not have the right resources such as computers, people, and software (SW), to the current situation when they have the right kind of scientific methodologies, high integrity SW, and a highly capable team, JP Research India has come a long way. She believes each of the team members share a great bond and are a strong professional community. Her future wish for her the Indian company is to contribute to-
Reducing the injuries and crashes to a minimum– by applying the science to solve these complex problems,
Increasing the usage of Seatbelts and Helmets– by spreading the awareness along with the govt. and communities,
Spreading the knowledge on kinds of crashes– by sensitizing police forces, manufacturers, and govt. about the types of crashes to have preventive measures in place.
How could we have more people cultivate the ritual of seatbelts and helmet usage? As per Mrs. Jeya, if we follow this simple ritual, ~50% of India's fatalities can be prevented. Apart from mandatory laws, Mrs. Jeya suggests local communities and governments to spread awareness through campaigning, incentive programs, TV ads, etc. She recalls how in the early 80s, the US saw seat belt usage to meager 10% of the population. And today, it has reached the heights of 93-94%. To get Indian traffic closer to these numbers, each of us should question ourselves,
"As citizens, what are we doing for this problem?"
She is indebted to pioneers in the US automotive safety field who encouraged her to thrive in this unique field. Her role models include women nurses from different US states who fought for the usage of child and infant seats in the early 60s. If it were not for them, US residents would not be using child seats consistently. She recognizes the fact that standing on the road and collecting the crash data is not attractive amongst young women but, she finds this job to be noble and lifesaving. If these women find prejudices or discrimination by the society when choosing such an unconventional job-
"If you have a passion, you don't give up. These things work their way out," advises Mrs. Jeya
She is grateful to her family and especially to her husband, Mr. Ajit Dandapani, CEO of JP Research, for their support and contribution.
Her final set of advice for young engineers wanting to change the world-
In your initial years, you are not going to know what you are going to be passionate about,
Be open-minded and try different things,
Be resilient and take failures as opportunities.
We, at EnvironStory, hope that the article inspired you to act upon your passion. Because as Wanda Skyes says,
"If you feel like there's something out there that you're supposed to be doing if you have a passion for it, then stop wishing and just do it."
– Riya, Functional Safety Manager at Mahindra Electric Mobility Limited, is an environmentalist at heart, reader by choice, and writer by passion.