Dr.Thirumalini. S- Excellence Journey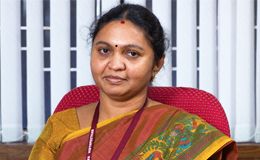 "One has to work towards excellence, and excellence is the journey not the destination! Success and setbacks are only its milestones. – Dr. Thirumalini S."
Do you recall your heartening moment with your favorite teacher? Mine has to be when my favorite professor offered me a teaching assistant position. How about the embarrassing/hilarious one with the teacher you hated? I have so many that won't be able to pick one. But, if you insist, it would be when my friend cracked a joke in the most boring lecture, and the professor kicked us out of the class because we could not stop laughing. Apart from forming my best and worse memories, my teachers also shaped my thought process, values, and character. In this pandemic, when it is tough to keep up with self-motivation, I turned to an extraordinary teacher who could help me with the framework for a sustainable lifestyle. Also, her past interview excerpts reflected her firm belief in sustainable mobility, development, and the world. Therefore, she was my obvious choice for being the next guest on EnvironStory, and I must say she nailed it.
"One has to work towards excellence, and excellence is the journey not the destination! Success and setbacks are only its milestones. – Dr. Thirumalini S."
Dr. Thirumalini S., Chairperson of Mechanical Engineering, Amrita Vishwa Vidyapeetham, in Ettimadai on the outskirts of Coimbatore, is one of the most esteemed and loved teachers. Her bag is full of laurels and publications ranging from Women Engineer Award to Ralph R. Teetor Educational Award, Guru Award, and more. Despite her many successes, I found this academician to be most humble and giving. My conversation with her was a deal-breaker for me, and I hope her valuable lessons will TEACH you tricks for pandemic and life too.
Trust your instincts: Do you believe in love at first sight? Have you ever taken the decision which might seem unconventional for many except you? In life, there would be very few moments when you would feel a strong connection to the place, person, or career. Dr. Thirumalini had one such epiphany when she knew that teaching is the profession, she could choose and change people's lives. It all started when Amrita University's leadership team was visiting the MNC employer of hers. Post her accidental meet-up with the leadership team, and on her en route to Kerala, she saw the university from afar. It was love at first sight with 22 years and counting. She trusted her gut instinct and left the high paying MNC job to lead the life of her dreams.
Ease the process– One common thing of all the successful interviewees I have conversed with is their ability to ease the process. Dr. Thirumalini is no different and loves to tackle all the challenges with equanimity. She has seen many firsts in her life: 1 woman among 85 students in Coimbatore Institute of Technology, 1st woman to be hired in her MNC and woman leader in the male-dominated department of mechanical engineering. She continues to believe that she should pursue her passion irrespective of the complicated and diverse processes.
Application Orientation: Did you know that research without viability evidence only results in publications and far-fetched realities? I found Dr. Thirumalini's ideas about sustainable mobility and its implementation quite apt for these evolving times. 
"Sustainable mobility is the solution which depletes little natural resources and brings social and health inclusiveness. Most importantly, this solution need not be less economically viable." 
She strongly believes in a localized solution that meets the needs. One example is that of Tamilnadu state, with its leading wind power generation can use its natural resources to electrify its ecosystem. She quoted this example to share the well-to-wheel impact of renewable energy. She is directly contributing to this field through student's research on suitability, thermal stability, and viability check of biomass. Our lady is the testament to the saying 
"Walk your talk because you are always watched".
4.Collaborative approach: To work towards an arduous task of reducing Green House Gas Emissions, you would need the team of environmental warriors. Dr. Thirumalini's team is approaching this problem in multifold ways. In their state-of-the-art research lab, they are using the technology for lowering the energy intensity by enhancing vehicle and engine performance. Another approach chosen helps reduce the carbon intensity of fuels by substituting it with biofuels. Through their study of fuel to cycle, GHG emission of biofuel was 30-70% less per km in comparison to gasoline or diesel fuel. However, she has found that her collaborations have led her to find the most effective solution. Be it her on-going collaboration with global universities, or local government agencies she has cracked the code for creating a better place to live.
5.Harness your potential: After you find the self-motivation to work towards a better life, how do you harness your true potential? The first step towards the journey is for you to identify it. Our teacher was successful in forming a great team with the best faculties and credible researchers. How did she get there? Her in-depth understanding of an individual's working style ensured her to form a high performing team. The cherry on the top is that she believes in mastering one craft, giving it to the incumbent leaders, and moving on to the next one.
Quoting India's most favorite teacher, the ex-President, and visionary scientist APJ Abdul Kalam,
"The aim of the teacher should be to build character; human values enhance the learning capacity of children through technology and build the confidence among children to be innovative and creative which in turn will make them competitive to face the future."
 As long as we have inspirational teachers like Dr. Thirumalini, India's future will be inclusive, efficient, safe, and green. Until you find your inspirational teacher, how about you TEACH yourself to excel using the above hacks?
____Brief Write-up Author – Riya, Functional Safety Manager at Mahindra Electric Mobility Limited, is an environmentalist at heart, reader by choice, and writer by passion.