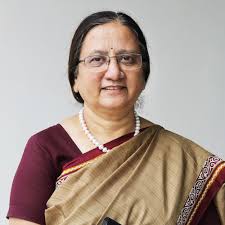 Mrs. Rashmi Urdhwareshe
We are delighted to inform SAEINDIA Members, our Associates, Sponsors, and Critical Stakeholders that Madam President Mrs. Rashmi Urdhwareshe has been conferred the 'Excellence in Economic Development Award for 2021' by the Economic Development Forum, in recognition of SAEINDIA's Outstanding Contribution towards the Economic Development of the Country, during COVID-19 Pandemic, under her leadership. She led the society when the country faced the COVID-19 first and second waves, with clarity and consistent value delivered to our members (Students, Faculty Members, and Professional Members).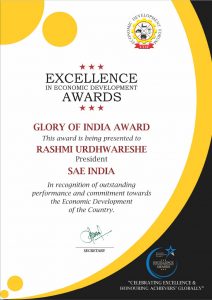 This recognition is yet another coveted award, embellishing the Nari Shakti Puraskar. Madam's pursuit of excellence wins respect by distinguished forums like EDF. SAEINDIA wishes, our President continued success in the coming years.
About EDF: 
The Economic Development Forum is a non-profit membership organization that is dedicated to helping economic developers in doing their job with a greater amount of effectiveness and thereby raising the profile of the profession. Forum's members create better quality jobs, develop more vibrant communities, and improve the quality of life in their regions. It also helps in improving the overall performance of Indian organizations. EDF is a member-driven association dedicated to strengthening Indian communities by supporting local organizations engaged in the community and economic development. Our member organizations rebuild distressed communities in small cities and rural areas in India through economic development, employment-generating activities, and offering social services.
============================================================================================================================
Mrs. Rashmi Urdhwareshe conferred 2019 Nari Shakti Puraskar
Mrs. Rashmi Urdhwareshe, Director of the Automotive Research   Association (ARAI), India's premier automotive R&D testing   organisation, has been conferred the 2019 Nari Shakti Puraskar,   on March 8, International Women's Day. She received the   prestigious award at the hands of President Ram Nath Kovind, at a function held at the Rashtrapati Bhavan Cultural Centre. The Nari Shakti Puraskar, instituted by the Ministry of Women and Child Development, is a 'National Award in recognition of exceptional work for women empowerment' conferred every year on March 8 as a mark of respect and recognition for those who have demonstrated exemplary courage and stellar contribution towards empowerment of women. Rashmi Urdhwareshe is one of 15 exemplary women who received the award this year.
ARAI's Newsmaker
Mrs. Rashmi Urdhwareshe, an Autocar Professional News Maker of 2019, has literally broken the glass ceiling in the male-dominated Indian automotive industry. An electronics engineer and exponent in sitar, this 60-year-old industry veteran has been the director of ARAI since 2014.
She has rich experience in automotive R&D, testing and homologation, framing of test standards and regulations. She helped develop electronic controls of hydraulic testing machines and contributed towards em ission measurements under which the first-ever emission laboratory was formed in India. Urdhwareshe, who has undertaken creation of the National Automotive Technology Museum, has also co-authored a book on total quality management.
With rich facilities at ARAI and experienced expertise available, she is the driving force behind the organisation, which has been in the thick of BS VI action, certifying vehicles compliant with the new and upgraded emission technology. In her 30-year stint with the ARAI, Urdhwareshe has been part of many path-breaking initiatives by the apex certification body. Her sterling contribution towards developing new emission regulations in the country has been laudatory.
As India Auto Inc upgrades to new emission and safety norms, while also drawing the e-mobility roadmap, the role of testing and validation becomes even more vital. Urdhwareshe has been at the forefront of ARAI's efforts at lightweighting, developing new propulsion technologies, and driving towards an integrated transportation system. "We have developed an aluminium superstructure for buses, which provides about 30 percent weight reduction and contributes greatly to vehicle electrification. This technology is now available and is being discussed with several manufacturers. We are also working on suspension and some other components. We are also pushing for development of alternate materials," she said.
Active engagement in electric mobility is also on ARAI's radar. Commenting on localising EV technologies, she said: "I think more than a hurdle, it's an opportunity. There are different industries which are coming up. ARAI is positioning itself as the testing and validation arm for various organisations. With incentives, there are good opportunities for start-ups here. We can give all the technologies developed inside ARAI to start-ups, which will enable them to scale up their production."
According to her, vehicle safety, regulated emission and environmental-friendly fuels are the primary focus areas for the premier testing and certification agency of the country.
Urdhwareshe, who joined ARAI as a trainee engineer, will retire by the end of this month. In an interview with Autocar Professional on the occasion of Women's Day, she shared her experience about her 36-year "exciting and eventful" career  in the automotive industry.
She reminisced that "36 years in the automotive industry have been both exciting and eventful. During this period, I have handled technological transformations, was instrumental in pushing rapid growth of safety and emission regulations, worked through the global competitive scenario along with Indian Industry and lots more. I am now in the phase of consolidation of my thoughts, wisdom and experiences. With a rapid pace career nearing completion, I am planning to allow myself some peace and personal space."
Commenting on the unique qualities that a woman professional brings that add value to any project and organisation, she says: "Women bring a very different perspective to their work and projects. After all, 50% of the world belongs to them! Management must be mindful of this aspect and exploit it to the fullest in the larger interest. Women are also extremely committed, focused and majority of them are ethics oriented - immensely critical for building up strong and successful organisations. Being able to multitask, it offers them an excellent opportunity to excel and score over their male colleagues!"
And, does she have any project / plan in mind after her 31-year innings with ARAI, here's her answer: " Yes, most certainly, but break ke baad!"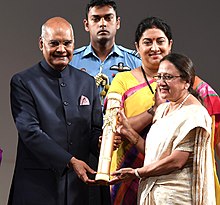 Photo Caption: President Ram Nath Kovind presenting the     Nari Shakti Puruskar for the year 2019 to Rashmi Urdhwardeshe,   on the occasion of the International Women's Day, at Rashtrapati   Bhavan, in New Delhi. The Union Minister for Women & Child   Development and Textiles, Smriti Irani is also seen. (PIB)