DR.PAWAN KUMAR GOENKA- Recognitions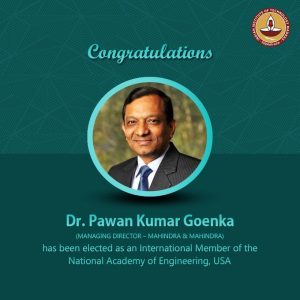 Dr. Pawan Goenka has earned his B.Tech. in Mechanical Engineering from I.I.T., Kanpur and Ph.D. from Cornell University, U.S.A.  He is also a Graduate of Advanced Management Program from Harvard Business School. He worked at General Motors R&D Centre in Detroit, U.S.A. from 1979 to 1993.  Thereafter, he joined Mahindra & Mahindra Ltd., as General Manager (R&D).  During his R&D tenure he led the development of the Scorpio SUV.   He was appointed COO (Automotive Sector) in April 2003, President (Automotive Sector) in September 2005, President (Automotive & Farm Equipment Sectors) in April 2010, Executive Director and Group President (AFS) in April 2015, and Managing Director of Mahindra & Mahindra Ltd., in November 2016 & will be designated Managing Director & CEO on 1st April 2020.  
Dr. Goenka is also a member of the Group Executive Board and serves on the board of several Mahindra Group Companies.  
Dr. Goenka received the Extraordinary Accomplishment Award from General Motors in 1986, the Burt L. Newkirk Award for the year 1987, the Charles L. McCuen Achievement Award from General Motors for the years 1985 & 1991, an Outstanding International Advisor Award from SAE in 1997, and a Distinguished Alumni Award from I.I.T., Kanpur in 2004.  He received the Engineering Excellence Award 2012 from SAE India Foundation. He is a Fellow of SAE International and of The Indian National Academy of Engineers.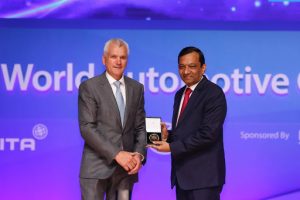 In January 2011, Dr. Pawan Goenka was honoured with the Automotive Man of the Year award at the NDTV Car & Bike Awards. In December 2011, Dr. Goenka featured as Autocar Professional's Man of the Year 2011.  He was conferred the 'CV Man of the Year' award at the annual Apollo CV Awards 2012 in recognition of his extensive contribution within the automotive industry in India and globally. Dr. Goenka was conferred with the Doctor of Science (honoris causa) by I.I.T., Kanpur in 2015.  Dr. Goenka has been awarded the 2016 FISITA Medal of Honour, which is bestowed for his 'particularly distinguished achievement and leadership in the global automotive industry' and is the first Indian to receive this prestigious recognition. In February 2020, he was presented with the Lifetime Achievement Award by Car India & Bike India Awards 2020 for his leadership and commitment towards the progress of the Indian Automotive Industry.
Dr. Goenka is past President of SIAM, of the Society of Automotive Engineers India, the ARAI Governing Council, and also served as a Board Member of National Skills Development Corporation (NSDC). He is currently a National Council Member of Confederation of Indian Industries (CII) and Chairman of its Manufacturing Council.  He is currently serving as the Chairman of the Board of Governors of I.I.T., Madras.