DR. BALA K. BHARADVAJ-Awards
  Dr Bala K Bharadvaj conferred an Honorary Doctorate Degree D. Litt.     (Honoris Causa). 
  Dr. Bala K. Bharadvaj is currently Boeing's leader of Engineering, Operations     & Technology in India. As the Managing Director of the Boeing Research & Technology Center in Bangalore, he provides leadership to Boeing's Research, Technology and Engineering activities in India, to develop new technologies and develop mutually beneficial partnerships with Academia, Government organizations, and industry. 
Bala has been with Boeing since 1987 and worked in Southern California for over twenty years before relocating to India in 2009. He has held various leadership positions in Technology Development, Technology Integration, Engineering, Program Management and Strategic Planning. Prior to joining Boeing, he was a member of the faculty of the Aerospace & Mechanical Engineering at Boston University, Boston.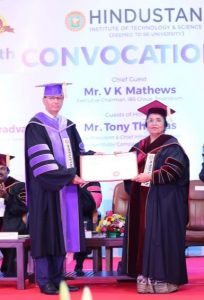 During his long career in academia and industry, Bala has contributed to a variety of projects spanning analysis, design, lab testing and flight testing. He has developed computational codes for aerodynamic analysis of airplanes and helicopters; held key leadership positions in major NASA-Industry aeronautical initiatives; led teams to integrate new technologies into the C-17 strategic airlifter; and led the development of long-range technology plans for Boeing Defense, Space & Security Systems. During this journey, Bala has been recognized with several awards. 
Bala Bharadvaj is an Associate Fellow of the American Institute of Aeronautics & Astronautics, and a member of Beta-Gamma-Sigma Business Honor Society. He is also the President in SAEINDIA and chairs the Aerospace Board. 
The Hindustan Institute of Technology & Science, Chennai conferred an Honorary Doctorate Degree D. Litt. (Honoris Causa) to Dr. Bala K. Bharadvaj during its 10th Convocation on 19th Oct 2019. He was the Guest of Honour for the Convocation and received the Doctorate Degree. The nomination for D. Litt. (Honoris Causa), a well-deserved credit, is for his glorious achievement in the Indian Aviation industry.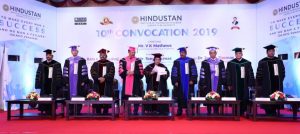 The D. Litt. degree is awarded to candidates whose record of published work and research shows conspicuous ability and originality and constitutes a distinguished and sustained achievement. The degree may also be awarded honoris causa to such individuals as the university or the learned body deems worthy of this highest academic award.