SAEINDIA FOUNDATION 2015-2016
SAEINDIA FOUNDATION
2015-16 ANNUAL AWARDS FUNCTION
The fourth Annual Awards Function of SAEINDIA Foundation was held on 20th October, 2016 at India Habitat Centre, New Delhi. The awards were given to recognize & motivate young Women Engineering Students, Working professionals, SAEINDIA Section Champions, Institute & to honor our Gurus and Mentors for their contribution to mobility at large. The Chief Guest for the event was Mr. Anshu Prakash, Addl Secretary-Ministry of Heavy Industries & Mr. Rattan Kapur, President ACMA & CMD-Mark exhaust Ltd was the Guest of Honor. Mr.Cuneyt Oge, President – SAE International was the Special Guest at the occasion.
Mr. R Dayal, President, SAEINDIA Foundation welcomed the guests and apprised them about the activities of the Foundation and the objective of the SAEINDIA Foundation Awards. From last year onward "Corporate Award" has been instituted to award corporate/university/association for their outstanding contribution in promoting SAEINDIA activities. He apprised that award for Aerospace, to be sponsored by Dr. Greaves, Past President SAE International, will be instituted once we receive FCRA approval. He emphasized need to give back to society & progress can happen thru mutual cooperation. More than 100 invitees and guests from the Industry, Government & Academics attended the Annual Awards Function of SAEINDIA Foundation.
Mr. Anshu Prakash delivered the key note address. His talk was inspirational and motivating for all those who were present.  He focused on changes happening in auto industry viz tightening  of certification norms, hybridization of power train, autonomous cars, etc and emphasized on innovative thinking & skill building to leap frog and address likely changes from year 2050 perspective. He appreciated the efforts of SAEINDIA Foundation in awarding the students, faculty members & professionals from the Industry and suggested that Foundation should act as think tank for suggesting right kind of investment area, best practices & teaching pattern relevant for next 35 years.
Mr. Rattan Kapur appreciated the efforts of SAEINDIA Foundation in recognizing students, Faculty & Corporates for their contribution in the field of mobility. He highlighted growth target of auto & auto component industry and need for skill development. He assured of greater participation of ACMA in all activities related to SAEINDIA.
Mr.Cuneyt, President SAE International, has long working experience in management  consulting business and has served as a member of the SAE Board of Directors and Trustee of the SAE Foundation Board. He reminded objective of SAE is to advance science of mobility for the benefit of society. He felt that young engineers has exciting time ahead as lot of changes are going to happen in auto industry by 2050, in terms of how we power, drive(automated), own (shared mobility) and may be how we make (3D printing) automobiles. He felt Asia has opportunity to build infrastructure to suit future.
Mr. Murali Iyer emphasized support of SAE International to SAE activities in India and requested Industry, academia & Govt to come together to make standards for benefit of society.
The following awards were presented at the Event:
Roll of Honor Award:

Mr. Saurabh Vinay Chitnavis Mr. Deepak Sawkar

Guru Awards:

Dr. Kannan Rajendran Dr. Devender Vashist Dr. Sudhir Gupte

Corporate Award:

Automotive Research Association of India

Champion Award: Mr.U D Bhangale Mr. Narhari P Wagh
Engineer of the Year Award:

Mr. Sameer Srivastava Mr. Harpreet Singh Juneja Dr. Saravanan

Kalpana Chawla Award 1st: Ms. Charu Goyal 2nd: Ms. S Arul Jothi

3rd: Ms. Nisha Dilip Gulhane

Revati Iyer Memorial Award: 1st: Ms. Garima Kushwaha 3rd: Mr. Gomish Chawla
Myers Uyehara Outstanding Student Paper Award:

1st: Mr. Tanmay Pradip Dobhada

2nd: Mr. Shubham Jain

Student of the Year: 1st: Mr. Divye Gupta 2nd: Mr. Rauf Ali Khan

3rd: Mr. Samarth S Mendke 3rd: Mr. Utkarsh Singh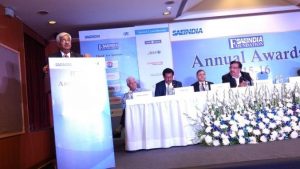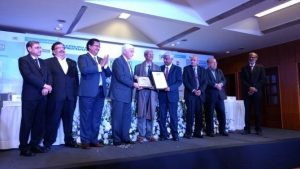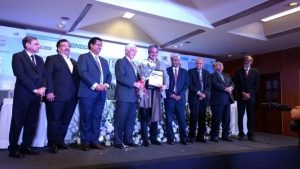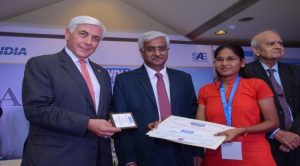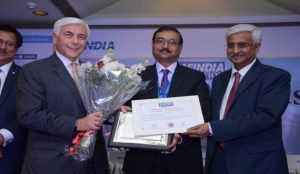 At the end, vote of thanks was delivered by Mr. I V Rao, Past Chairman SAE Northern India Section. He summarized the event and thanked the contributors who had contributed for the Awards and for the Function event.