SAEINDIA Two & Three Wheeler Conference 2018
SAEINDIA Two & Three Wheeler Conference 2018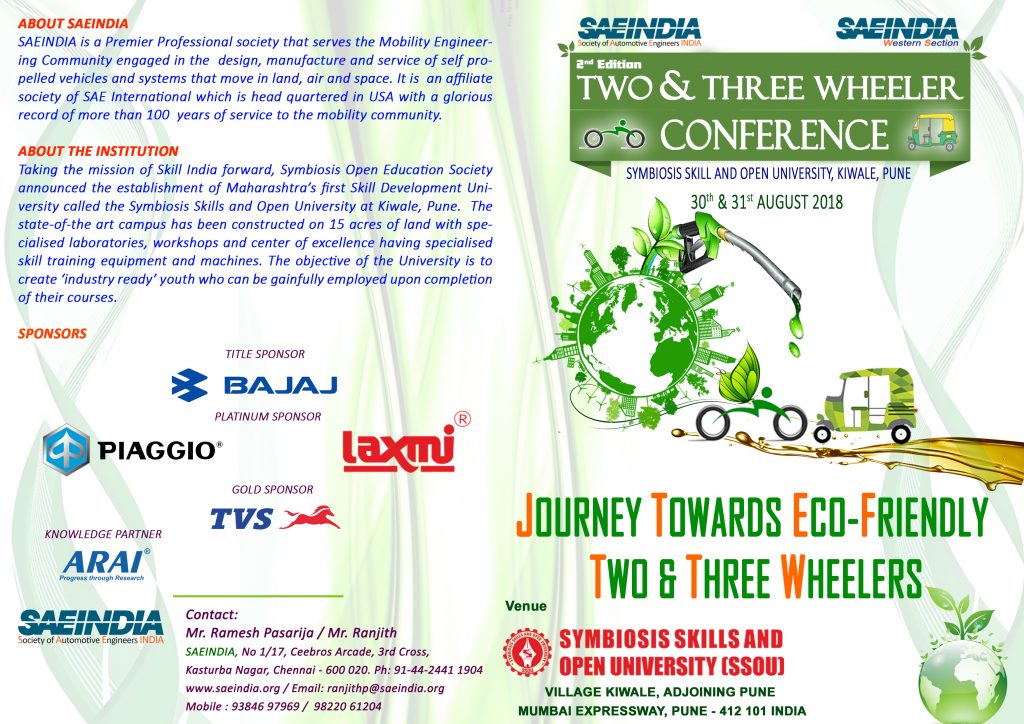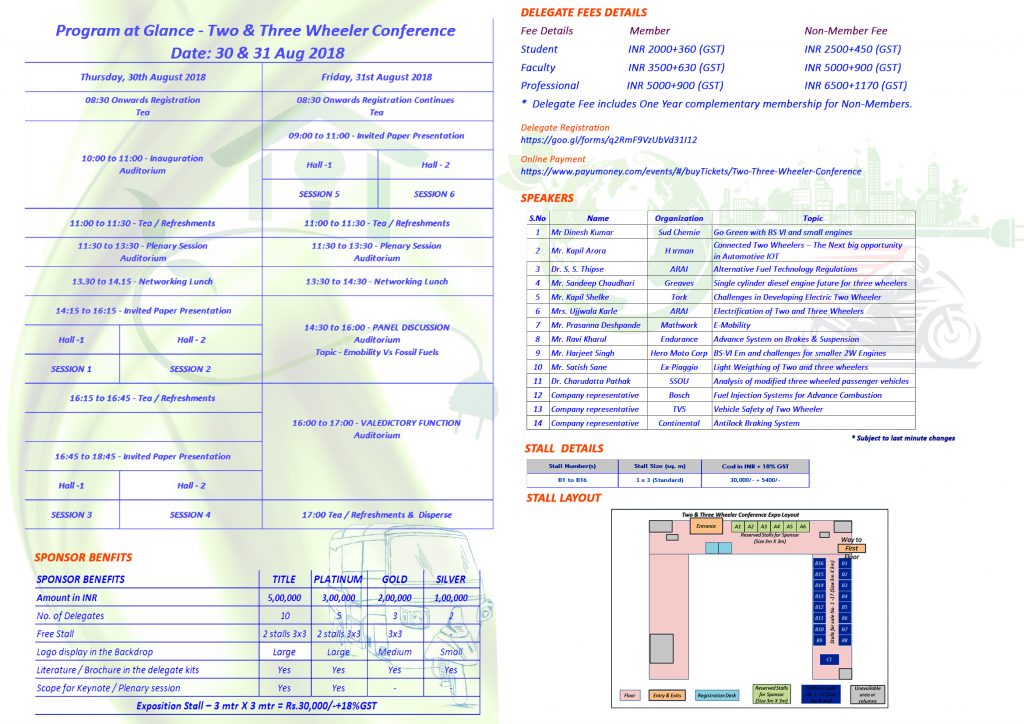 We are pleased to inform you that SAEINDIA Automotive Board, is organizing the 2nd edition of Two & Three Wheeler Conference. The second edition will  focus on the theme of "Journey Towards Eco-Friendly Two & Three Wheeler". It will be held at Symbiosis Skill & Open University – Kiwale, Pune on 30th & 31st August 2018.
 India has become the largest manufacturer of 2W/3W production Nos for 17-18 year or calendar year 2017 can be mentioned where you say India has beaten China to the second place. A New Era in terms of regulations –safety and stringent norms of BS-VI in 2020 has posed a serious challenge to the industry.
This conference will address issues and  concerns of increasing carbon footprint, burning of fossil fuels, reduced emission to improve air quality and finding greener alternatives. The Conference will bring the key stakeholders like OEMs, Tier-1&2 suppliers and service providers including component manufacturers to meet and brainstorm the path towards eco-friendly 2 & 3 Wheeler to transform the scenario and find durable solutions to hybrid and electrification of 2 & 3 Wheeler, ensure compliance with BS-VI regulations to align the industry with the expectations of the policy makers and the Industry Stakeholders.
 The event will feature parallel technical sessions on the topics of current interest, under this fast-growing sector in mobility.  These sessions will also create knowledge sharing platforms for the mobility fraternity to exchange ideas, benchmark best practices, discuss open ideation processes and  leverage opportunities from different regions of the world. The concurrent exposition will serve as a platform to showcase products / technologies in the area of "Two / Three Wheeler" OEMs, Ancillaries, Proprietary and Battery technology suppliers. Two & Three wheeler conference offers multiple opportunities for participants to showcase / demonstrate the work done, products and technologies through paper, keynote, exposition and sponsorship.                                                                                         
 Who should attend?
Engineers & Managers from R & D, Manufacturing, Supply Chain of OEM / Ancillary / Academia /
Student / Policy Makers / testing Agencies
Why you should attend
                Learn from policymakers about the government's vision for the Industry.
                Learn about future technology trends and how to be prepared for the new era of evolution.
                Meet new startups in the Automotive Industry.
                Exchange information and knowledge with experts from the Industry.
Delegate Fees details
Fee Details           Member                                       Non-Member Fee
Student                INR 2000+360 (GST)                   INR 2500+450 (GST)
Faculty                 INR 3500+630 (GST)                   INR 5000+900 (GST)
Professional        INR 5000+900 (GST)                   INR 6500+1170 (GST)
*  Delegate Fee includes One Year complementary membership for Non-Members.
 We invite you to register as a delegate to meet and interact with the professionals from the Two & Three Wheeler Industry. It will also be a forum to exchange ideas and information on the current trends and future developments pertaining to the industry besides providing an opportunity to learn from experts on how to cope with the emerging challenges.
Please register as a delegate as per the category applicable to you using the link available.
https://goo.gl/forms/q2RmF9VzUbVd31I12
Please follow the link for payment process
https://www.payumoney.com/events/#/buyTickets/Two-Three-Wheeler-Conference
If any clarification Please contact Mr. Ranjith / Mr. Ramesh