Securing critical automotive joints with 3M™ Friction Shims
The demand for maximum power density, i.e. the transmission of higher torque or protection against higher shear loads in increasingly compact designs, poses a major challenge to engineers across a variety of industries. Transportation segment and the statics of the system pose a significant demand for lower weight and smaller dimensions of components. In friction joints, the material given coefficient of static friction imposes physical limits both on power transmission capabilities and reducing the size of bolted joints. These limits can be overcome with 3M™ Friction Shims. 3M Technical Ceramics manufactures friction enhancing solutions for joining components to withstand higher shear forces or transmit higher torque in bolted connections. 3M Friction shims offer a simple and cost-effective way to reliably transmit upto 5x higher torques or forces than conventional systems. 3M Friction Shims consist of a nickel coated steel substrate with partially embedded diamonds. When placed between two components in a bolted connection, the diamonds "bite" into the surface, creating a microform fit significantly increasing friction between the two parts. Friction shims create possibilities for lightweight, compact designs in bolt connections.
Benefits of Shims for Automotive Design: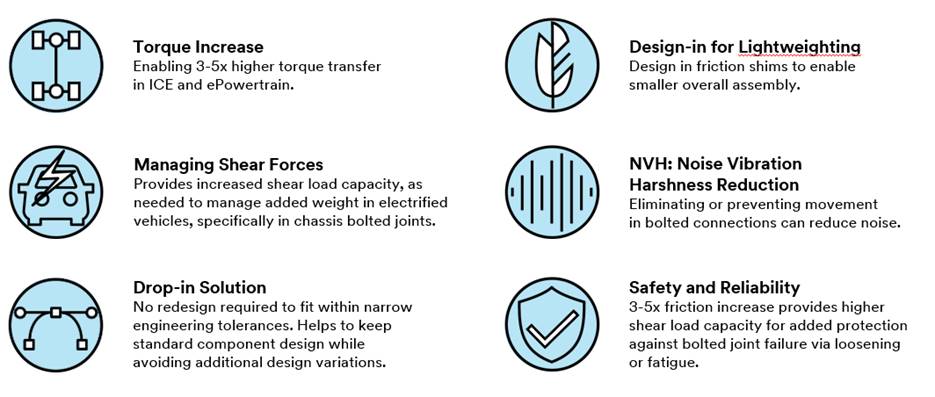 3M Friction shims have proven effective in a wide variety of industries, including general mechanical systems, robotics, machine tools, marine engineering, wind and water power generators, turbines, automotive engineering and motor sports. Our technical specialists have many years of application experience and can conduct in-house frictional lab testing. The increased level of the coefficient of static friction with 3M Friction shims provides high flexibility in combining downsizing with increasing performance and safety factor.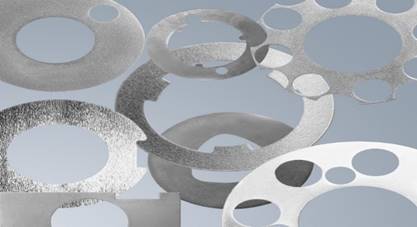 Fig 1: Friction Shims – Sample representation
Early design integration of friction shims takes advantage of their full potential
Increase engineering flexibility
Help to reach power density targets (downsizing, increasing performance)
Increase safety factor & Help to keep the project timeline
Features:
Increases the coefficient of static friction
Function of friction shims is not affected by an oil film
Can be easily retrofitted
Prevents fretting
Highly reproducible
Shim geometries can be tailored to customer specification
 Freedom of Design with 3M Friction Shims: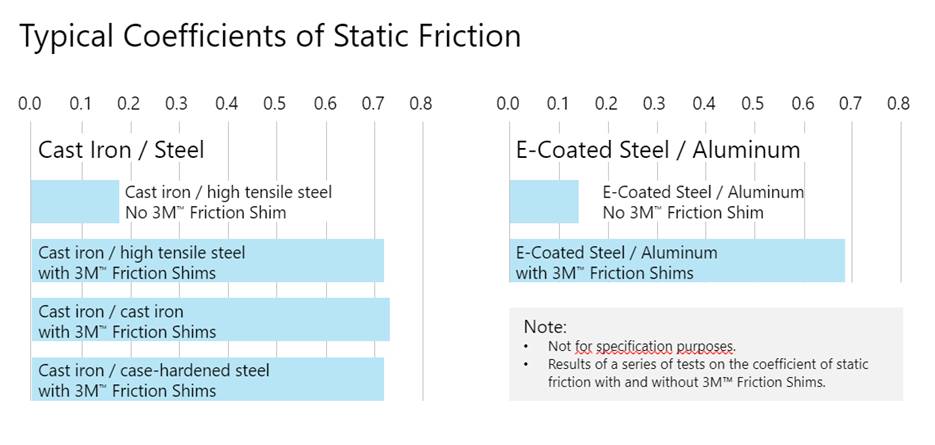 3M™ Friction Shims Functional Principle:
The microscale diamond interlocking results in an increase of the coefficient of static friction. Depending on the roughness, flatness and material combination this can be up to a factor of 3 – 5x.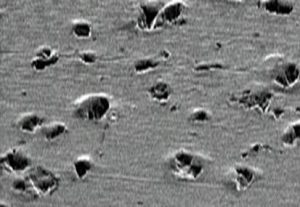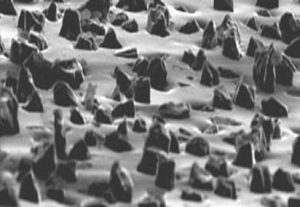 Fig 2: Structure of the 3M™ Friction Shim                                 Fig 3: Mating surface after assembly and Surfaces with diamonds embedded in Ni Matrix                     disassembly of the counterparts
Why do automotive joints fail?
Every day, you strive for a balance among competing demands: lighter weight and higher performance vs. safety factors and cost. Entire designs depend on the resulting load calculations. Often, we don't know if they're accurate until testing – well after the design is complete. Joint failure happens. Here's a look at why.

Application Examples:
Powertrain:
Internal Combustion Engine & eMotor components
Camshaft: sprocket, variable valve timing system
Crankshaft central bolt design: sprocket, pulley, torsional vibration dampers
FlexplateFig 4: Friction Shim application in Cam Shaft
Chassis :
Engine mount, battery mount, suspension
Bushings, axle joints, yokes
Subframe joints
Steering bar mount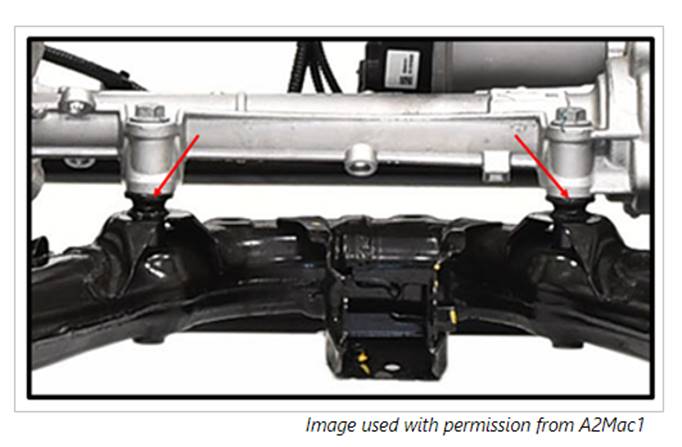 Fig 5: Steering bar mounted to sub frame
Electric Motor / e-Powertrain
Motor housing connections
Motor to chassis
Pully Decoupler (hybrid)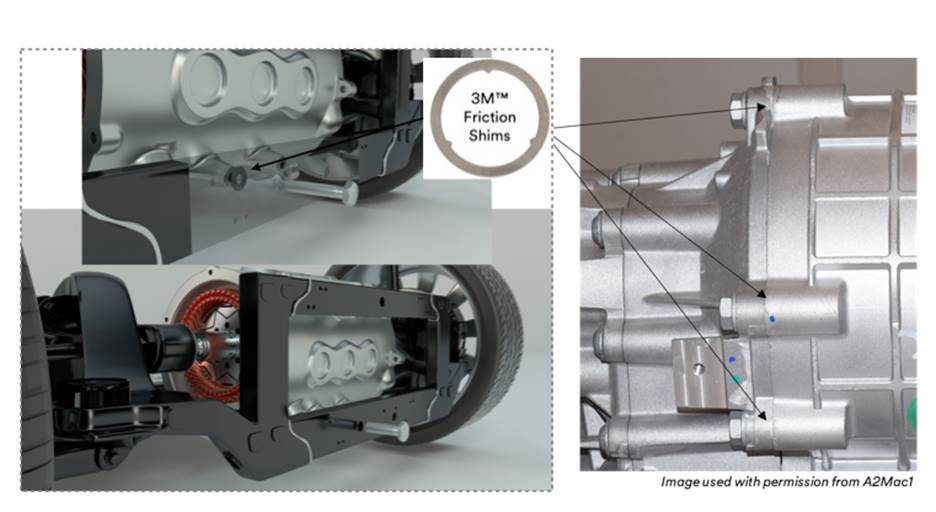 Fig 6: eMotor to Chassis                                                                                 Fig 7: Housing to Housing
Functional Properties of 3M Friction Shim Grades: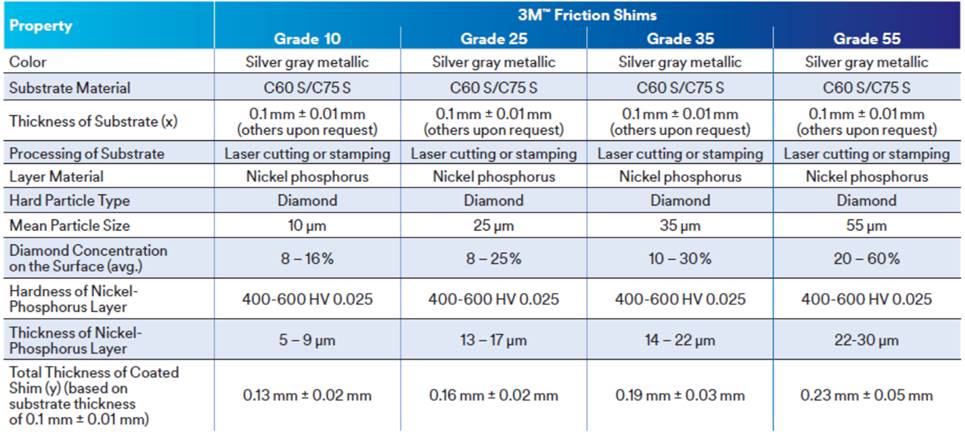 Application Notes:
When 3M Friction shims are used following things need to be kept in mind:
For maximum performance, the selected friction shim grade should fit the mating surfaces roughness values Rz or Ra as given in the technical data sheet
Contact pressure of at least 50 MPa is recommended
When designing the joint, ensure that the counterparts to be joined are in full contact
Only use in applications with static friction in the contact area
The coefficient of static friction depends on a large number of different parameters. It is therefore always advisable to carry out application tests with assistance from 3M Technical Ceramics
Handling Instructions:
Store friction shims only in original packaging
Don't expose friction shims to temperatures above 400°C
Dry storage recommended
Don't bend friction shims
No mechanical treatment of friction shims
Before assembling friction shims, make sure no dirt residue is present
Check correct quantity during assembly
Avoid relative movement of shims on surface
As you design or as issues arise in automotive bolted joints, try 3M™ Friction shims to increase your static coefficient of friction by visiting us at 3m.com/FrictionShimsAuto  for more information.
Author: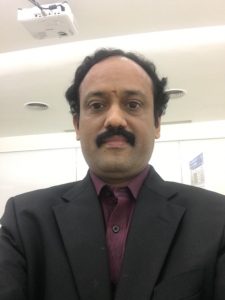 B.Arun has M.Tech in Polymers & having 21 years of experience in the compound development, technical services, & etc and engaging with customers in Automotive, Paints & Coatings, Chemical Processing Industries, Oil & Gas segments. He is currently working with 3M India – Technical department and has been associated with 3M since 2005.
B.Arun has M.Tech in Polymers and have 21 years of experience in the formulation development, technical services etc and engage with customers in Automotive, Paints & Coatings, Chemical Processing Industries, Oil & Gas segments. He has been with 3M India – R&D division since 2005.